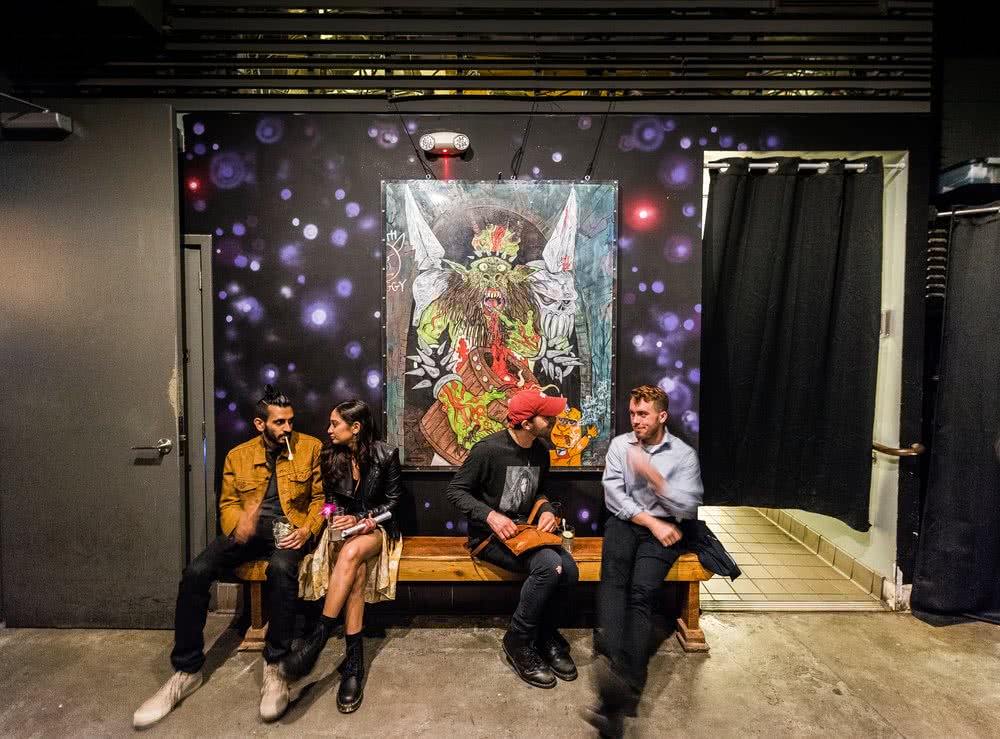 11 Unique Perth Venues to Hire in 2021
West coast, best coast. But what about the best host? If you want your Perth events to stand out from the crowd, then securing a truly unique venue could be the quirk you need. Here are our top 11 interesting and versatile Perth venues to get you started.
It's always sunny in this Northbridge urban oasis
Henry Summer is a sprawling wine and cocktail garden that exists somewhere between the realm of indoor and outdoor in a place that's always summer. With lush greenery growing across the floor, walls, and ceiling, the venue has open-air and covered spaces for intimate private functions, workshops, or even extravagant engagements of 500+ people.
Run by Clint Nolan and his Lavish Habits team, Henry Summer is one of the most popular party venues Perth has to offer, with the same peak levels of class, creativity, and "cool" we've come to expect from the event venue business extraordinaire.
Revitalised factory in the heart of Perth
Although it's kept the name from its days as a 19th-century flour mill, you won't find wheat processing on-premises anymore – just a trendy inner-city bar with three stunning function venues. The Factory and The Top Floor are large blank canvas spaces, with dark polished floorboards and neutral white walls that make the exposed beams an eye-catching feature. These spaces hold between 80 to 250 guests and cater to everything from weddings to workshops. The all-white backdrop makes for an impressive gallery or exhibition space and is perfect for live-streaming exciting virtual or hybrid events for even bigger audiences.
Flour Factory's spaces make perfect corporate event venues, too. The Sherry seats 25 guests for a conference or product launch, or up to 80 for cocktail events on an intimate modern rooftop with plenty of exposed brick and greenery.
Newly-renovated heritage spaces in Perth's cultural centre
WA's home of independent theatre, the Blue Room recently completed a month-long makeover and expansion and is back ready to host even better events. Boasting some of the cheapest venue-hire Perth has to offer, the Blue Room is perfect for everything from rehearsals, workshops, and play readings to small conferences, book launches, and beyond. Comprising two unique spaces in their heritage-listed building at the Perth Cultural Centre, the Blue Room Theatre also offers discounted rates for members looking for affordable local event venues for unique fundraisers.
Unique Perth Venue #4: Tiny's Bar
A not-so-tiny meeting place in the CBD
A quick search of "small event venues near me" in Perth will likely unearth Tiny's Bar, which is ironic because it's not actually tiny. Entering at the base of Perth's QV1 building, Tiny's opens up into a large indoor and outdoor courtyard area, restaurant, bar, and liquor emporium (you'll find a creative list of non-alcoholic options behind the bar, too). There are six unique function areas for between 35 to 100 guests up for grabs or whole-venue hire for up to 220 people. Tiny's is definitely not your cookie-cutter venue – whatever crazy idea you're envisioning for your event, they'll make it happen.
Rustic Fremantle warehouse that's oozing charm
While a lot of converted warehouse spaces go for a modern urban-industrial vibe, Moore & Moore has more of a classical European rustic charm that sets it apart as one of the most stunning boutique venues in Fremantle. The exposed red brick beneath peeling paint, the creeping greenery, and the candle-lit courtyard add to the vintage charm. Supporting event venue industry super-creators looking to host evening or daytime events of all shapes and sizes, there is a dedicated Breakfast Meeting Room and gallery space, and the on-site cafe can cater to all dietary requirements.
Unique Perth Venue #6: Wolf Lane
A quirky cocktail bar in Perth CBD
Hidden down a laneway and behind an ordinary door is a long-time favourite amongst Perth venues: Wolf Lane. This super quirky cocktail bar is filled with an unmistakable atmosphere, with old mismatched furniture, crowded picture frames, and wobbly wooden tables. But the knock-out feature of this venue is the impressive fairytale-inspired wall murals, bringing a touch of fantasy and inspiring many an Instagram photoshoot. The two main spaces can be exclusively reserved for functions between 40 to 90 people.
Private forest retreat in Crawley
Go big or go home, right? The Somerville Auditorium is one of the most picturesque venues in Perth, located within the immaculate UWA gardens. Most popular with the wedding crowd and available solely between late April and early October, the 10- by 20-metre clear roof marquee is less commonly known as a private party or corporate function venue for up to 200 guests. The magical setting is completely engulfed by a cathedral of Norfolk pine trees, creating a dramatic private forest ambience your guests won't forget in a hurry.
An ethical urban farm in East Perth
Tucked alongside the railway lines by Claisebrook Station is an unexpected urban farm and nursery space. Within this quirky volunteer-run community there are a number of unique venue spaces for hire, including a big old barn that opens onto a courtyard complete with milk crate seats and oil drum tables. With a capacity of 200 to 400 guests, the rustic space is only limited by the creative event planner's imagination and has been used for exhibitions, art shows, launch events, and as a pop-up marketplace.
Unleash your inner-child in the inner-city
It's a long, long way from the boardroom, but sometimes you need to think outside the box to make an impact – and we all know nostalgia is a powerful sentiment. Boasting Australia's one and only video game console museum as well as an interactive game area, The Nostalgia Box could provide the unique x-factor you're looking for when planning your next fundraising or networking event. Yes, they do have Mario Kart and Pac-Man.
Unique Perth Venue #10: Moana Hall
An elegant CBD venue with Gatsby glam
Built in 1908, Moana Hall is a gorgeous heritage-listed building located at the end of Hay Street Mall in the heart of the CBD. A makeover in 2019 expanded and modernised the hall's cafe, bar, and events venue without losing any of its old-world charms. The original hardwood floors, huge arched windows, and black and white design create an elegant ambience for a cocktail event or formal function, and the balcony overlooking Perth CBD tops off a Great Gatsby-inspired evening.
Unique Perth Venue #11: Freo.Social
Freo's newest, oldest venue
This old industrial site has been transformed into one of Fremantle's coolest hangouts. Freo.Social is divided into five unique venue spaces, from a micro-brew shed for 60 people to the massive entertainment hall that houses 250 people (seated) or 400 people (standing) as a theatre. The 1895 building has been well-and-truly updated as a premium venue for everything from corporate functions to weddings. The perfect choice for creators looking to burst back onto the scene with COVID-safe and adapted music events, they've got a permanent food truck out back and no shortage of beer – with 56 independent taps spread across the venue.
Bring your event ideas to life
Whatever shape or style of event you're planning, finding the right venue can transform your vision into an unforgettable experience for your guests. Planning in-person events around the country? We've got unique venue guides in every city, from Melbourne and Sydney to Brisbane and Hobart.
Once you've identified your venue, the next thing to do is to get started planning your event on Eventbrite.