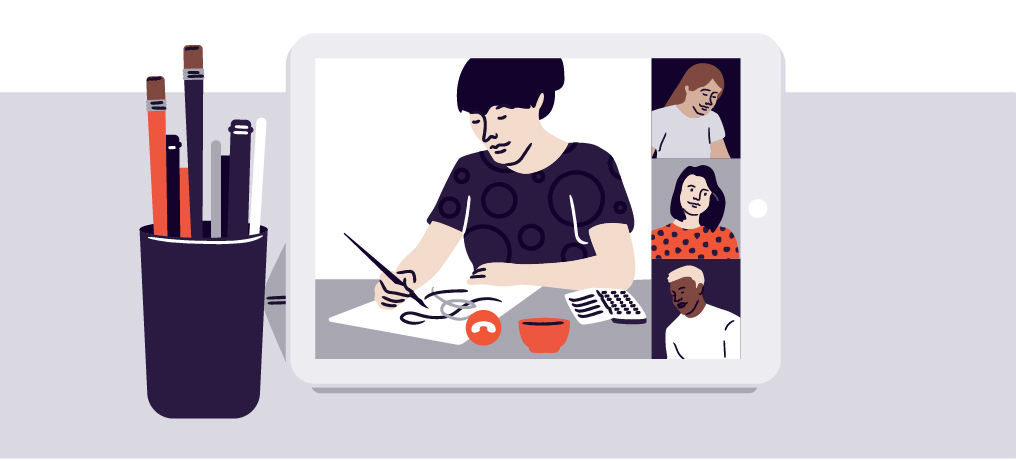 How to Create Exciting Virtual Events That Will Engage Your Audience
Once a niche aspect of the event industry, virtual events have become an integral part of daily life in a COVID-impacted world. And they're not going anywhere.
The best part of this online event renaissance? You don't need a huge budget or previous event experience to create exciting virtual events. Over the last six months, resourceful individuals and organisations have pushed past traditional virtual event boundaries to broaden their reach. One sports medicine practice brought all of their wellness classes online, while a retired teacher started a virtual music venue from scratch. Thanks to inexpensive technology and tools, anyone can host an online event, regardless of budget or experience.
New to hosting online events? Check out this collection of resources.
The value of virtual events
Virtual events exploded in popularity due to the pandemic, but they're proving to be a high value opportunity regardless.
Not only can they be just as engaging and exciting as in-person events, they allow you to bring together a wider audience. Travel costs that could have prevented attendees (or talent) from being able to attend a live event are no longer an issue. 
Plus, virtual means less overhead costs — after all, you're not budgeting for a venue, large events staff, and other in-person line items. So you get to drastically reduce your outgoings (not to mention, your carbon emissions), while spending more on curating the best virtual event possible.
Lastly, there's the data. It's much easier to track who is watching what when everyone is tuning in online. All that attendee data is music to sponsors' ears, which can make securing the best ones for your online event a whole lot easier.
Ideas for virtual events
Using a few tips and tricks, nearly any successful in-person event can be turned into a virtual event. But how can you translate that physical experience into an equally valuable online event? It's all about giving attendees what they want, while offering ways to connect socially.
To help you get inspired, here are eight ways to turn your event virtual:
Host an interactive workshop on your business expertise

Interview an industry influencer, followed by a Q&A with attendees

Host a bake-along virtual cooking workshop, with

specialty ingredients or tools included in the ticket price

Teach a series of courses on perennial gardening

Run a question and answer session about how you started your business

Demo your brand new product, offering a discount or special gift with purchase to attendees

Run an awareness webinar, with a post-event suggestion to donate to your cause
Teach your yoga/art/dance class online
For more ideas and examples of great online events in action, check out our curated collection of the best events online.
Hosting an engaging event
With over one million online events hosted on Eventbrite in 2020, our expert knowledge and insider data will help you create an event your attendees won't forget.
1. Make it relevant
To earn people's attention, make sure the content you're delivering is useful for your customers. What do attendees want from a virtual event? What will they spend money on? And what will make them want to turn on their video chat after a long day of remote work? When you start planning your online event, make sure it's worthwhile for your audience.
So how do you learn exactly what your audience wants out of your webinar or online workshop? We asked them for you. Our survey data provides you with valuable insights on what attendees are looking for in virtual events, so conducting your own research is optional. Check it out here.
2. Pick the perfect platform
The platform you use to stream your event will rely entirely on what you're providing. If you're hosting a webinar and want to moderate attendee participation, Zoom might be a good option. Looking to livestream a film? Vimeo offers password protected streams, so you can ensure only ticket holders can attend.
If neither of those options is right for your event, there are dozens more to choose from. Check out our advice on picking a livestream platform for more info.
3. Price it right
Online events often have fewer overhead costs than traditional events, but that doesn't mean you should undervalue the experience you're providing. Ticket prices for online events vary widely between categories, from $23 average for music events to $124 average for professional development events. You can even offer donation-based or sliding scale pricing so more people can attend.
Picking the right price is the first step to throwing an event attendees are excited about. To help you decide, we spoke with some Eventbrite creators on how they priced their events on the blog.
4. Use precise marketing tactics
Marketing an online event is different than an in-person event. Eventbrite data shows that boosting marketing one week before an event sells 47% more paid tickets than starting marketing a month early.
From social media to Eventbrite's simplified marketing tools, it's easier than ever to promote virtual happenings. Make sure you're marketing the right way for your customer with our guide to marketing online events.
5. Be inclusive
Making your event diverse and inclusive doesn't have to be difficult. If you're hiring speakers, find experts of different genders, races, and backgrounds. Add subtitles to a film, or employ an ASL translator for a live stream concert. Consider offering scholarship tickets for professional development classes or networking events.
No matter what you do to increase the inclusivity of your event, add all of this information to your event listing so your guests feel welcome from the start.
6. Invite special guests
With so many people working in front of their screens all day, your event needs something that will drive sales and get attendees excited to show up. Consider inviting an expert in an aligning field, joining up with an influencer your attendees would love, or even hosting a celebrity for a performance or Q&A. Booking big-name talent for online events is easier than ever, no matter where you're located.
7. Integrate your in-person experiences
If your organisation has started operating in person and your municipality deems it safe and legal, you might consider hosting small in-person events, bookended by virtual events in the same theme. Alternatively, hybrid online/offline events are a great way to engage your local customers while interacting with new audiences. Think about live streaming a live fashion show or film screening, or creating a virtual follow-up to an in-person workshop.
8. Incorporate add-on items and fun merchandise
In-person add-ons, like participatory packages shipped to attendees doors, are proven to help your bottom line and drive ticket sales. Consider adding a box of perfectly paired snacks to your wine tasting tickets, or send out some fun household decorations in themed colours to virtual partygoers. Integrating an in-person experience helps participants feel like they're part of the action while adding value to your event.
9. Keep your attendees safe
During the COVID-19 pandemic, virtual events are always a safer option than in-person events. But virtual safety is important, too. Utilising your platform's highest security options will ensure your guests' personal information is not at risk.
Guests expect their financial information to be safe when they purchase a ticket, and they expect to be safe socially, as well. Make your event password-protected, set participation guidelines for your attendees and personnel, and be sure to have personnel on hand to moderate chats and attendee interaction during the event.
10. Ask for feedback
Getting feedback from attendees is like getting free business advice from the people who matter most: Your customers. Take advantage of your guests' fresh points-of-view and send out a survey shortly after your event ends. To make it easy, we've compiled 15 survey questions you should ask after an event. Your attendees' authentic feedback will help you make your next event even better.
Get ready to host a virtual event your attendees won't soon forget
Make your events lively, varied, fun, and unexpected. Your participants will learn more and be more likely to come back for more. Ready to create your event? Check out our Online Events resource hub and get started on Eventbrite today.