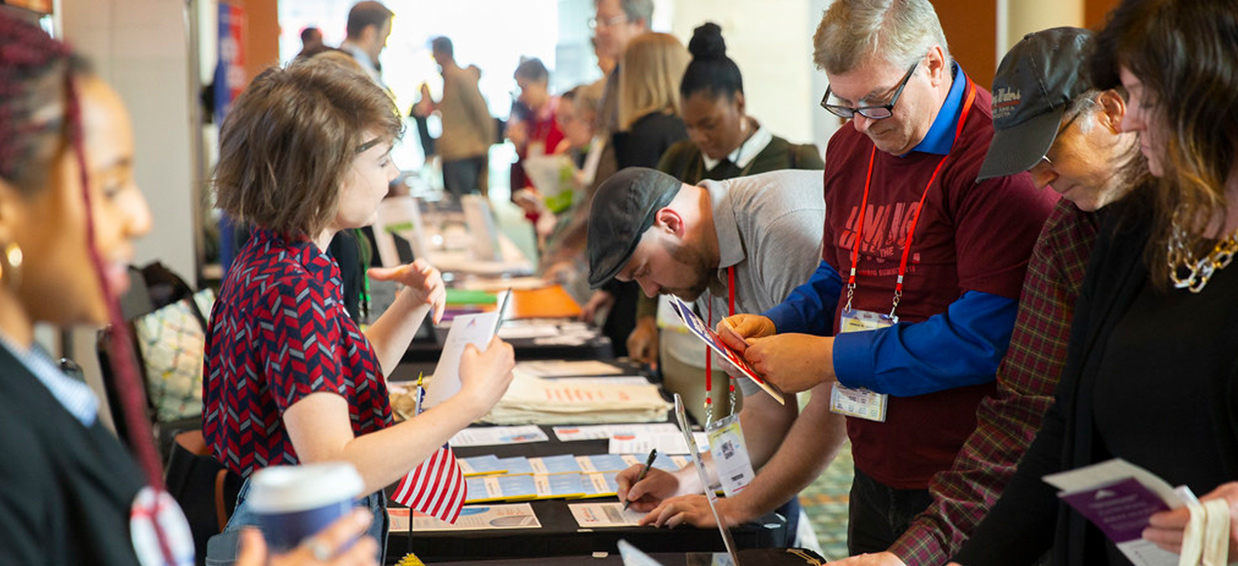 10 Proven Tactics to Increase Event Registration
It doesn't matter if you've booked the best keynote speaker in town, slaved over your presentation for weeks, or discovered the perfect unique venue for your workshop, if nobody shows up. 
Getting people through the doors is the most crucial, and often the most difficult part of hosting a successful event. To combat low registration rates, we've compiled 10 actionable tactics to help get your event registrations up – and keep your stress level down.
Event Registration Tip #1: 
Zero in on your target audience
Before the registrations start rolling in, you need to know exactly who you're targeting. Be specific, not broad. Beyond the industry and location of your ideal attendees, think about common interests or goals they might share.
This can help you understand where your attendees hang out and what sort of content they consume – which should guide your marketing efforts, and help you identify potential sponsorship opportunities. 
Put it into action to increase registrations: A clear picture of your target audience will help with targeted advertising. Put your knowledge into action by targeting social advertising on networks such as Facebook and LinkedIn that allow you to tailor your ads to people based on their job title, interests, or other online activity.
Event Registration Tip #2: 
Be clear with your value proposition
Once you know who you're targeting, you need to identify what about your event is most valuable to them – and promote that first and foremost to encourage registration.
If you know the attendees of your conference are most excited about networking opportunities, consider publishing the attendance list so they can see who they'll be mingling with on the day. Or arrange a speed-networking session during the lunch break.
Put it into action to increase registrations: Use Facebook Dynamic Ads to ensure your event advertising is targeted toward those who will find the most value in attending. This tool allows event planners to automatically promote their events to those most likely to register, based on their previous activity.
Event Registration Tip #3: 
Ask people what they want
If you're having trouble putting your finger on your value proposition, why not ask your intended audience? 
Reaching out to potential attendees (such as previous attendees from a similar event) and asking them what they liked, what they didn't like, and what they'd like to see more (or less) of next time, is a fool-proof way to discover your event's unique value.
Put it into action to increase registrations: Post-event surveys receive the best results when completed as soon as possible after the experience. Make a habit of sending them after every event to future-proof your registration strategy. Check out these inside tips from SurveyMonkey on how to get the best results.
Event Registration Tip #4: 
Nail your event description
Studies show that 88% of people will look to gather information online after learning of your event, and you only have 10 seconds to capture their interest. How you convey your event to your potential audience can make all the difference. 
Event descriptions that entice the most registrations:
Paint a vivid picture for potential event-goers

Use brief but poignant copy to spark curiosity

Create a sense of urgency

Convey benefits over features to help sell the experience of your event
Put it into action to increase registrations: Read How to Craft the Ultimate Event Description to gain insight into how to brush up your event description to entice a bigger crowd.
Event Registration Tip #5: 
Get sponsors or partners onboard 
If you've exhausted your network and not received the registration results you hoped for, then take advantage of someone else's network. Partnering with companies who share a similar audience to you presents an opportunity for you to extend your reach, while they promote a new valuable event to their followers.
This sort of mutually beneficial arrangement can take the form of major sponsorship packages, on-site brand activations or micro-influencer marketing.
Put it into action to increase registrations: Standing out in a busy inbox can be tricky, but it is essential if you want the support your event needs to reach its potential. It's all in the art of the proposal. Read 'How to Write a Winning Event Sponsorship Proposal' to help you get a partner onboard that can help increase registration numbers.
Event Registration Tip #6: 
Promote registration everywhere
To help more people discover your event, you need to be found in more places than just your own event listing. Instead of trying to drive more traffic to your website, you can reach a much wider audience by making your event registration available where people are already browsing.
Embedding event registration on people's favourite websites and social media platforms like Facebook and Instagram is one of the most effective ways to instantly boost registration numbers. 
For example, Eventbrite organisers who make registration available directly through Facebook drive 20% more sales for paid tickets and 2x more free registrations on average than those who redirect people to their website.
Put it into action to increase registrations: If you're using Eventbrite, add a 'Get Tickets' button to your Instagram profile and add registrations to Facebook.
Event Registration Tip #7: 
Have an early bird offer
Driving event registrations as early as possible takes the pressure off during planning, so you can focus on delivering a knock-out event. Rewarding guests who register before a specific deadline with a discount or incentive is a proven way to encourage them to commit sooner.
You can do this by setting a time period for your discounted 'early bird' tickets (such as the first week of sales), or offering exclusive incentives to a number of first registrations (such as meet and greet with a popular guest speaker). 
Put it into action to increase registrations: Everyone loves a discount, but make sure you structure your discount campaigns strategically to boost your registrations. Check out 'Event Discount and Promotion Codes: When and How to Use Them' to make your discounts, count.
Event Registration Tip #8: 
Create a social media calendar
To catch and hold attention in your target audiences' social feeds, your posts need to not only be compelling, but also frequent. Consistency is the unsung hero of social media success. You don't need to post every hour on every platform, but you do need a plan, and you need to stick to it.
Put it into action to increase registrations: Whether you're using paid or organic social media posts, use the below as a guide on creating a promotional calendar:
Stage 1: Event announcement phase: At this stage, your goal is to link interested viewers to ticket sales. A great way to do this is by linking your event to Facebook through Eventbrite's Add to Facebook integration and then running an Event RSVP campaign.
Stage 2: Ticket on-sale phase: You should see a surge in sales when tickets become available. For less hustling later on, convince people to buy tickets now. The most important thing to do during the ticket on-sale period is to run conversion campaigns. Using Facebook's "conversion tracking" feature, you can track how many actual purchases came from which ad.
Stage 3: Maintenance phase: Now is the time to give those interested in attending a compelling reason to do so. Instant incentive to buy might include a short-lived promo deal or a social contest offering discounted tickets. You may not sell a lot of tickets during this stage, but the money you spend will accrue interest when you get to the closeout period.
Stage 4: Week of event: Ticket sales ramp back up at this point, for a very good reason: there's a hard deadline. So now is the perfect time to double down on your conversion campaigns. The key takeaway: your social media ads should target those who've already expressed at least some level of interest in your event.
Event Registration Tip #9: 
Analyse and learn from your data
An event planner's most valuable asset is their data. If you're gathering registrations online, you're also gathering valuable information about your attendees.
By reviewing the numbers and analytics of your last event, you can quite easily find where most of your registrations came from and which marketing campaigns were the most successful. Then, double down on your most effective channels. 
Haven't hosted an event before? No worries – analysing your registration data as you go will still help you identify your most valuable attendees, and adjust your marketing efforts to target them specifically.
Put it into action to increase registrations: Analytics reports are where you mine for valuable data. Analytics tools are available for search engines, social media applications, and ticketing providers like Eventbrite – you just need to know where to look to find the gold. Check out this guide to learn how to supercharge your event with data.
Event Registration Tip #10: 
Raise the prices
Sounds counterintuitive to charge more in a bid to increase registration, right? Not necessarily. Having a date when prices go up can actually encourage attendees to get off the fence and register – similar to how "selling fast" alerts incite FOMO (fear of missing out) and boost sales.
Put it into action to increase registrations: Learn more about ticket pricing strategies that will increase registration numbers with this guide.
Start boosting registration numbers today
To help you on your journey toward "sold out", download The Ultimate Event Marketing Kit to get your hands on some valuable templates from industry leaders.