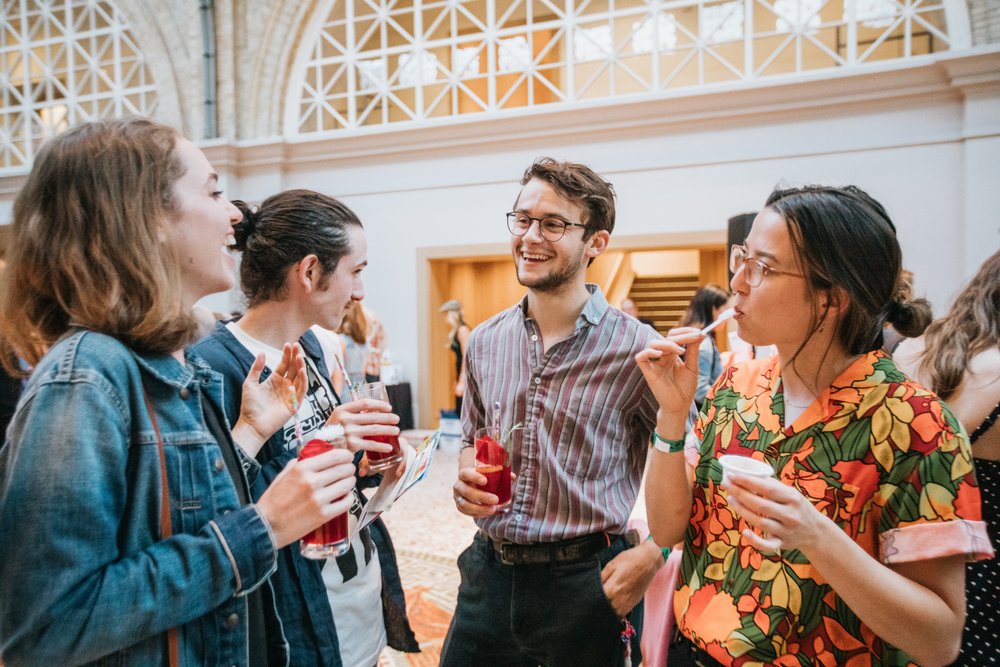 11 Brand Activation Ideas Attendees Will Love
Most people attend events with certain expectations, but this doesn't mean they don't want to be surprised. A shockingly good meal or craft beer, a main stage experience that's worth the ticket price, or even a delightful interaction with a sponsor that brings them closer to the brands they love can make for memorable moments.
These memorable moments can be challenging to create, especially since COVID-19 has had a major impact on how people attend events. But it's vital that event creators find ways to build connections between their audience and sponsors. Sponsors aim for event attendees to interact with their brand in a way that leads to exposure and sales, and the right brand activation can achieve just that without a huge price-tag.
But how can you avoid a half-baked experience that damages customer perception of your brand? Start with one of these 11 brand activation ideas that your attendees are sure to love.
What is a brand activation?
A brand activation is when a brand sponsors your event in a way that positively impacts an attendee's experience, from co-branded event giveaways to a sponsored event app. Creating a brand activation plan template is an important way to brainstorm how to maximise attendee brand interactions.
Take local music gigs or even live online performances. Many attendees are excited to experience the sponsorship activations there. Brand activations provide better experiences for your fans and help sponsors create more meaningful connections. Keep on reading to discover 11 ideas to inspire your next event's brand activations.
Brand activation idea #1: inspire with interactive installations
When your attendees don't just see a brand, but have an experience with one, it can be a powerful tool for a great customer and brand relationship. That interaction sparks a memorable moment in your attendees that they'll take with them after the event. Take hair and skincare brand, Garnier, who created a garden oasis/immersive playground at the Australian Open in 2019. The space included a ball pit, a slide, sunflowers, bubbles, and mini trampolines. This kind of activation equals fun photos, a unique experience that's memorable, and positive interactions with the brand that gives them a fun and exciting identity.
In the event that COVID-19 restrictions impact your ability to implement safe physical installations, make use of a digital installation, such as interactive stories or artworks. With the vast majority of people holding a gateway to the internet in their pocket, now's the time to get creative and go digital.
Brand activation idea #2: let attendees step outside their comfort zone
Your attendees likely have a bucket list of things they've always wanted to try but never quite got around to, like karaoke or wearing a VR headset. By giving them the opportunity to tick something off their list, you'll make a lasting connection with them. This opportunity doesn't need to reach extremes, it just needs to be different – something that can surprise guests.
Brand activation idea #3: tell more authentic stories
If you want your brand to effectively make meaningful connections with attendees, let someone else tell their personal story. A testimonial from an influential expert or current customer goes a long way in adding credibility. In fact, studies show that 70 percent of consumers look at product reviews before making a purchase, and product reviews are 12 times more trusted than product descriptions from manufacturers.
Start by asking your audience what they love about your event, program, team, space, festival, etc. You can use their feedback, or even their stories about your event, to tell a compelling story that reflects how you're creating more personalised experiences for your attendees.
Brand activation idea #4: provide respite and relaxation
With COVID-19 severely impacting our ability to host large-scale events full of the hustle and bustle of massive crowds, now is the time to take advantage of embracing the calm. A socially distanced lounge with a focus on quiet and relaxation can help attendees find a moment of calm and appreciate their surroundings – it might even make for a good photo opportunity. Even something outdoors can give attendees freedom of movement and the added appeal of not being immersed in groups of people.
Brand activation idea #5: make the essentials available
Charging stations and free WiFi don't sound all that exciting, but for attendees who need a faster connection or to charge their phone, these kinds of stations are a godsend. The best bit? There's a strong data capture element from obtaining free WiFi, which requires an email address to be entered that sponsors can then use to contact festival-goers, perhaps to promote some branded event merchandise.
Brand activation idea #6: win attendees over with wellness
Wellness experiences are surprisingly popular at all types of events, not just at ones with a wellness focus. You can give people a moment to stretch their bodies with a short work out, such as Zumba. The ideal time in this instance would be 10-to-15-minute beginner sessions as opposed to the regular hour-long classes.
Exercising in groups may not be the go-to event while the impacts of COVID-19 are still prevalent, but many wellness centres have been spreading the calm by live streaming sessions. This gives attendees the option to participate in wellness activities from the comfort of their own home.
Brand activation idea #7: get people playing for fun
There's a reason why learning games work – play makes it easier to absorb new information and make new connections in your brain. At a recent Melbourne Boat Show, The Boating Industry Association of Victoria used VR technology to give attendees the chance to be pirates.
Brand activation idea #8: unique giveaways
Another way to connect brands with their customers? Event giveaways! Everyone loves a good competition, especially when being in the draw is free or included with their admission to the event. The chance of winning something special can create more engagement and excitement in attendees that often rubs off on their friends.
Brand activation idea #9: take food and drink to the next level
Food printing (logos printed on eatables), company-branded drinks, and pop-up restaurants are just a few ways to enhance branding through events with food and drink. Most attendees will love free snacks and drinks. If hosting an online event, provide quick, easy, and unique recipes for people to get involved in. Who knows, it may become the next viral social media food trend.
Brand activation idea #10: live it up with live video
Did you know that 30 percent of people who watch a live streamed video will attend that same event the following year? Offering a live stream as a sponsorship package can provide brands with the opportunity to engage with audiences in niche markets, which is particularly important at business events. Now that people are spending more time-consuming content online, they're more inclined to check out an online live stream.
Brand activation idea #11: create a limited edition product for events
One way to impress attendees, raise your profile, and be remembered post-event, is by creating limited-edition products available exclusively at the event you're sponsoring. A step above the usual swag, brands are now creating "capsule collections" to celebrate their partnership with major events and sell unique versions of their product that are desirable and sustainable. In order to follow COVID-19 regulations, rather than crowding guests around a pop-up store, perhaps look into an online launch of exclusive branded event merchandise. With people gravitating more towards online shopping, this could be a huge hit.
Amplify your brand impressions
The right brand activation, no matter how perfect, will fall flat if no one is there to experience it. With intuitive event promotion tools and robust analytics, Eventbrite's ticketing platform can help you spend more time focused on the attendee experience and reach the right audience. To get started, set up your next event today.
Eventbrite Boost is the all-in-one-marketing platform designed for event creators. Whether you're connecting people in-person or virtually, for poetry readings, cook-alongs or concerts, you've got a lot on your plate. Eventbrite Boost makes it easy to reach new people, engage your fans and followers, and grow your attendance — directly from your Eventbrite account.