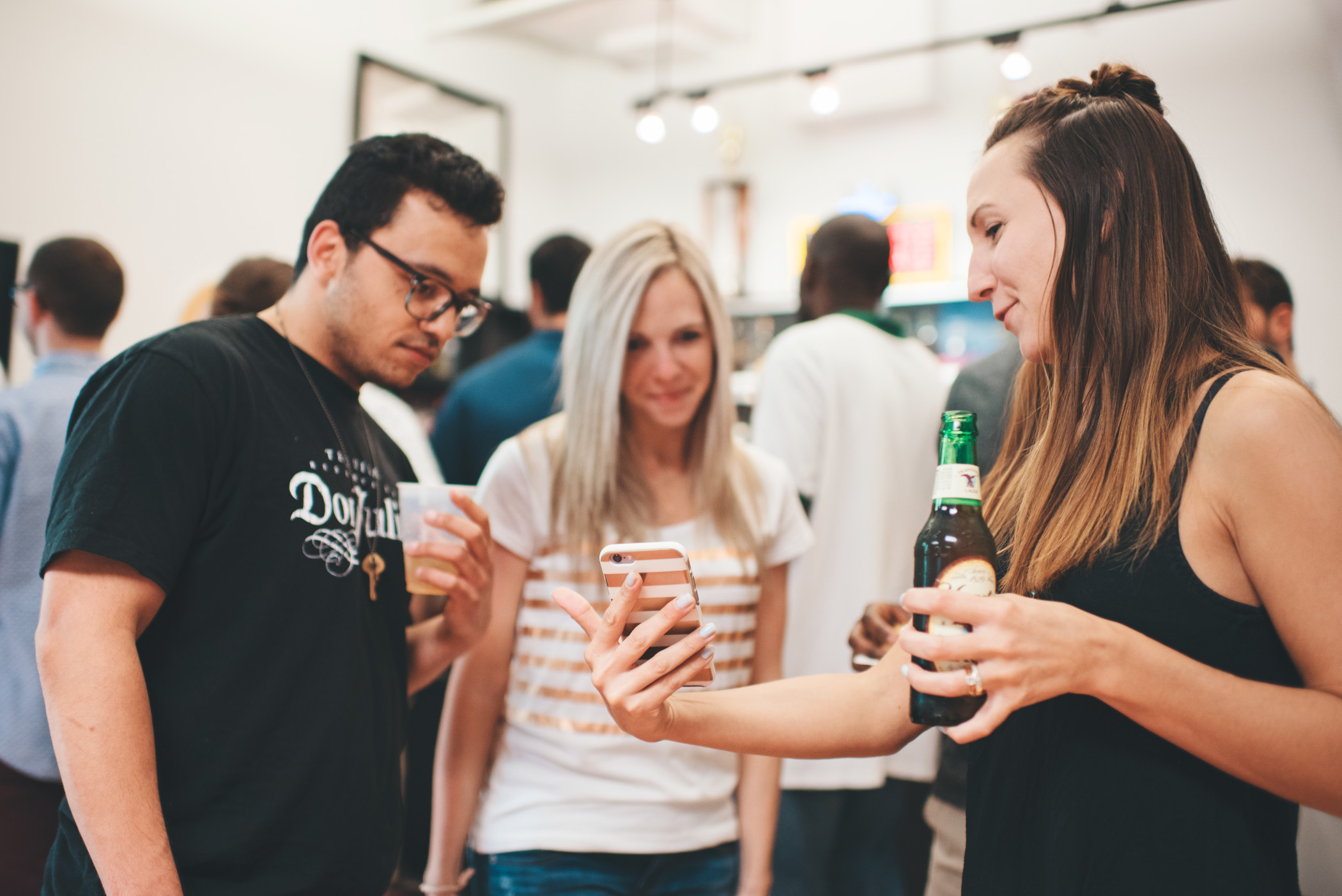 10 Unique Networking Activities for Events That People Will Love
Networking is a key motivator for your attendees — they're seeking new connections and looking to grow professionally by speaking to others at your events. Yet, despite the best of intentions, networking events often don't provide the opportunities people are hoping for.
Recent studies on networking have concluded that:
Even when 95% of attendees specified that they wanted to meet new contacts, they spent

over half of the time

with people they already knew

Many networking events can feel gendered, with women making

42% fewer contacts

than men

Networking to advance our professional goals isn't always enjoyable and can even make us

feel 'dirty'
A lot of these issues come down to the style of interaction. You can't slap on a name tag and hope for the best. Instead of letting your attendees wallow in awkward conversation about the weather, try one of these unique networking activities to get people chatting naturally.
Unique Networking Activities #1: Arts and crafts workshop
DIY is all the rage right now. Set up arts and crafts stations where attendees can mix, mingle, and make. This could be an unstructured crafts and chatting session, or take inspiration from events like CraftJam, who organise workshops like "Make a Custom Leather Wallet" and "Modern Calligraphy Workshop" every week in NYC.
Unique Networking Activities #2: Beer or wine tasting
Instead of opening the bar and hoping guests will mingle over a drink, enlist the help of a beer expert or sommelier to teach participants about beer or wine with a tasting. Guests can learn and interact while they enjoy a drink together.
Unique Networking Activities #3: Cocktail workshop
Take a drinks tasting a step further and get attendees working together to create a speciality drink for your event. Enlist a pro mixologist to teach participants how to make a tailor made cocktails.
Unique Networking Activities #4: Interactive canvas
Cover a blank wall with paper to create a giant canvas that guests can interact on. Give them projects — things like "write a poem in under three minutes" or "draw a selfie." For a high tech (and immediately erasable!) version, you could also project this on a white wall and give participants supplied tablets which they can use to write, draw, or graffiti with.
Unique Networking Activities #5: Interactive games
Gamification is a compelling way to get attendees engaged. Using technology, you can orchestrate a digitally run trivia game, for instance. Or plan a scavenger hunt with an app that provides clues.
Unique Networking Activities #6: Storytelling open mic
Storytelling is a wildly popular event activity, thanks to the success of organisations like The Moth. Give your networking event a theme that participants can relate to and ask them to share their story. For example, if you were hosting a networking event for female entrepreneurs, storytelling topics could be around challenges faced by women in small businesses, re-entering the workforce after motherhood, or turning a passion into a business. Or you can open it right up to a theme such as "Hope", "Discovery", or even "Failure" to allow participants to share personal experiences.
Unique Networking Activities #7: Think tank
A networking activity doesn't need to stop at getting people over their initial shyness. They can also serve as productive, energetic kick-off sessions. Host networking events that turn into brainstorming sessions, by giving attendees a problem to solve in small groups. It will help bond participants while also achieving a set goal.
Unique Networking Activities #8: Childlike fun
Not all networking events have to feel corporate. To encourage guests to let their hair down and be playful, set up some group games and nostalgic activities from childhood (think Giant Jenga, Connect 4, Ring Toss, and Bocce). Instead of formal name tags, ask attendees to write their childhood nickname on their name tag. This is a lighthearted way to break the ice as the games get people interacting and the name tags open up conversations to funny childhood stories.
Unique Networking Activities #9: Morning tea masterclass
Invite a professional to host an educational workshop during a morning tea for participants. Make the masterclass interactive so that attendees are working together and making new connections (over tea and coffee) while they learn.  
Unique Networking Activities #10: Volunteer for a cause
A great way to get people to open up and connect with their passions is to volunteer time for a cause they support. By partnering with a charity, you could turn your networking evening into an event for good. For example, you could get attendees to bond while prepping meals for those in need, or making toys for a children's hospital or animal shelter.
Creating a unique networking activity for your brand
Sometimes, all an event needs to get conversation flowing is something to break the ice. Try to think of a creative way that you can bring your brand to life in a networking activity. Here are two examples:
1. Google's Coffee Cup Conversation Starters
Google is known for their "easter eggs"  — fun hidden messages that people stumble onto across the web. Google carries this easter-egg idea through to its events as an icebreaker activity. To coax people to interact at their networking events, they have planted cups with conversation-starters printed on the bottom. One person takes a sip of coffee; the other person sees the prompt to respond to.
2. Yelp's Free Compliments
Online-review site, Yelp, encourages users to leave compliments on each other's profiles to let them know if they think they are "useful, funny, or cool". A real-world version of this was created at an event in Melbourne, where guests could write compliments on a wearable sticker and give them to people to say something kind or funny. To keep the activity going, a staff member acted as an official complimenter, chatting to guests and handing out stickers to prompt participation. From "cool shoes" to "love your reviews", this encouraged guests to talk to each other and wearing the stickers gave new people an icebreaker to start a conversation.
Start networking now
Get your attendees talking by taking these ideas and starting your next networking event today.