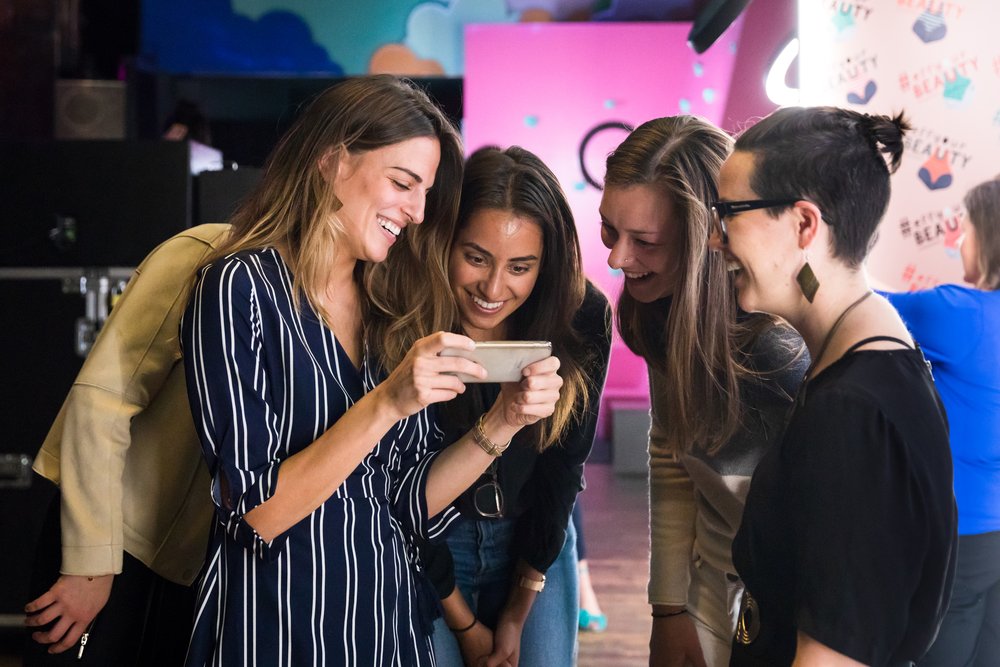 Run an Engaging Workshop with Our 10 Unique Networking Activities
Networking is often a key motivator for event attendees – the prospect of new connections and opportunities to grow professionally is exciting. Yet, despite the best of intentions, networking events may not deliver the opportunities people are hoping for. But, why? Many attendees spend the time with friends they already know despite having attended to meet new people. In addition, COVID-19 has moved many networking communities online, opening up a fresh set of challenges for creators looking to make meaningful connections with their guests.
So, what's the secret to more natural, COVID-19 friendly networking events where guests are open to mingling with new people? Try one of these unique networking activities to get people chatting and moving around the (physical or virtual) room.
Unique networking activity #1: Arts and crafts workshop
DIY is all the rage right now. Set up arts and crafts stations where attendees can "mix, mingle, and make," or partner with an artisan who can host small group networking activities alongside a class. For example, leatherworking artisans Leffler Leather can guide your business networking groups to hand-make useful professional items like leatherbound journals. In this case, your attendees will get even more from your event than great contacts.
Unique networking activity #2: Beer or wine tasting
Instead of opening the bar and hoping guests will mingle over a drink, enlist the help of a beer expert or sommelier to teach participants about beer or wine with a tasting. Guests can learn and interact while they enjoy a drink together. Just remember to always offer alternatives to alcohol and provide food alongside drinks.
Unique networking activity #3: Online mixology class
Do you think you can't run networking groups online over a drink during COVID-19? An online mixology class, like this example from the United States, might change your mind. Guests must receive equipment and ingredients before the event, so it can even be a unique brand opportunity where you send your guests a sponsored kit with everything they need inside.
Unique networking activity #4: Brainstorming canvas
Cover a blank wall with paper to create a giant canvas that guests can interact on. Give them projects – things like "write a poem in under three minutes" or "draw a selfie." Are you hosting a virtual or hybrid networking workshop? Take your whiteboard online with interactive event technology for brainstorming from anywhere. Just remember to take some photos of the creations.
Unique networking activity #5: Interactive games
Gamification is a compelling way to get attendees engaged and generating great networking event ideas. Using technology, you can orchestrate a digitally run trivia game or plan a scavenger hunt with an app that provides clues.
Unique networking activity #6: Storytelling sessions
Storytelling is not only a fun way to get to know other people, it's a valuable professional skill for sharing a mission and a purpose. Take inspiration from the Brisbane Business Hub who run storytelling sessions where like-minded business professionals learn how to articulate their vision with passion.
Unique networking activity #7: Get outdoors
A networking activity doesn't need to be indoors around a table. Head into the outdoors to run a COVID-19-friendly outdoor networking activity like an International Day of Yoga event, a cycle ride, or a walk. You could also try a team challenge made up of attendees who meet on the day of the event to foster new relationships and give new meaning to the phrase "networking workshop exercises." Wondering how to start a women's networking group at work? Take a leaf out of Women Want Adventure's book and get the gals into the great outdoors.
Unique networking activity #8: Childlike fun
We're all just big kids in suits, right? To encourage guests to let their hair down and be playful, set up some group games and nostalgic activities from childhood (think Giant Jenga, Connect 4, Ring Toss, and Bocce). Instead of formal name tags, ask attendees to write their childhood nickname on their name tag. This is a lighthearted way to break the ice – the games get people interacting and the name tags open up conversations about funny childhood stories.
Unique networking activity #9: Morning tea masterclass
Move from breakfast meetings to morning tea by inviting a professional to host an educational workshop for participants. Make the masterclass interactive so that attendees are working together and making new connections (over tea and coffee, of course) while they learn.
Unique networking activity #10: Volunteer for a cause
A great way to get people to open up and connect with their passions is to volunteer time for a cause they support. By partnering with a charity, you could turn your networking evening into an event for a good cause. The right unique fundraising event is also an ideal relationship-building opportunity where your guests can bond over their shared values.
Creating a unique networking activity for your brand
Sometimes all an event needs to get the conversation flowing is something to break the ice. Try to think of a creative way that you can bring your brand to life in a networking activity. Here are two examples:
1. Google's coffee cup conversation starters
Google is known for their "easter eggs" – fun hidden messages that people stumble onto across the web. Google carries this easter-egg idea through to its events as an icebreaker activity. To coax people to interact at their networking events, they have planted cups with conversation-starters printed on the bottom. One person takes a sip of coffee; the other person sees the prompt to respond to.
2. Icebreaker bingo
Looking for an easy way to get people talking? Arm them with an "icebreaker bingo" card and hand them out before a 10-minute break. Each card has a giant number printed on one side and three questions along with three different numbers on the other. The objective? Find three other guests with the numbers you're looking for and ask them the questions to learn more about each other and forge new relationships. For industry- and theme-specific groups, use questions that help your guests share information that's on-topic. Alternatively – if you're purely looking to help people forge friendships – keep the questions fun. You can even offer a prize for the attendees who get all three numbers the fastest.
Start networking now
We've got resources to help you keep your event both fun and safe for everyone, from free event marketing templates to tips for creatively managing COVID-19 restrictions. Get your attendees talking by taking these ideas and starting your next networking event today.