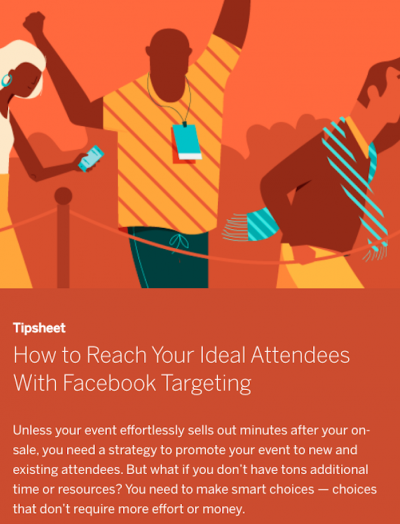 How to Reach Your Ideal Attendees With Facebook Targeting
Whether you're a bridal show that wants more local attendees or an international music festival looking for a global fan base, make sure you reach your right audience with Facebook targeting.
Unless your event effortlessly sells out minutes after your on-sale, you need a strategy to promote your event to new and existing attendees. But what if you don't have tons additional time or resources? You need to make smart choices — choices that don't require more effort or money.
On Facebook, you choose exactly who should see your ads — and only pay for those impressions. The key lies in building the right type of target audience for your event.
Download this tipsheet to find out how you can:
Reach your ideal attendees with Facebook targeting
Create parameters to ensure your event gets in front of your ideal audience
Use your event data to easily find new attendees