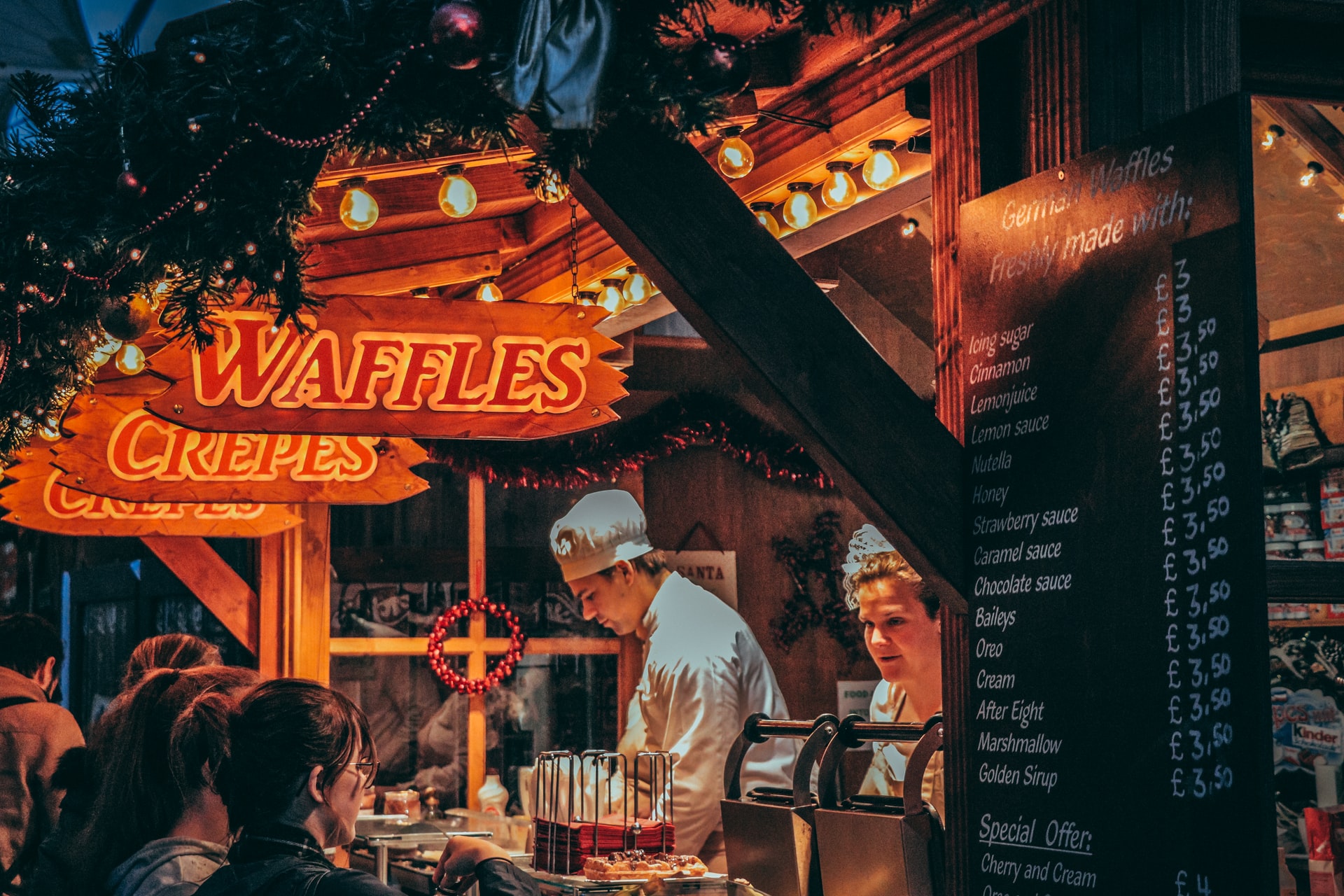 Planning the Perfect Christmas Festival to Celebrate With Your Community
Planning a Christmas festival is a great way to boost your brand, but since Christmas falls during an event-heavy time of the year, it's important to make sure that your event stands out. Christmas and New Year events are the perfect way to take advantage of the festive spirit and create a memorable experience that attendees will forever associate with your brand.
Christmas festivals and markets that focus on shopping, food, drinks, and holiday fun are popular worldwide, even in countries where Christmas falls in the summer. These markets tend to be popular in major cities such as New York or London, but that doesn't mean they can't be recreated locally. Unfortunately, travel has been difficult for many people over the past couple of years, so turning your event into a 'Christmas around the world' party is one way to attract potential attendees itching for an international experience. There are amazing international traditions associated with Christmas around the world that you can leverage for your own uniquely Australian Christmas event.
When planning a Christmas market or other event, it's important to think about the people in your community who are likely to attend. Many crave connection and togetherness during the holidays, which has been lacking as the COVID-19 pandemic continues. Consider Christmas festival activity ideas that embrace both the global and local community in a way that will leave everyone feeling included, and like they've experienced something new.
In this guide, we'll discuss important aspects of a Christmas fair, like Christmas food, festive drinks, and shopping. We'll also share some great Christmas festival ideas from our community of Eventbrite creators who are turning the traditional winter festival into something uniquely Australian.
What to include in a Christmas festival
The things you include in your Christmas festival will depend on a number of factors, including the audience you're looking to target, your event's theme, the size of your venue, and any safety precautions you need to follow. Still, Christmas markets tend to bring certain things to mind for potential attendees: food, shopping, activities, and entertainment.
Food
Christmas food around the world is about decadence and celebration, so you want the food at your Christmas market to bring joy to your attendees. Consider incorporating festive favourites, like German Christmas market food. Think classic Christmas festival food items like beer and sausages, as well as sweet treats from local vendors. You'll want a variety of foods that Christmas market stalls are famous for to cater to lots of different dietary restrictions and preferences.
Look to your local community when reaching out to food vendors for your Christmas market food stalls, since they will be both physically closer to your event, and they may already be known to your potential attendees. Vendors will have the opportunity to introduce their food to hungry people enjoying your market, and you will demonstrate your support of local businesses.
Shopping
Including shopping stalls at your Christmas festival is an excellent idea since people will be looking for unique gifts for their loved ones. The best Christmas shopping markets combine a festive experience with a productive gift shopping trip.
Consider your audience when choosing the vendors to participate in your event. If you're leaning into the 'Christmas around the world' party theme, you may want to consider working with vendors from a variety of different backgrounds and cultures. You can focus on local vendors only for a truly community-oriented event or an event that's focused on sustainable shopping practices. If you're looking to target a craftier crowd interested in artisanal goods, then you may want to advertise your Christmas market as a local craft fair.
Activities
There are plenty of activities you can add to your Christmas event to give your attendees an excuse to stick around longer. When it comes to Christmas festival activities, ideas from family-oriented celebrations to hands-on workshops and cooking classes can really help your event stand out. Choose activities that showcase your brand values and make for a memorable experience that guests return to year after year.
When targeting an audience that includes parents of young children, or the children themselves, think about having Santa Claus present to take pictures with and listen to Christmas wishes. Create a mailbox that children can drop their letters to Santa into, or have a crafts table where families can put together ornaments and decorations. If your event has a crafting theme or component, invite local artisans and businesses to run workshops where they teach attendees how to create thoughtful, handmade gifts or new skills that they can put to use during the holidays. A local florist can show people how to arrange perfect Christmas centrepieces, or a sommelier can talk to groups about pairing holiday dinners with the perfect wine.
Entertainment
Keep your audience's energy up with live music rather than the same set of songs piped through a speaker system over and over. Reach out to local artists interested in playing some festive favourites along with a sprinkling of their own original music. These kinds of community events are also a good opportunity to include the musical groups from local schools. Invite choirs, bands, and orchestras to perform some Christmas classics for their families and neighbours.
Tips for making your Christmas festival a success
Plan for the weather
Christmas market events are often held in outdoor spaces, and depending on where your event is located, you may need to prepare for different types of weather. Whether your area is sundrenched or prone to storms and sudden rain showers, you'll need to provide plenty of shelter. You'll also need to have a process for keeping pathways safe for attendees in the event of sudden changes in conditions. Have a plan in place for informing vendors and attendees if the weather is bad enough that the market needs to be postponed or relocated.
When planning an outdoor Christmas fair in a hot climate, think about ways to keep your attendees and your vendors cool. Outdoor seating areas where attendees might sit down to take a break or eat should be shaded to protect from sun damage and heat. Work with vendors to create summer variations of classic festive holiday drinks for purchase. From a chilled apple cider to a Santa-themed slushie, the possibilities are endless.
Keep your attendees safe
The COVID-19 pandemic isn't over, so it's important to keep all local regulations and restrictions in mind when planning an event. Make sure your market is organised in a way that takes into account applicable social distancing guidelines, mask mandates, and vaccination requirements.
If alcohol is being sold or served, ensure you have a process in place for checking IDs and use a system to identify attendees who are over 18, such as hand stamps or wristbands.
Keep pathways dry so no one slips as they explore the festival.
Create stand-out marketing for your audience
During the festive season, you'll be competing with lots of different events for attendees, so it's important to create a promotional plan that focuses on the unique aspects of your event. Highlight popular vendors or artists who will be present. Consider offering discounts for early-bird ticket buyers or special discounts on vendor wares for attendees who buy their tickets prior to the event. Even if your event is free to attend, you need to capture the attention of your audience.
Create a catchy hashtag and encourage attendees to post pictures on social media with it to further promote your event while it's happening. Make sure you get pictures and videos of the event that you can use as marketing material for next year.
Find the best partners and sponsors for your Christmas festival
When seeking out vendors, partners, and sponsors for your event, think about the values that are important to your brand or organisation. If your Christmas festival has a focus on sustainability, you want to make sure that your vendors are conscious of ethical and low-waste manufacturing processes.
If you're not sure where to start when it comes to finding partners and sponsors, put together a wishlist of the kinds of organisations you'd most love to work with. Then narrow your list down to the organisations that will most appeal to your audience and will work best with your vision.
Give your Christmas fair a charitable component
Entertain your community and give back when planning a Christmas market. If attendees are paying for tickets, consider donating a portion of your proceeds to an organisation with a mission that connects with your brand. Think about reaching out to your vendors and partners and discuss the possibility of them donating a portion of their proceeds from the event to the charity as well.
If you're partnering with particular nonprofit organisations, give those organisations a free booth or table at the Christmas market where they can provide attendees with more information about their mission and accept extra donations.
How to make your Aussie Christmas market stand out from the crowd
Around Australia, you'll find plenty of event creators and community groups putting a uniquely Aussie spin on the traditional winter Christmas market to reach their audience and grow their brand. With markets already a popular pastime for many of us, the added attraction of a Christmas theme or seasonal activities is a great way to build a bigger audience and boost your brand. Not sure how to add some Christmas flavour to your market event? We're here to share some of our top examples of easy ways to turn your summer Christmas market into a winter-esque wonderland.
Add some Christmas ambience and stay out of the heat with a twilight Christmas market, like the team from

Adelaide Showgrounds Farmers Market

did. Your guests will appreciate the cooler evening temps as they stroll between stalls, and you'll be able to hang the Christmas lights for an easy festive vibe.

Christmas is a time of giving for Australians, with many choosing to support events that focus on building stronger communities, especially during COVID-19. Raise money for a local charitable organisation at your market, or make an entire market to support impacted community members like the

Canberra Small Business Christmas Market

, a pop-up event that showcases local small businesses.

No snow on the ground means that your guests can whip out the picnic rugs and enjoy some of the festive treats they buy from your vendors on the spot. Create a dedicated picnic lawn for your guests to enjoy their Christmas-themed purchases and entertainment, like the

Haig Park Village Christmas Market's summer festive drinks garden

. Make sure that your dedicated picnic or seating space has enough room to accommodate your socially distanced guests.
Ready to host a Christmas festival?
If you've already planned your Christmas market event and you've got your vendors ready to go, post your event for free online and promote it in Eventbrite's marketplace. Need help promoting your event with email and on social media? Eventbrite Boost makes it easy to meet new people and build your brand so you can sell more tickets to your next event.