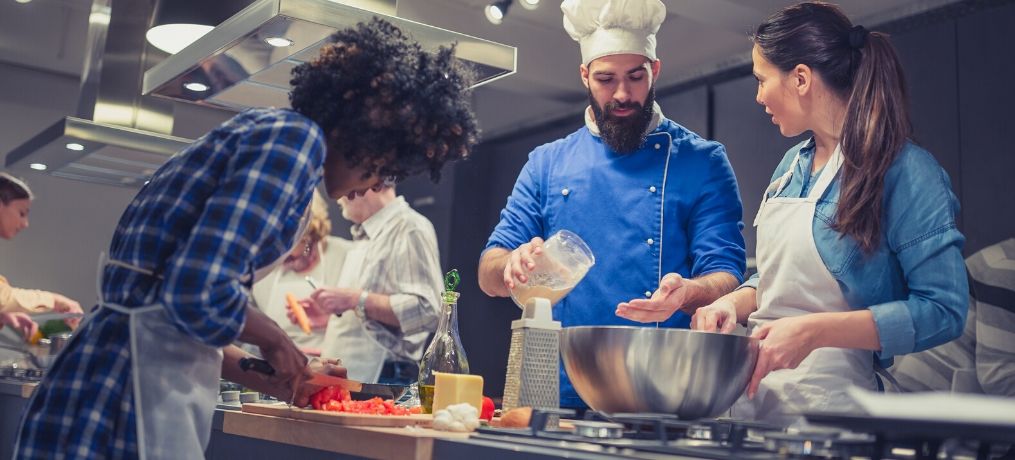 All The Right Ingredients For Starting a Cooking Class
Anyone who loves to cook will tell you that there's no greater pleasure than preparing a meal to enjoy with your friends and family. Except, perhaps, delivering a class that teaches a room full of others how to prepare a meal to enjoy with their friends and family in the future.
So if you have a secret recipe that needs to be shared with the world, but no idea where to start, check out the following six tips to cooking class success. 
6 Tips to Help You Start a Cooking Class
Cooking Class Setup Tip #1: Master your crafts 
Crafts, plural – because not only do you need to be the head chef, you also need to be the teacher. While controlling the room may come naturally to some, it is just as important to practice your teaching as it is to practice your cooking before hosting your first class.
You should run a few trial classes with your friends or family before you start charging people (which is also a great opportunity to get photos for your marketing), and try to go along to a few local cooking classes to absorb some advice.
Cooking Class Setup Tip #2: Find the right venue
Too many cooks spoil the… class? Finding the right balance of space per participant is an important part of any event venue planning – particularly when there are hot plates and knives involved. 
This is where your practise sessions come in handy, whether you're planning an intimate home cooking class or a large group workshop. You'll want to consider comfort, practicality, and how you'll move around the room and project your instructions to your attendees.   
Read More: How to Find (and Secure) a Unique Venue for Your Event
Cooking Class Setup Tip #3: Nail your event page
In a world of too many choices, you only have about 5 seconds to grab a modern consumer's attention before they abandon your webpage or event listing. So it pays to put in the extra effort to make sure your words, images and layout are working for you, not against you. 
Having a clear understanding of exactly who your target audience is should be the cornerstone of all content creation, but some other key things to consider include: 
Event page layout – 38% of people will stop engaging with a website if the content or layout is unattractive. Your event page should be simple, scannable, and easily identify the key details of your event. This can mean using bullet points to improve readability and including photos of satisfied attendees (from your practice classes!) to capture readers imagination. 
Event description – Your event description should aim to blend together both the features and benefits of your event, in as few words as possible. People need to know the specifics about what they'll be doing, but they also want to get a feel for they'll be getting out of the experience.
See a good example below of prioritising benefits over features:

Read More: More Than Just Words: How Your Event Description Drives Attendance
Cooking Class Setup Tip #4: Find your foodies on social media  — and sell them tickets
Once you know who you're targeting and have a good place to direct them, it's time to find where they spend their time online. The good news for you is people love taking photos of their food and sharing it on platforms like Facebook and Instagram.
The well-established phenomenon of #foodstagramming means there is already a massive audience of foodies browsing social media sites for this content – you just need to get your photos in front of them. 
Research popular hashtags relevant to your class and local area (such as #cookingwithkids or #sydneycooking) and make sure your class is ready to capture interest by selling tickets on these platforms. If you use Eventbrite for your ticketing, it's simple to add a "Get Tickets" button on your Instagram business profile page or Facebook Event page. 
Read More: 5 Ways to Reach Your Niche Event Attendees on Social Media
Cooking Class Setup Tip #5: Sponsorship and partners
Cooking classes present a number of unique opportunities to get partners and sponsors involved. From the cooking utensils (think pans, knives, mixers) to the individual ingredients —  if you can show brands the value of having their products feature in your classes, they'll jump at the opportunity to get involved. 
You can even think outside the box and partner your paella workshop with a Spanish dance class for cross-promotional advertising. 
Pro Tip: Eventbrite allows creators to easily implement "Add Ons" to your event ticketing, which you can use to pre-sell the products that you'll use in the class – creating value for your attendees and another source of revenue for your class.
Cooking Class Setup Tip #6: Take advantage of social media influencers 
You don't need to get the Kardashians in your kitchen to take advantage of this modern marketing tactic. Using social media influencers is all about identifying people who already engage with your target audience and giving them incentives to share an experience with their followers. 
For example, if your cooking classes are targeting young kids, you could partner with a popular parental blogger and offer them a free class for a write up on their blog.
Or if your healthy recipes are attracting lots of fitness fanatics, you could invite a local personal trainer with a great social media presence, and encourage them to live-stream from your kitchen. 
Read More: The Micro-Influencer Marketing Strategy Guide
Start booking out your cooking class today
With these tips in your basket, it's time to start throwing all the ingredients together to create your cooking class today.