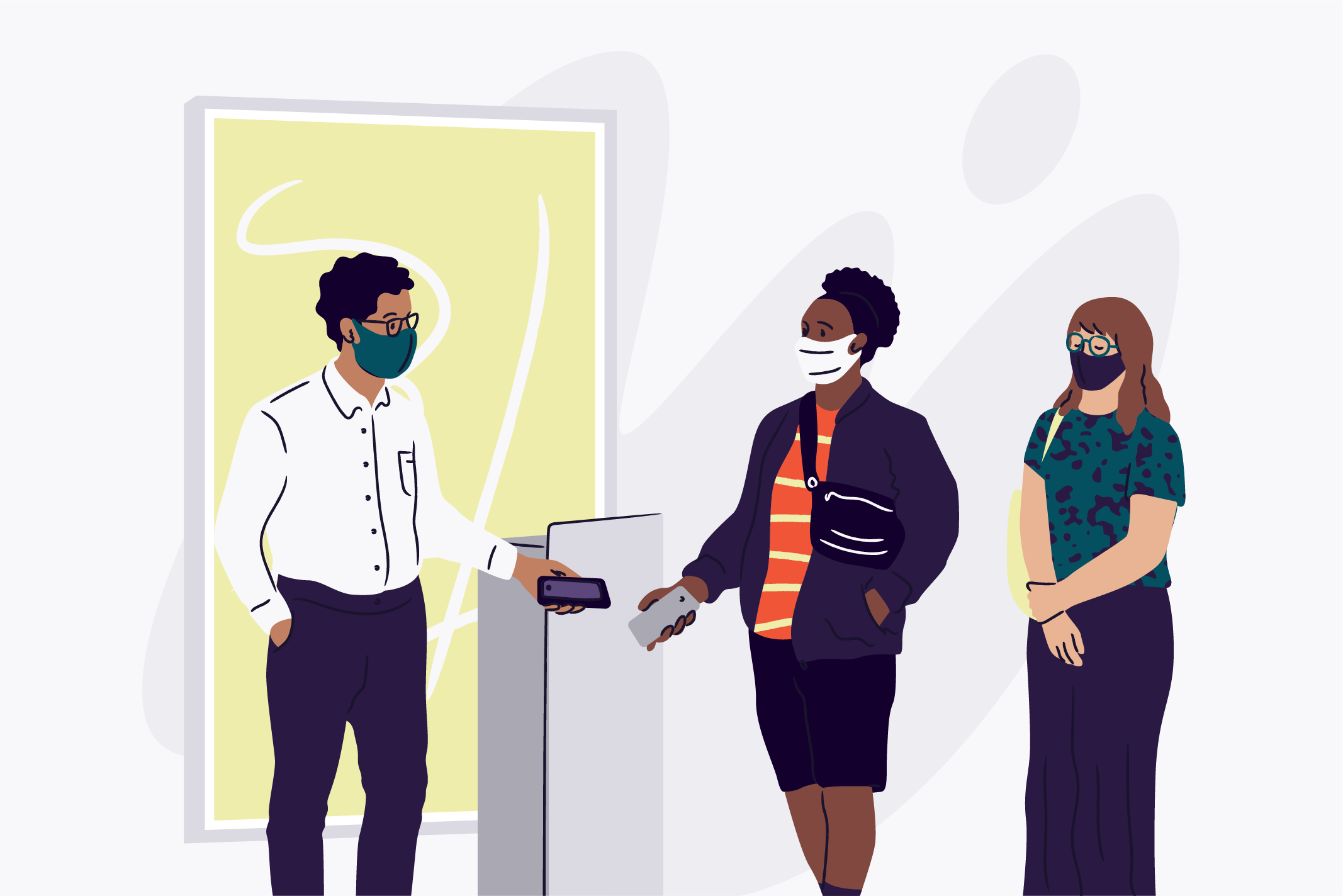 Your COVID-19 Safe Plan for Event Hosting in 2021
It doesn't matter if you're developing an event concept from scratch or resuming a series of classes or concerts that were tentatively put on hold, there's an exciting COVID-19 safe edition to reveal to your audience. Let's backtrack for a moment to explore this relatively unfamiliar term that's here to stay for 2021. What does a 'COVID-19 safe' event look like, exactly? Discover how to produce or pivot your event to tick all of the boxes in your COVID-19 safe checklist so that you can keep cautious and confidently carry on.
Before you dive in, a quick note: Consider this general guidance a foundation only – the specific requirements for COVID-19 safe events are subject to change to reflect the changing circumstances. For the latest COVID-19 updates and advice, check the restrictions and regulations that apply in your state or territory.
Provide COVID-19 safe training
It's one thing to have a meticulous COVID-19 safe plan on paper, but it could be for nothing if your event staff aren't trained to apply it in practice. Communication is key, and our COVID-19 Safety Playbook for Events will help you to communicate your safety policies and procedures to staff and attendees to support the critical role that they play in holding or attending a safe event. Before your event, allocate ample time to recruit and train staff appropriately. It's vital to educate and equip your staff to be able to confidently and capably implement and monitor the COVID-19 safe measures you've put in place.
It's easy (and often free) to register for COVID-19 e-learning modules and training seminars online. For example, training bodies such as Sentrient offer a series of online courses on COVID-19 safety topics, including recognising the symptoms of COVID-19, understanding infection prevention and control, and promoting a COVID-19 safe setting.
Have COVID-19 safety supplies on hand
Don't just talk the talk, though. To complement your training, keep your COVID-19 safety supplies available and accessible to staff at all times. That could include extra PPE, spare sanitiser, face masks, soap and paper towels, additional signs or posters, etc.
Sell and supply food and drink safely
If you're selling food and drinks, health and safety is a priority in all instances. In relation to COVID-19, eating and drinking present a unique set of added factors to consider. For example, sharing a meal at a table, mingling at a bar, participating in a cooking class or tasting tour usually gathers people together in close proximity and masks are only practicable some of the time. The solution lies in adjusting elements of your event so you can still run an innovative and unforgettable food and drink event experience.
Before you brainstorm, brush up on the latest rules and recommendations for COVID-19 food safety. Food Standards Australia and New Zealand updates an online hub of official advice for food businesses, covering topics such as maintaining effective hygiene, cleaning and sanitising practices, and food handler health and hygiene.
Set up your space for social distancing
The signs of success of prior years, like a snaking queue or shoulder-to-shoulder capacity, are no longer possible for the time being. Today's proactive creator is instead attuned to the features of COVID-19 safe events, and implements social distancing tools to control the number of people through their doors and limit on-site contact. Consider the set-up of places where people might queue, sit or stand – does it facilitate proper distancing? Display signs and posters can also help to encourage proper social distancing practice. There's an array of digital technologies to assist you, too. For example, use contactless check-in to minimise queues, timed entry slots for staggered arrival using our 'recurring events' feature, or supply digital menus and remote ordering to keep attendees at their tables.
Online ticketing is a useful function to help you streamline the steps in your COVID-19 safe plan. Pre-event ticket sales and registration will let you ascertain interest and cap your numbers ahead of time. You can then manage your ticket sales to accommodate the current limit on the number of people permitted to gather in indoor and outdoor spaces at any one time. Use the online order forms to ask custom questions and collect attendee information for contact tracing purposes, so that you don't have to gather details at the door.
Check in and sanitise on arrival
After your attendees have checked in (either remotely or in-person), encourage them to use the hand sanitiser you've supplied free for use on entry. Other tools and technologies that you may consider for your event include temperature checks before attendees enter the site, or foot-operated or automatic hand sanitising stations. Depending on the rules in place in your state or territory and the status of COVID-19 cases at that time, face masks may also be mandatory in your location or setting.
Prioritise outdoor settings
The World Health Organisation (WHO) has determined that transmission is less likely to happen in open, outdoor spaces because of the increased volume of air to help disperse respiratory droplets. If there's an outdoor area available to you at your venue, consider an indoor and outdoor format to reduce the number of people that might congregate inside. Or, if your event is indoor-only, ensure adequate ventilation (natural if possible) as particles can linger and build up in enclosed, poorly ventilated rooms. Remember that even in an outdoor setting, it's vital to maintain social distancing and require face masks (if mandated) to minimise the risk of transmission.
Change your event from in-person to online
In case circumstances change, do your research earlier rather than later so that you're primed to adapt quickly and take your event online. We've created a simple step-by-step outline on how to set up an online-only event so that you don't miss a beat.
Some creators might choose to deliver their event online, even if an in-person format is permitted. There are sound reasons for this. Many people will still have safety concerns about in-person events and might need some time to recalibrate to shared spaces and larger groups, even after restrictions are lifted. If you're interested in learning more, read our interview with Dr. Andrea Bonior find out how event organisers and attendees can navigate this anxiety and enjoy gathering together again. To ease the transition from in-person to onscreen events, consider a hybrid format that invites people to attend either in person or online using streaming technology.
You're on your way to a COVID-19 safe event
Excited and equipped to organise your COVID-19 safe event? Prepare your COVID-19 safe plan and put the steps into practice. If you'd like a little more structure to assist you, check out our COVID-19 Safety Playbook for Events for a four-stage safety process to assess your risks, implement safety steps, communicate policies and procedures, and use your safety checklist.