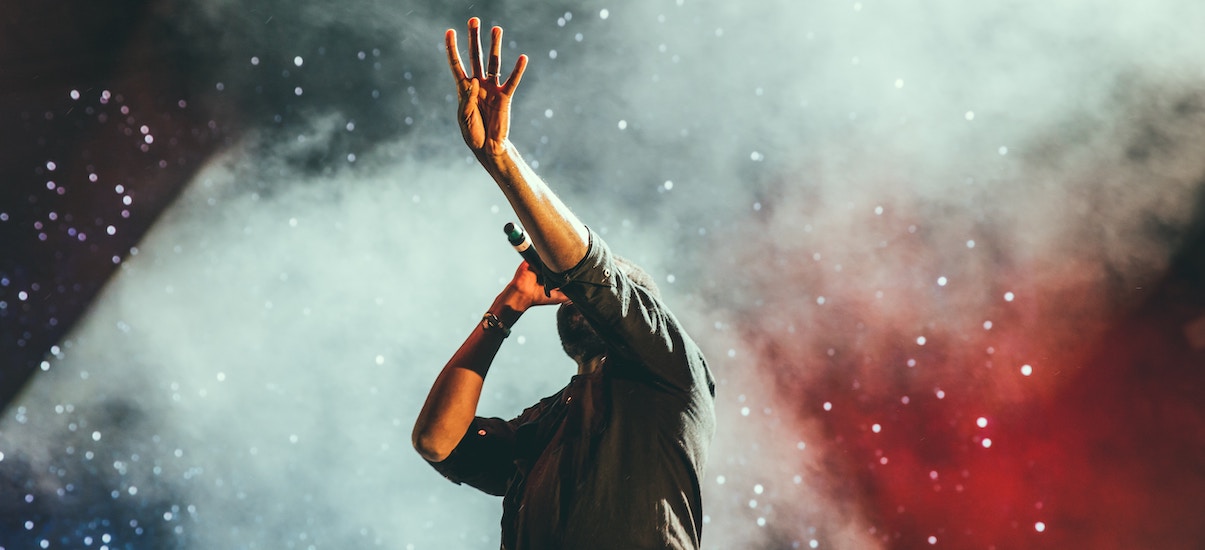 How to Boost Ticket Sales and Pre-Sales for Live Music
Whether you're throwing shows, booking festivals, or managing a venue, you have one primary goal: Sell out events as quickly and as easily as possible.
Of course, it's never that simple. Working out how to sell tickets effectively can be a delicate mix of art and science. You may not sell out every gig you put on, but strategic thinking and smart marketing can help you land your target more often than not.
Here are six considerations that will place you on the path towards those magic words: This show is sold out.
How to Boost Ticket Sales Tip #1: Book the right talent
The talent you book will have the most impact on the number of tickets sold. But unless you're made of money, booking A-list talent regularly is not an option.
Booking the right talent within budget means being creative and keeping your ear to the ground. There are always new, buzzy artists bubbling up, no matter what genre of music you specialise in.
Keep tabs on relevant Spotify and Apple Music playlists, music magazines and blogs, and social media discussion. Follow dedicated listeners, record labels, and music writers on Twitter, and find Facebook groups focused on the sounds you book. Here's where you'll find the most engaged, clued-in fans: listen to what they're listening to! Staying one step ahead of your crowd's favourite (and/or most hyped) artists will keep your shows selling out.
Pro tip: If you're using an app to check-in guests, review the crowd entry levels during your support acts. If a support act is driving big crowds through the door early, they might be ready for their own show.
How to Boost Ticket Sales Tip #2: Sell tickets everywhere
You're not the only one using channels such as Facebook and Spotify to discover new music and find hot talent. Music lovers use social media and streaming services to find artists to listen to and events to attend — so this is exactly where you should be selling tickets to boost sales.
For example, a fan could see a listing for one of your shows on a social media site or app like Facebook or Instagram, a streaming music app like Spotify, or an event discovery app like Bandsintown. They can then buy a ticket right there on that site or app, without being redirected to a different page.
Nicolas Jones, Director of Cult Leader (Yah Yahs), has seen pre-sales soar since selling tickets directly on Facebook. "We're selling out more shows than ever before," says Jones. "Our pre-sales have increased by an average of 20-30% per show. This is money in the bank for our venues. It's been a game-changer."
How to Boost Ticket Sales Tip #3: Find businesses to partner with
Where can your fans be found in the real world? To find out, hit the streets. From bars and breweries to lifestyle stores and even tattoo parlours; there will be places in your neighbourhood that play music by your headliners and attract a similar clientele.
Do the footwork, and you'll find partners whose customers reflect your target audience — and vice versa. Whether they're sponsors motivated by exposure to your audience, or independent partners who you can offer free tickets, this is a great way to expand your network.
Pro Tip: If you're using Eventbrite, you can narrow down the locations of your attendees to find the best spots to target. This is useful for locating partners and determining where to focus street marketing.
How to Boost Ticket Sales Tip #4: Use well-timed promotional codes
Every event has an arc: The sales curve that tracks when people buy tickets. For most events, sales spike when tickets first go on sale, because you built up anticipation when you first announced your event, or perhaps went live with early bird ticket marketing. Tickets don't spike again until the last few days before the event. In between is a stagnant "maintenance" stage when sales slump.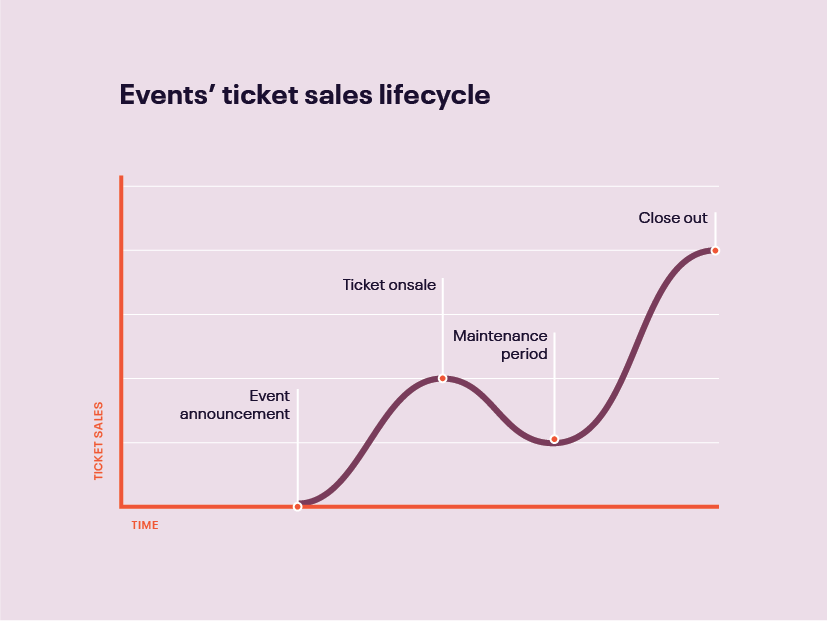 If you're looking to boost ticket sales, this 'maintenance period' can be a great time to drive sales with promotional codes.
Some types of ticket sales and offers include:
Flash sale:

Inspire a sense of urgency  by offering a discount code for a limited time

Group discount:

Get your fans to rally friends by offering a discount for

multiple tickets purchased

VIP offer:

Reward loyalty by giving your repeat customers hidden offers that only they can access. Give them a

unique code

that unlocks an invisible VIP ticket type on your check out page to upgrade their ticket, or receive perks like free food or merch
How to Boost Ticket Sales Tip #5: Simplify your checkout
If your marketing is tracking well but you're not converting traffic into attendees, the answer to boosting your ticket sales could be in your checkout process. With attention spans shrinking, users frustrated by a complicated checkout or site that doesn't work well on their devices are likely to abandon a purchase.
The ideal customer experience should be fast and secure so that they leave your site having had a positive experience. The good news is that usability problems are very easy to address with the right technology.
How to boost ticket sales with a simplified checkout:
Limit steps it takes to checkout:

Each additional step in the checkout process causes 10% of people to quit. Whether on mobile or desktop, find a solution that is three or four steps to check out

Keep it simple:

Don't require attendees to log in or create an account to buy tickets

Keep it clear:

Be upfront about the ticket cost, no one likes hidden fees

Secure your checkout:

A top reason for abandoning a purchase is doubts about payment security. Choose a

ticketing partner that is trusted

, so your attendees feel confident about the purchases they are making

Make it mobile:

If a user clicks on an email or ad on their phone, make sure they're served an experience that suits their device
Pro Tip: It's vital to remember that smartphones are used more than desktops these days. Don't make potential buyers pinch and zoom to learn about your event or buy a ticket. Not only will it make life easier for potential attendees, it will pay off in sales too. Sites that are mobile optimised see a 160% lift in conversion rates.
How to Boost Ticket Sales Tip #6: Track conversions, not just traffic
It's only worth spending money if you're making money. Online advertising platforms show you reach and clicks, but what you need to see is whether or not those ads are driving ticket sales. That's where tracking pixels come in.
A tracking pixel is code that lets ad platforms know when that web page is accessed by their advertisement. If the web page being tracked is an order confirmation, you'll be able to see every time your ad results in a completed order.
This can help you boost ticket sales, because it makes it possible for you to identify your highest performing channels and double down. You might learn that your ads on Facebook are reaching more people, but your paid search ads on Google are the real money makers. Insights like these help you determine which channels are worth focusing your time and dollars on.
Tracking, along with simple tweaks to your website and checkout design can boost ticket sales without the need to increase your marketing budget, by converting more sales from the visitors already on your site.
Create the ultimate advertising plan for your shows
Selling tickets to shows is what it's all about. To do that, you're going to need event promotion that reaches fans in the right places.
If you're looking to develop a concert promotion timeline, but don't have the time to do in-depth research and customise social media campaigns for every show, download The Ultimate Event Advertising Plan for Busy Event Creators.