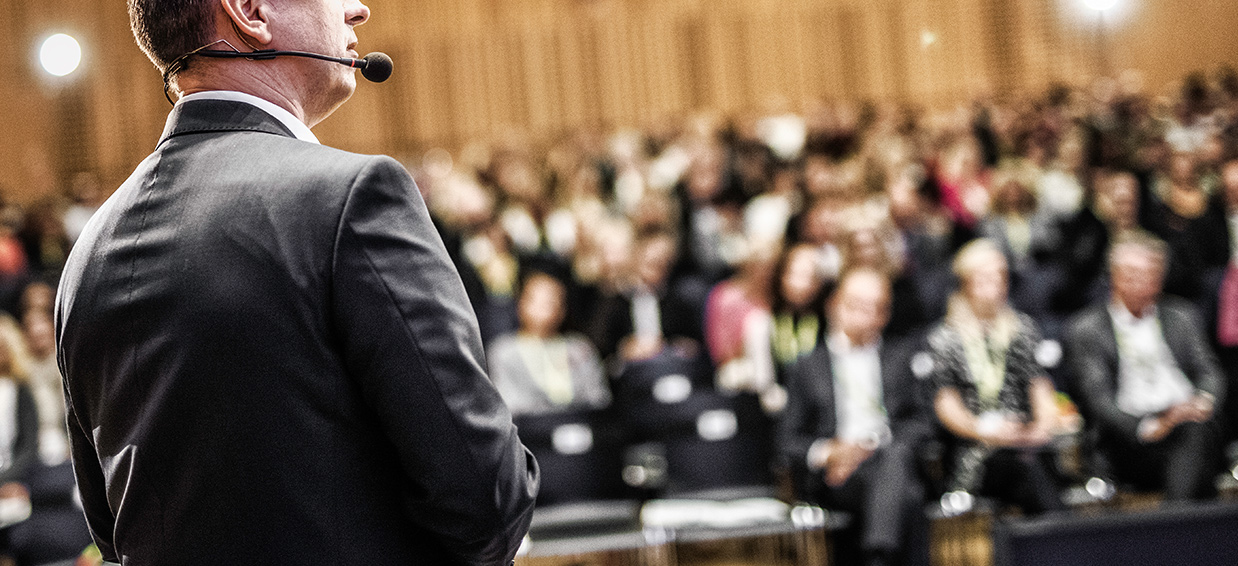 Corporate Event Management Best Practices
Corporate events are a fantastic way to show off your company brand. But it can be hard to innovate the corporate event format and maintain the right degree of professionalism. With some of these best practices, you'll be able to level up your next corporate event in no time.
Think outside the box
Shake up your corporate event with these out of the box upgrades to common conference formats:
Corporate event planning idea #1: Conferences
Conferences are a popular type of corporate event. But with higher registration prices, you need to pull off an experience that warrants the investment. Here's how to get creative with this format:
Find better event speakers:

Conference-goers will travel far distances for the right speakers. But finding and securing conference speakers isn't always easy.

Follow the guidance in this ebook

to upgrade your conference speaker sourcing strategy.

Let attendees choose their own swag:

People love free stuff, but only if it's something they actually want.

A customisable swag booth

is a surefire way to send them home with swag they'll keep.

Offer interactive food and drink stations:

There are many ways to

feed attendees and wow them

at the same time. Try a DIY cocktail bar, live stir-fry station, or even a donut wall.
Corporate event planning idea #2: Training workshops
Training workshops for employees can be a thankless task. Just like school assemblies, many people aren't excited about required gatherings — especially if the training is on a dry topic. Break people out of their distractions and get them participating. Here are a few ways to get people engaged:
Change the room layout:

Training rooms are always laid out in the same way — rows of tables and chairs. Challenge the convention and surprise your attendees by perhaps providing beanbags instead of chairs, standing podium tables, or tables with just a few chairs to encourage small groups.

Add networking opportunities:

Whether a training event is external or internal, provide people with time to connect with each other.

Turn audience members into participants:

Encourage

total participation

, even from shy attendees. For those who don't like to speak up in a group, consider using a real-time polling app

 to encourage the asking of questions from mobile devices.
Corporate event planning idea #3: Seminars
Seminars are often used to showcase a company's expertise on a specific topic or internally to provide employees with learning opportunities. They also usually allow the audience to interact with the speaker. To mix things up at your next corporate seminar, consider the following tips:
Think outside the ballroom:

Sometimes the best venues are the ones that don't feel corporate at all.

 In fact, choosing multiple non-traditional venues

 has helped Techweek become a leading technology conference and festival.

Incorporate an activity during break time:

Instead of the usual coffee break, consider adding

something experiential into that time

. Informal fireside chat sessions, for example, can energise attendees and help their brains get the break from learning they need to focus when they come back.

Lean on technology:

Instead of a PowerPoint presentation, consider how you can help your speakers connect with the audience better — whether that's

through an app

, social media, or even a chatbot to help people discover relevant content.
Upgrade your tech
The conference world is constantly evolving with new ways to wow your attendees. But before you look for trendy ideas, make sure you have these four staples in place.
ROI
It costs six to seven times more to acquire new attendees than retaining your existing ones. That means to increase your conference's return on investment (ROI), cost-effective marketing strategies and an easy registration process aren't enough. Properly analysing the numbers as well as communicating them effectively to the right people is a key best practice for corporate event planning.
Session entry
Even when it's not important to limit entry to a session, self-service technology provides valuable data for organisers who want to know who goes where. Using RFID bracelets or badges, individual attendee entrance and exit from events can be automatically tracked. This gives organisers a precise picture of event flow in real time.
Look for technology that integrates with your ticketing partner's data, so you can import and sync multiple guest lists to better manage registration lists in one place. For example, Entegy auto-syncs back to Eventbrite, so you can keep up to date with attendance data, mobile app activity, on-site badge printing, and much more.
VIP management
If you offer a VIP option, give your attendees the means to upgrade at any time from self-service kiosks distributed throughout your venue. The moment event-goers upgrade, their badge or RFID bracelet is instantly updated. Anyone with VIP access can walk right into your VIP lounge by flashing a wrist.
Attendee apps
Feature-rich mobile event apps aren't only a replacement for printed handouts. When done right, they help your event attendees network with like-minded individuals, interact with experts, and become active participants in the event experience.
This empowers attendees to organise their experience upfront or at any time during the event, and alleviates your staff from spending valuable time facilitating such changes.
Transportation
With so many events to choose, yours has to be superior from start to finish. Every attendee expects an elevated experience throughout, but your VIP attendees demand it.
For this reason, proactive rideshare options are quickly becoming the new norm for event creators. By partnering with a rideshare company like Uber, or a car share company like GoGet, you create a valuable no-fuss transportation option for your VIP attendees.
Stay in touch
Email is your most powerful tool when it comes to communicating with your attendees. Maximise your reach and opens with these two tips.
A/B test emails
A/B testing should become an integral part of your email creation process. Test for effective open rates, subject lines, CTAs. Take that data and optimise your emails for the next campaign to increase engagement. Third parties like MailChimp can do the work for you. You can set up A/B tests within your campaigns and MailChimp will optimise toward the highest performers.
Retarget in the future
Segment your lists so you can target your email campaigns to the right audience. Then create email campaigns that speak to those smaller groups with specific messages. Make this email targeting easier with email marketing platforms like MailChimp or Emma.
Put your next corporate event on cruise control
Want to make sure nothing slips through the cracks? Keep this conference and corporate event planning checklist handy.