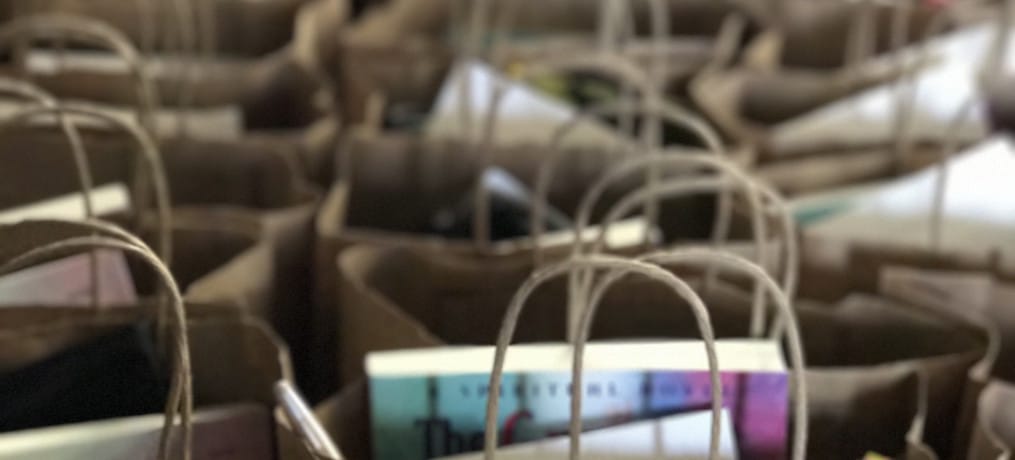 17 Original Branded Merch and Swag Bag Ideas to Thrill Your Attendees
Swag bags might be synonymous with events, but if you're giving away free stuff that attendees have no use for, you can guarantee it'll end up in the trash before they leave the venue.
Ultimately, your branded merchandise or 'swag' quality reflects your brand. And since attendees are inundated with free giveaways and branded merchandise everywhere they go, it's important to choose items that they'll actually hold onto and use in everyday life. The goal is, after all, to expose as many people to your brand as possible.
To help you choose the right swag, here are 17 unique giveaway ideas to thrill your attendees.
Branded Merch and Swag Idea #1: 
Complimentary headshots
Want to grab attendees' attention at a professional conference? Set up a photo booth and give away complimentary headshots! Many event photographers can serve as headshot photographers as well, and the result is more valuable than any plastic keychain.
Unit price: Expect around $150 – $400 per hour depending on experience
Good for: Corporate conferences, networking events
Branded Merch and Swag Idea #2: Eye masks
The easier it is for your swag to be packed into a carry-on, the more likely it is to make it home with attendees. Eye masks are useful, never go out of style, and can help get your brand seen when event-goers wear them while traveling. Just make sure to go with a quality option!
Unit price: $3-7
Good for: Health or beauty expo
Branded Merch and Swag Idea #3: 
Portable smartphone chargers
Attendees rely on their smartphones for finding friends, checking emails, event navigation, snapping on social media, and a whole lot more at your event. The last thing they need is to stop and charge their phone, which is why a portable charger makes such a great swag bag idea. They'll love skipping the outlet!
Unit price: $5-50
Good for: Music festival, Conferences, Expos, all day events
Branded Merch and Swag Idea #

4: 

Event survival kits

Let your guests know that you've got their back by putting together a survival kit for your event. Think about anything attendees could find handy; a branded notebook, pen, packet of Panadol, tin of mints, small snack, and maybe even a stain remover pen for those embarrassing coffee spill emergencies.

Unit price: Flexible

Good for: Conferences, expos, food & wine events
Branded Merch and Swag Idea #5:

 Scratch & win games

Let your event attendees or booth visitors try their luck with 'scratchies' offering special prizes. This is a great way to get people excited about the potential for high-end items without having to spend your entire swag budget on a single event. Be sure to advertise all the potential things they can win if you want to build anticipation and encourage participation.

Unit price: $0.30 – $1.5 

Good for: Expos, tradeshows
Branded Merch and Swag Idea #6:
 Cord tacos
One day, everything will be wireless — but until then, we have to manage the cords in our lives as best we can. Cord tacos make it easy to wrangle headphone, USB, and power supply cords into neat contained bundles for knot-free usage straight from your bag. Plus, they're really cute.
Unit price: $1-5
Good for: Networking events, seminars
Branded Merch and Swag Idea #7:
Self-care kits
Modern life is hectic and with all that busyness comes a serious need to de-stress and relax. So why not tune in to the burgeoning wellness movement with a collection of anxiety-reducing activities? Adult colouring books, coloured pencils, and candles make a great calming trio.
Unit price: flexible
Good for: Retreats, yoga events
Branded Merch and Swag Idea #8: Retro coffee
 mugs
If you want to gift a coffee mug that won't get lost in the office kitchenette, opt for something different like an enamel camping mug or the retro American diner-style mug. All the hipster Melbourne cafes are selling them now, so you know they're a hit with coffee lovers.
Unit price: $5 – $20
Good for: Food & drink festival, networking events
Branded Merch and Swag Idea #9:
 Nice drinkware/tumblers
Water bottles are a pretty common giveaway, but what about a decent drinking glass? It's more likely to be used every day and live on your desk or kitchen countertop. Tumbler style glassware can be used for any type of drink and comes in all shapes and sizes.
Unit price: $6-15
Good for: Class or workshop, expo
Branded Merch and Swag Idea #10: 
Beer glasses
Loyal beer fans take pride in owning beer glasses with their favourite breweries' logos on them, but offering branded beer glasses isn't just reserved for beer festivals. If your attendee demographics are the right fit, consider offering a beer glass branded with your own logo.
Unit price: $3-5
Good for: Beer festivals, B2C events
Branded Merch and Swag Idea #11: 
Experiences
Want to avoid the chance of your swag ending up in the trash altogether? Offer an experience. For example, you could include a voucher for a special, VIP experience at your event, or tickets to a nearby attraction. This especially works well for attraction-rich event destinations like the Gold Coast.
Unit price: Flexible
Good for: Destination festivals
Branded Merch and Swag Idea #12:

 Desk plants

If the worst event swag ends up in the trash, the best stuff ends up on your attendee's desk — where your brand will get exposed to their coworkers. Plants can brighten up an office and lift spirits throughout the workday. There's plenty of fun little succulents and air plants that are quite inexpensive, easy to care for, and easily portable for attendees to take home.

Unit price: $2 – $10

Good for: Networking events, seminars
Branded Merch and Swag Idea #13:
 Drones
Whether you think drones are no better than a remote-controlled toy or a serious tool for applications spanning videography to delivery, they're here to stay. Yes, they're expensive, but how excited will attendees be when they receive one as a giveaway?
Unit price: $35+
Good for: Tech expos
Branded Merch and Swag Idea #14: 
Seasonal items
Depending on the season your event takes place, tying in your swag to the time of year can be a fun way to stand out. In summer, for example, you can offer branded thongs, visors or sunglasses. In winter, seasonal tie-ins include hot chocolate kits or  touchscreen gloves (with special tips so attendees can still type on the their morning commute). 
Unit price: Flexible
Good for: Educational conferences, festivals
Branded Merch and Swag Idea #15: 
Webcam cover
You can never be too safe when it comes to technology and security. A webcam cover protects laptop users from being seen or recorded in the event of their webcam being hacked. More durable than a piece of tape, attendees can simply remove the cover to use the camera.
Unit price: $6-16
Good for: Security conferences
Branded Merch and Swag Idea #16:
 Unique snacks
Finding unique food items that offer unusual flavour combinations or a healthful spin on classic snacks can be an exciting giveaway for fans. People need to eat, even when lunch is provided at an event, and a high-quality snack is always appreciated.
Unit price: Flexible
Good for: Health expos, conferences
Branded Merch and Swag Idea #17: 
Workout shirts
Sure, a t-shirt might be one of the most cliched pieces of swag, but it's also one of the most popular items given away at events.  So how can you entice attendees to wear yours out of the house? By choosing an athletic shirt over the traditional 100% cotton "box" cut. Most people wear these types of shirts to the gym — which is way better than the bottom of a pyjama drawer! People love the free shirts they get from marathons and races, so why not from your event, too?
Unit price: $12-30
Good for: Fun runs, charity events, festivals, health expos
Nailing the branded event
Events can be big business for brands, but they're not without challenges. Every interaction reflects back on your core brand — and the bigger your brand, the more is at stake. Learn three of the common challenges faced by branded event creators, and how to overcome them, with this ebook: B2B Event Challenges Solved: 3 Ways to Win Over Customers at Events (While Staying on Brand)