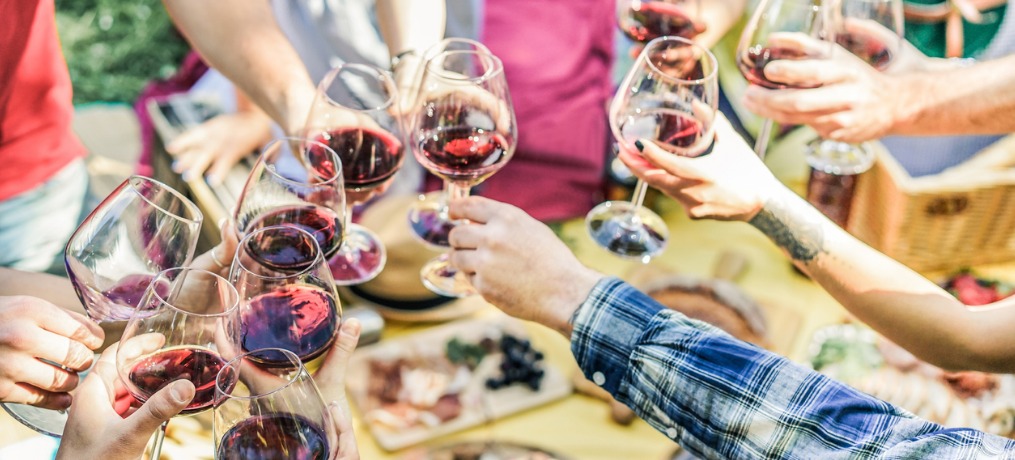 Checklist: How to Host the Ultimate Wine and Spirit Tasting Party
Wine and spirit tastings let people kick back and unwind while they learn a thing or two about their favourite libations. But there's more to hosting a successful tasting event than tasty beverages.
Find out what it takes to bring your wine and spirit loving community together for a fun night out in this detailed checklist.
1. Establish the goals and objectives of your tasting event
Do you want to host a tasting for fun or do you have a business goal in mind? Your answer will determine how you proceed.
For instance, a winery or distillery that wants to attract new customers may use a tasting to grow their email list or hit a revenue target. A nonprofit hosting a tasting, however, will have a fundraising goal to reach.
Once you define your goal, you can start building the event details around it — like your budget.
2. Put together a comprehensive tasting budget
Some wine and spirit events are laid back and casual. Others are more formal and high-end. Whatever shape your tasting takes, alcohol is expensive — and that's just the first item on your budget sheet. People sipping will expect something to eat, and you'll need a venue and staff to serve them too.  
Start with the number of people attending your tasting. This will help you determine how many people you need on staff and what size space you'll need. You'll also need to factor in the cost of decorations and marketing.
Once you have a rough estimate of what the event will cost, set a goal regarding how much profit you hope to make. Those two numbers will help you determine what to charge for tickets. Be mindful that your price should also match the quality and value of your event. In other words, if you're charging $100 per person, you need to serve a number of high-end wines or spirits in your selection, and feature more sophisticated food and décor.
Check out this article to learn more about event budgeting best practices.
3. Choose a date, location, and venue for your tasting
Your wine tasting's success depends on a number of factors, but when and where it takes place are among the most important. Take a close look at the calendar when choosing a date and time. Are there other things going on that night locally that might conflict? Are there holidays that month that might take people out of town, or weather that would make them want to stay in?
As for location,  choose a spot that is easy to find and easy to get to. Your venue should also align with your event theme. A local Mexican eatery might be the perfect setting for a tequila tasting, but not necessarily the best fit for a whiskey tasting.
Discover the nine most vital criteria to consider before booking an event venue in this checklist.
4. Get expert insight from a bartender or sommelier about your wine or spirit selections
If your wine or spirit expertise is lacking, another important item on your wine tasting checklist should be consulting with a sommelier or someone who is expert in the particular drink of choice. That person can help you select what to serve at the tasting, and you could also invite them to the event to lead the tasting or answer questions.
If your budget is more limited, partner with a local distillery or winery and ask that they send someone to give a talk. Many businesses will offer to do this for free for the exposure to your attendees.
As for what wines or spirits to select and how many to serve, your goal should be to offer a nice variety of drinks.
For spirits:

Choose a couple of familiar brands, one or two high-end selections, and one or two limited edition or value samples.

For wine:

Go with a theme based

on style, region, or vintage. Or choose to offer a blind tasting so guests can savour the flavours without being influenced by labels and brands.
As for pairings, try to keep things simple. Most tastings offer small bite foods like cheese, fruit, charcuterie, or chocolate to complement the drink selections. Whatever you choose, be sure to also have plenty of water on hand so guests can cleanse their palates and stay hydrated in between.
5. Promote your tasting online with a solid marketing strategy
Once you decide on the details of your wine tasting or spirit tasting event, you have to get the word out. Social media and traditional printed flyers or postcards that can be posted up and shared by local businesses can be very effective. You can also advertise in local newspapers online or in print, and ask your event partners and the alcohol or wine brands to spread the word, too.
Read through these 20 promotional ideas to get started on the right foot.
6. Cover your legal bases and ensure guests' safety
Alcohol and safety must go hand in hand when you're hosting a wine or spirit event.
For instance, you'll want to make sure that you have the proper permits needed and that your attendees are legally of age to be able to drink. Permits vary from state to state, so do your homework. Also, be careful that your guests do not drink too much. Small tasting pours will encourage them to take it slow.
You should also be proactive about making sure your guests don't drink and drive. Offer free or discounted tickets for the designated driver, or offer discount Uber or DiDi codes.
7. Make it easy for people to RSVP for your tasting event
Once you generate interest in your tasting, make sure it's easy for people to purchase tickets. Many people with short attention spans — or who aren't committed to attending — will give up as soon as buying a ticket becomes difficult.
Eventbrite's intuitive checkout process ensures more interested people become attendees. But don't take our word for it. Sign up today and start selling tickets to your tasting event in minutes.