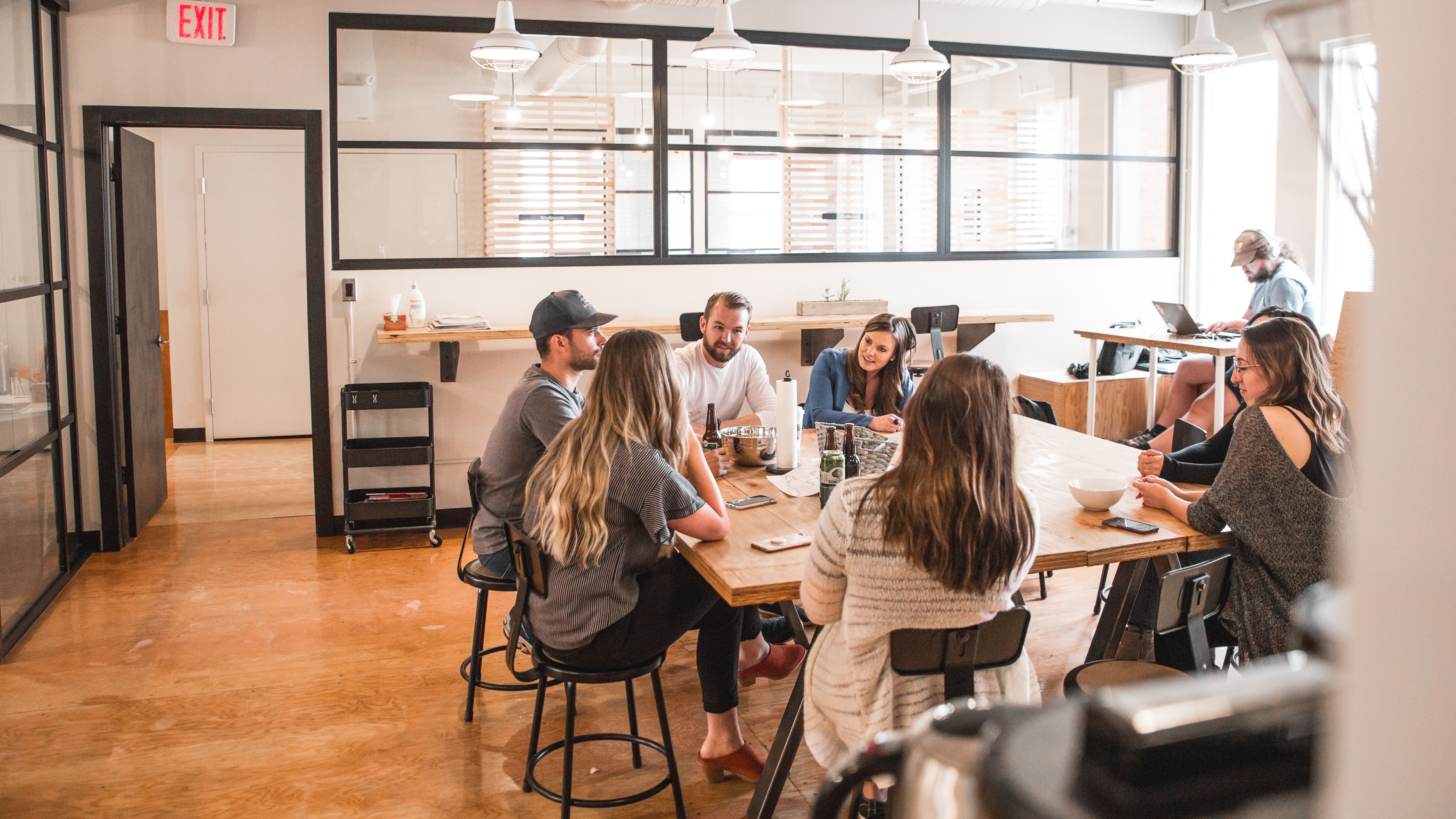 Your Complete Guide to the Event Evaluation Process (with Template)
After an event has finished, it's tempting to move straight on the next one. But if you want to move your events forward and evolve with your audience, you have to start by looking back.
Taking the time to sit down and evaluate each event is the best way to make use of any data collected, stay on track to meet your goals, and keep you or your event team focused on what matters. Aim to schedule some dedicated time with your event team 1-2 weeks after the event has ended. It shouldn't be too much later than this or memories will start to fade and valuable insights will be lost, but it also shouldn't be the day after the event ends. You need to let the dust settle, giving everyone time to reflect and prepare.
How to approach a post-event evaluation session
To successfully complete an evaluation of your event and develop a strategy moving forward, you'll need to complete these seven steps:
Collect post-event attendee and stakeholder feedback
Run reports and collect data from analytics
Review the processes and tactics used by your event team and identify areas for improvement
Review your values and core strategy (and how your event measured up)
Create a plan for your next event
Set measurable goals and KPIs
Identify any changes that need to be made ahead of your next event
Keep reading for a deeper look at how an effective post-event review works, or download this free template featuring all the steps you need for your review, with an editable workbook to complete.
Post-event evaluation step #1: Collect post-event feedback
You can get relevant post-event feedback in a number of ways. The easiest is to send out a survey immediately after the event has ended (usually with some kind of incentive to fill it out). You can also hand out hard copies or if you have the time and resources, you speak to a sample of attendees during the event.
For an in-depth review of your event, you should be asking all attendees and stakeholders for feedback. Don't neglect event partners such as staff, vendors, exhibitors, sponsors etc. Not only do they have a vested interest in your event – they are also on the ground and can give valuable insights into the flow of your event and how attendees engaged with them. It's a good idea to customise questions and send separate requests for feedback, so you can determine the different needs of your attendees vs event partners.
If you're using Eventbrite, here are two ways to get started with feedback surveys:
Integrate SurveyMonkey: Send fully-customisable surveys or choose from existing event feedback form templates to instantly gather data from attendees and stakeholders
Email a survey:  If you created a survey or form using an outside tool like Google Forms, you can quickly email the survey link to attendees with our "Emails to Attendees" feature.
Bring the results of these surveys and questions to your post-event evaluation.
Post-event evaluation step #2: Collate raw data for review
You can get a lot from asking people questions, but you should also take a look at the raw data for your event. Here are three areas of focus you should report on and bring to your review:
Analytics data: Run reports on your event to review such as the demographics of your attendees and your

marketing success (such as web visits to ticket purchase conversion)

Listening: Google Alerts can notify you anytime a keyword from your event is written in the news or on blogs, and an event hashtag can assist with collecting attendee sentiment on social media

Expenses: Run reports on your event costs and any sponsor/vendor returns you need to evaluate
Bring these reports to your event evaluation for closer review.
Post-event evaluation step #3: Review processes and tactics
With your data in hand, it's time to evaluate all aspects of your event – opinions, observations, how they relate to your event results. Here are three areas of focus for this part of the review:
Celebrate the successes: Start on a positive note, what were you proud of? Celebrate the achievements and discuss what can be repeated and built upon for future events.
Identify areas for improvement: Nobody is perfect, but try to focus on processes, not people. How can mistakes be avoided and processes improved? Which tactics simply didn't work as well as you had hoped?
Assess return on investment (ROI):  When assessing ROI in terms of processes and tactics, the focus should be on efficiency, of time and allocation of resources. Sometimes events produce good results, but take an inordinate amount of time to achieve and eat into ROI. Review output of time and resources vs the return on investment. What is worth doing again? What should be outsourced or automated?
Post-event evaluation step #4: Review your values and core strategy
The next stage of the post-event review moves up from tactics and processes to one of values and strategy. Here you should be taking a look at what your event stands for, why you host events, and whether or not your event supported your overall mission.
Here are some example questions to consider in this review:
Who is our target audience is and why do the come to these events?
What aspect of the event most embodied the values and mission of our company? What aspect of the event was farthest removed from our company's mission and values?
Did this event support our attendees' needs? Where they satisfied?
Did the attendee list reflect who you were expecting to see there? If not why not? Who did/didn't come and what were the surprises?
What was the most common suggestion for change?
What was the most popular aspect of the event?
In addition, you should be checking whether your actual data support the personas you created. Have your customer demographics shifted? Now is a great time to re-evaluate your ideal customers and update those personas (or create them if you don't have one!).
Post-event evaluation step #5: Create a plan
Now that you've taken a critical look at the event you've just run, it's time to make a plan to grow and evolve your next event. Here are four areas to focus on:
Customer needs: What are the main concerns of your attendees? Determine the top needs of your attendees that should be addressed and met at future events
Our solution: What opportunities are there to meet attendee needs and provide a stand out experience people won't get somewhere else?
Company needs: What does your next event need to achieve? Consider growth, profit, revenue, market share or something else entirely, like leads, donations, and social media buzz. Ideally, you'll want to have one primary goal, and then 2-3 supporting goals.
Metrics: Develop metrics that can track success to see how your event has grown and evolved. This will also keep everyone focused on clear goals. For example, if you care about growth, maybe you'll focus on month-on-month ticket sales and not talk much about cost; if you care about profit then cost-per-acquisition may be much more important. Spend some time working out with the team how you'll reflect your key goals in terms of metrics, and ensure everyone is on the same page in terms of what success looks like.
Post-event evaluation step #6: Set goals and KPIs
You won't know if you've achieved success if you don't measure it. It's time to agree on some goals for your next event, which we'll break into three parts:
SMART: You've probably heard of SMART goals before: Specific, Measurable, Achievable, Relevant and Time Bound. For example, if your goal is to "sell more tickets" or "increase ticketing revenue", a smart goal might look like this: "increase ticket sales in 2020 by 10% year-over-year by leveraging new paid marketing channels, like Instagram and Google advertising."
BHAG: This acronym stands for "Big, Hairy, Audacious Goal". Do you have a long-term vision for your company and events? Or perhaps a stretch goal that will really push your team to aim high? If you're going to break the mould and be an exceptional company, your goals should be big, ambitious, and exciting.
Milestones: Don't assume you'll get your event strategy right the first time to hit your goals. Instead, benchmark progress toward a goal and adjust your plan as you go. By breaking goals down into small chunks you can see incremental progress — and course correct if the progress isn't there (before it's too late!). Set a timeline for when you will review your progress towards goals.
Post-event evaluation step #7: Identify any changes
Last but not least, you need to make sure you have the tools and manpower in place to execute on any changes you've made to your next event. How will you execute your event strategy and achieve your goals? Think about these three things:
Team: Does your current event team posses all the right skills needed to execute on your vision? Do you need to hire more people or up-skill staff?
Tools and tactics: What specific ideas do people have? This is a great time to brainstorm specific tools to implement and campaign ideas to test.
Processes: Go back to your notes on successes and areas for improvement. Can you put in place specific workflows, reviews processes, or collaborative tools that will help you sustain best practices and avoid bad ones?
Get started with the event evaluation template
Download the free template for a simple overview of this guide and editable workbook that you can use to evaluate and evolve your events.