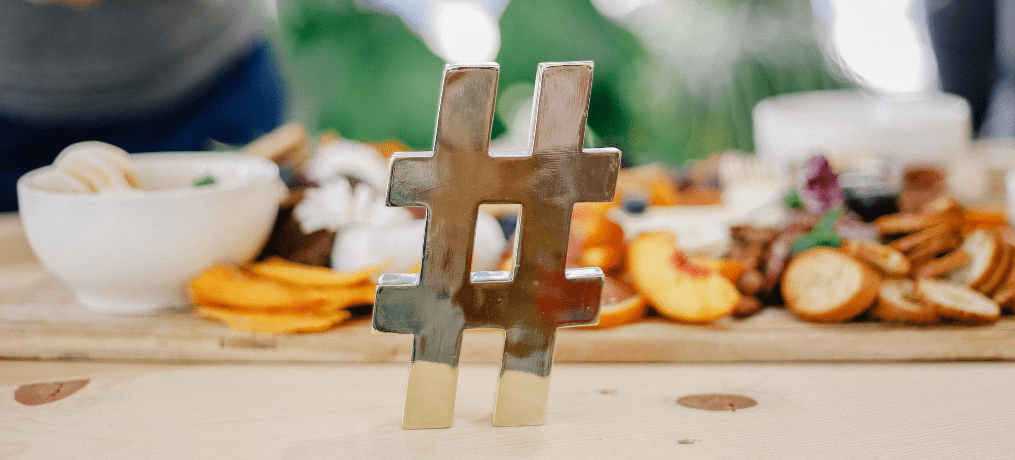 How to Use Hashtags Before, During, and After Your Event
When it comes to promoting your event, few channels are as effective — or cost-efficient — as social media. But with all the noise online, you have to be smart about your social media strategy to get noticed. An easy place to start? #Hashtags.
While the pound sign has lived on your phone dial for decades, the hashtag as we know it was created by Twitter in 2007. Hashtags group certain keywords or phrases, allowing people to follow and engage with topics they're interested in. Using a hashtag consistently can help you boost the online conversation around your event — and ultimately, your ticket sales.
Here's how you can use hashtags before, during, and after your event.
Creating a great event hashtag
Hashtags are great for spreading the word about your event — and collecting content from attendees after it's all said and done. You can even use hashtags during your event to engage sponsors or start a conversation between guests and speakers.
Effective event hashtags are:
Relevant and descriptive: Including your event name and the year is a common strategy.
Unique: #SocialMediaConference might be relevant and descriptive, but it's not unique, so chances are people will be using it for conferences other than yours.
Short: The shorter the hashtag, the easier it is for people to remember and use it.
Easy to understand: Abbreviations and acronyms are great for keeping hashtags short, but make sure the hashtag isn't too complicated for people to decipher. #MSTHITCFPTD (see what we did there?)
Pro tip: Do a thorough search across platforms for the hashtag you want to use to make sure it isn't already being used for a different purpose… and that it doesn't surface any #NSFW (not safe for work) content.
Here are some examples of great event hashtags:
#CollisionConf for tech event Collision conference: The lengthy word "conference" has been shortened to "conf." The result is a catchier, shorter hashtag!
#LIBfestival for the Lightning in a Bottle festival: This is a good example of shortening a long event name (instead of using #lightninginabottlefestival).
#GreatVic for the Great Victorian Bike Ride: a great example of keeping your hashtag short and sweet. #GreatVic is unique enough that it doesn't need additional words like "BikeRide" in a hashtag.
Using your event hashtag: Before your event
Come up with a hashtag that's short, unique, and easy-to-understand. Once you land on an idea, stick with it! Consistency is key. 
As you post relevant content leading up to your event, make sure to include your hashtag across your social accounts. While hashtags are most prominently used on Twitter and Instagram, platforms like Facebook and LinkedIn have also adopted them. And Instagram has even gone as far as to allow users to follow specific hashtags, making them an even more crucial part of your strategy.  Add your hashtag to all of your social account bios as well. And don't stop there — promote your hashtag on all your other communication channels, including your event website, promotional emails, print materials, on-site signage and more.  
Make sure all of the key players involved in your event know your hashtag. Think: speakers, artists, or sponsors. Encourage them to use it whenever they post something about your event on social. This way, you'll be able to engage their audiences and extend your promotional reach.
Using your event hashtag: During your event
Make sure your hashtag is visible at your event so your guests know to use it. Include it in handouts and display it on screens throughout your venue. Better yet, give people an incentive to use your hashtag and share your event on social. This could mean setting up a photo booth branded with your hashtag, or creating a photo competition where the best photo using your hashtag wins a prize.
Consider displaying user-generated content — whether they're tweets, photos, or videos — that use your hashtag onsite. This rewards your social sharers and encourages more attendees to post. You can even take this content and share it on your other social accounts to engage with people who couldn't make it to your event.
And remember: if you're posting, streaming or live-tweeting during your event, include your hashtag in every post.
Using your event hashtag: After your event
After the big day, use your hashtag to keep the conversation going and build excitement for next year.
Ask attendees to share their favourite moments from your event, using your hashtag in their posts. Collect all of the posts related to your hashtag and select your favourite content. Re-share it on your social networks, use it in email recaps, and add it to your event website. Event-goers love to know what to expect when they're deciding whether or not to go to an event. So the more photos and videos you include on your site (particularly ones showing your guests having a great time), the higher your chances of landing a ticket sale.
Write more engaging social media copy
Your social messaging won't get found and shared on hashtags alone. Find out how to master more engaging posts across social media, with tips from the experts at Grammarly with Storytelling Sells: Bring Your Event's Copy to Life on Social Media.