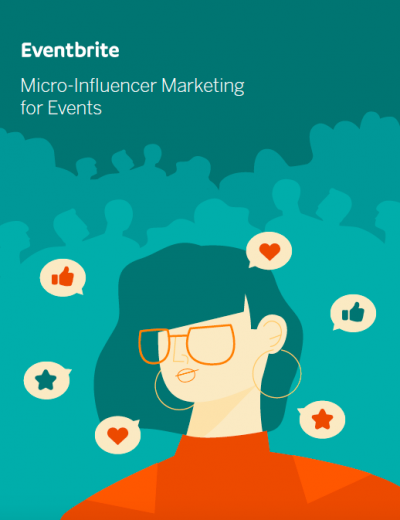 Micro-Influencer Marketing Strategy Guide
Download this ebook to uncover the power of a micro-influencer marketing strategy and the reasons to use one for your event.
Long before social media, event marketers would pay for celebrities to promote their events and add credibility. As social media channels continue to gain popularity, consumers are more wary of what they believe when it comes to brand messaging. 92% of them trust an influencer more than an advertisement or traditional celebrity endorsement.
Enter influencer marketing: a way for organisers to leverage the social capital of influential individuals to promote events to an engaged audience and drive attendance. But as the industry matures, the price of working with influencers is on the rise. Especially when we're talking about follower counts in the millions.
In this ebook, you'll learn:
The power of a micro-influencer marketing strategy and the reasons to use one
How to build a micro-influencer event marketing strategy
How to measure the impact of micro-influencers on your event
Preview
What is a Micro-Influencer?
Micro-influencers are key opinion leaders on social media with smaller, hyper-targeted followings who can drive huge levels of engagement. It may seem logical to think that larger social followings mean a higher return on investment, but marketers are beginning to understand that bigger isn't always better.
Micro-influencers have smaller followings but are extremely valuable for your event. And this is not just in terms of large-scale exposure, but because of their ability to drive meaningful engagement, making it easier for you to move your target consumer from potential to actual attendee.
The Value of Micro-Influencers
It comes down to the manageability and focus that a smaller following allows for.
Micro-influencers are able to maintain more intimate relationships with their audience which encourages higher levels of engagement. This means that more people are hearing about your event from a source they really trust. It also means that the message will actually resonate. Micro-influencers are perceived as more authentic than larger-scale influencers and are actually 6.7 times more efficient per engagement. They are also much more affordable to work with.
It is recommended to work with several micro-influencers to create the best possible reach and impact. That doesn't mean you have to pay them. In fact, providing micro-influencers with experiences such as VIP passes or exclusive parties is a great way to generate earned media that will maximise the impact of your message.
Not only will working with micro-influencers generate more impactful conversation, but it will also help you reach a very targeted audience in a specific niche or even geographical location. Which is great if you're looking at promoting an event in a specific city or engage fans of a unique music genre.
Ultimately, micro-influencers drive the power of word-of-mouth at scale. They know their audience better than anyone and have the ability to tell stories about your events that will turn their followers into your fans.