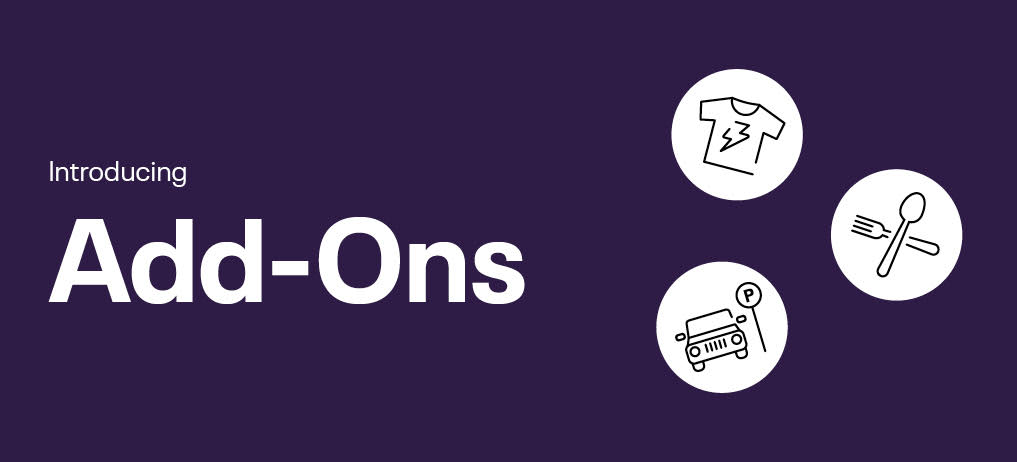 Introducing Add-Ons: A New Way to Make More On Your Events
Put yourself in your attendees' shoes. It's Thursday night and you're looking for something to do this weekend. You find a local food festival that looks interesting, but you know parking might be challenging and the drink lines at these events can be way too long.
While you're checking out the Eventbrite listing page, you notice that in addition to tickets, you can go ahead and pay for parking, sign-up for a meet-and-greet with your favourite chef, and pre-purchase drink tickets so you can jump straight to the front of the line. Your decision to go is now so much easier.
Now, you have the power to create that can't-miss experience for your ticket buyers – and bring in extra money for your Eventbrite events while you're at it. 
Say hello to Add-Ons — a new way to sell more than just tickets on your listing page
. 
Add-Ons introduce a new way to bring in more money by selling extras right on your event listing – think t-shirts, parking passes, food vouchers, and more – without reducing the ticket inventory for your event.
How Eventbrite creators are making more with Add-Ons
Creators are already coming up with inventive ways to sell more than just tickets using Add-Ons. For example, a music venue in Kentucky offers pre-show cave tours, a rideshare launch party in Miami allows ticket buyers to purchase custom hats along with their tickets, and a Canadian Rosé Festival listed an additional item called "TACOS," which honestly sells itself.
One thing all these creators have in common? They're making more than they would on ticket sales alone. Plus, their attendees get to spend more time enjoying the event and less time standing in lines to get merch or pay for food and drinks, meaning they can get by with a smaller onsite staff. 
Get creative
Add-Ons also give you new ways to create a completely customised experience that's different than what anyone else is offering. Do any other yoga events in town offer a mat rental and post-class massage alongside tickets? Probably not. And how many other jewellery workshops are offering a customisable take-home jewellery kit before the class even happens? Not very many. 
Use unique offerings to set up one-of-a-kind experiences that will not only set your event apart and help you bring in more cash, but will get your attendees talking about, sharing photos of, and coming back to your event again and again.
How it all works
Tracking and managing the extras you sell is just as important as what you sell. With the Add-Ons tool, you can choose if you want to send "tickets" with barcodes to attendees for the extras they purchase that can be scanned at the event, or you can skip the ticket and use the Organiser App at your event to view purchases and redeem prepaid items when attendees arrive.
And, you can now keep your ticket inventory separate from extra items you're selling. Not only do additional items not affect your capacity, but you can also keep them separate in your reports, which makes reconciliation a breeze.
Take a look at Add-Ons in action or select an event to get started.

*NOTE: Add-Ons are only available for users in the Professional or Premium package using Eventbrite's new event creation experience. See your current package and learn about upgrade options here.