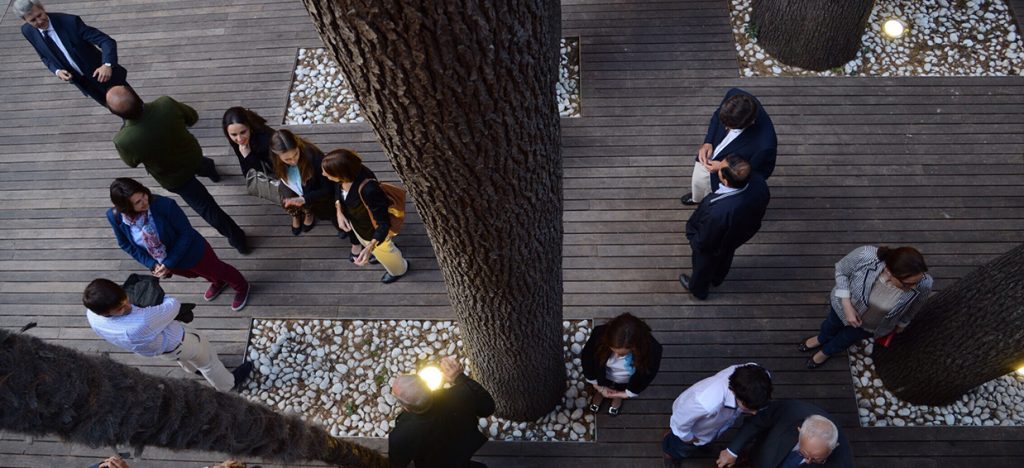 How to Reinvent the Conference Format for the Modern Era
There's no doubt that conferences are one of the most popular event types in the business world. But just because demand is high doesn't mean success is guaranteed. Pulling off a wildly successful conference like Dreamforce, for example, takes a lot of hard work — and a total shift in mindset.
But you don't have to have the biggest budget to stand out from the crowd. There are plenty of ways for traditional, presentation-based conferences to reinvent themselves in the modern era. Here are three tips for shaking up the format of your next conference or summit event. 
1. Strike the right balance between entertainment and education
You don't want a boring conference that is all work and no play. But it's important to remember that people attend your conference for a reason – and that's usually to learn something new or connect with people in their industry. Ultimately, you need to find the right balance between entertainment and education. 
Keep your attendees' perspective in mind. If they've paid to see a specific speaker, but the band plays longer than the keynote, they may feel like the entertainment has cut into the more valuable aspect of your event.
Considerations to make when approaching entertainment:
Make sure the entertainment syncs with your agenda, otherwise your attendees will wonder why you wasted their time and money.

Don't jump on the latest trends just because you can. The speed at which a trend can become a gimmick isn't just bad for your brand reputation. You could end up wasting money on trends that won't be relevant by the time your conference has kicked off.

Avoid the temptation to repeat the same entertainment every year or copy other conferences. 

If you can't afford big bucks for separate entertainment or you have a tight program, sprinkle some light-hearted fun in your agenda.

Hire entertainers or performers

— like a comedian or impersonator — to MC or introduce key elements to your program. 
2. Be willing to reinvent the wheel
A large-scale conference experience requires significant resources and skillful project management. When balancing time, money, and people, you'll need to be willing to collaborate and compromise in order to get things done.
Be open to unconventional ideas, even for elements typically set in stone. Your event registration or check-in should always be at the entrance, but when it comes to things like refreshments or charging stations – anything is possible. 
Considerations to make when planning your event operation:
Allow yourself to let go of how something is supposed to be done and be open to how it could be done differently. For example, you might want to relinquish control of your networking cocktail party to collaborate with a sponsor on creating a unique and engaging experience. 

Embrace discomfort as you approach your site map — especially if you're working with an external creative agency. Challenge your attendees' expectations by venturing away from what you've done in the past. 

Offer interactive food and drink stations. There are many ways to

feed attendees and wow them

at the same time — like a customisable champagne cocktail bar, live stir-fry station, or even a doughnut wall. Dotting them throughout your event can surprise and delight your delegates.  

Think outside the ballroom. Sometimes the best way to make your event feel modern is to choose a unique,

non-traditional venue

that feels fresh and fun. 
3. Don't underestimate the scale of the project
Not having enough time for the planning process can be disastrous for a large conference. Planning an innovative, world-class experience needs to start nine to twelve months before the event. Which means consistency and clarity are important from the get-go.
Decisions made early in the process can always be changed, but make sure these changes don't create noticeable inconsistencies in the experience for your attendees. 
Tips for a well-executed conference plan:
Have a clear vision for what you hope to accomplish and reference it throughout the planning process. 

Work closely with your team or agency in the early stages of the planning process. You should be making the most important decisions in the first few months. 

Understand how reversing a decision will affect your plan. An unplanned change may seem harmless at first, but you'll sleep better at night knowing deadlines will still be met — or worse, the attendee experience will suffer.
How to propel your conference into the future
For more ideas and expert advice on how to keep your conference event growing in any climate, check out The Executive's Guide to Creating an Out of This World Conference.
If you would like to know more about how Eventbrite can help you achieve your conference or summit goals, you can also reach out or connect with me on LinkedIn.