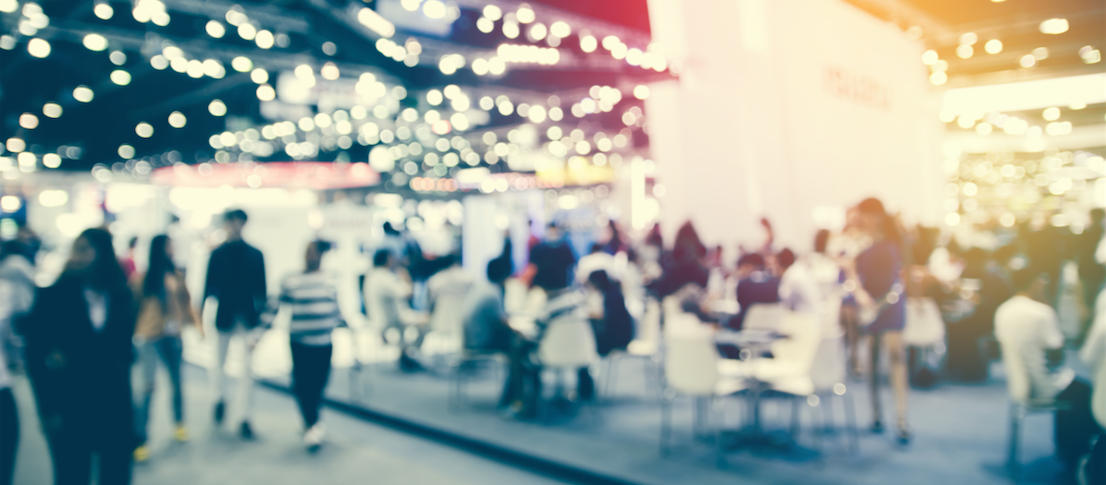 5 Booth Design Tips for Tradeshows and Conferences
With so much to see and limited time, conference and exhibition attendees tend to pick and choose the booths they visit. But if every booth looks identical, it's uninspiring at best. That results in a low energy vibe, bored exhibitors or sponsors, and less-than-stellar media coverage.
That's why your goal should be to encourage your event partners to put time and effort into making their booths eye-catching, interactive, and unique. Your sponsors and exhibitors will see better ROI on their investment, and you'll be able to keep them coming back (and even charge them more) for your next event.
Here are five conference booth design tips to share with your sponsors or exhibitors to help them stand out.
Conference Booth Tip #1:
Keep branding clear, concise, and uncluttered
People are drawn to booths that either pique their curiosity or speak directly to something they are interested in. In other words, trying to be too abstract or quirky can backfire. Encourage sponsors to come up with a short tagline or slogan that defines their brand and serves as an introduction to their products.
Design experts often say that white space is a very effective way to help your graphics and logo really pop. Don't try to include too many images or feel you have to go crazy with big screens. A simple, clean look with a few striking graphics will be more inviting.
Conference Booth Tip #2:
Provide a retreat
Amidst the hustle and bustle of a tradeshow floor, or following hours of intent listening and learning at a long conference, relaxing moments are always well received. That's why a booth that provides a relaxing activity or comfortable space to escape and recharge (branded, of course) can be a big draw for exhausted attendees or busy professionals looking for a quiet place to get some work done.
Conference Booth Tip #3:
Incorporate a cool offer or freebie
Think beyond the free pen. Whether it's a charging station, free Wi-Fi, or a unique piece of swag, incentivise people to walk over to your exhibit booth. But it is important to keep it relevant for the best results. Offering swag that is related to the exhibitors brand is more likely to attract a potential lead, rather than someone who just wants a freebie. 
Conference Booth Tip #4: Utilise tech to collect leads
Exhibitors and sponsors need to prove the return on investment (ROI) on their floor presence, and you can give them the right tools to measure their success (to keep them coming back for more).
Using the Eventbrite Onsite Experience Suite powered by Entegy arms you with all the tools you need to drive and measure ROI for exhibitors – from lead capture, to attendance tracking, event apps and interactive sessions. It provides numerous instances for lead generation and brand exposure, and those in attendance will be impressed by the high-tech touch.
Conference Booth Tip #5:
Add engaging activities
Another way to attract crowds to a booth is by offering an activity that breaks up the monotony of business card exchanges. For instance, sponsors can provide a photo booth, run a contest, host a social media wall, or set up a game or challenge – from trivia to a putting green. Attendees who take part in the activities can be prompted to join the sponsor's email list.
Help your paying exhibitors get the most out of their space at your event by offering them these creative conference booth activities and ideas. Once they generate more traffic to their booth, they'll be sure to join you again for the next event. Plus, you can make more money on your sponsorships once you prove how effective they are.
Level up the experience at your expo or tradeshow
Of course, booth design and activities are just one way of creating an engaging sponsor and exhibition experience at your conference or tradeshow. For more on how to improve the booth experience and results at your event, check outThe Secret to a Successful Expo: How Technology Can Drive Results for You and Your Exhibitors