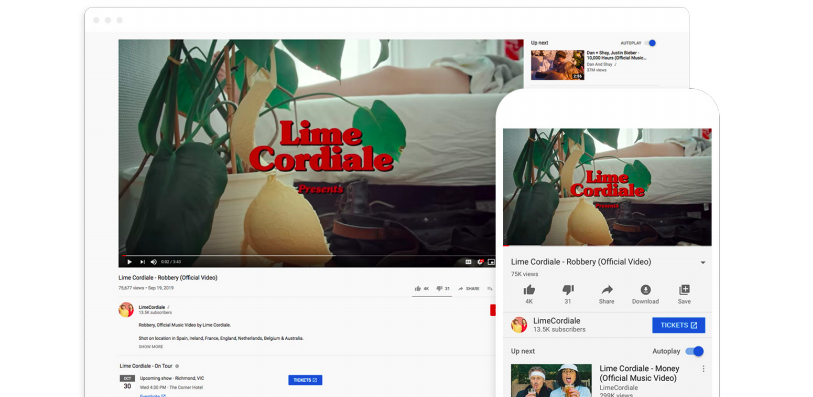 YouTube & Eventbrite Integration: How it Works
YouTube is the biggest music streaming service in Australia – and if fans are using YouTube to listen to and discover music, it's exactly where you want to be promoting your live music events. This is why we're thrilled to announce our newest event distribution partnership: Eventbrite is now integrated with YouTube in Australia.
How it works
When an official artist video is being viewed on YouTube, this integration turns the area directly underneath the video into an 'On Tour' section of the page, surfacing the shows geographically closest to you. All viewers need to do is click the Tickets button to grab tickets to the artist's upcoming live show.
If you're an artist and using Eventbrite to ticket your events, this feature will happen instantly. All you need is an Official Artist Channel on YouTube. You can learn more about Official Artist Channels and eligibility here.
If you're a promoter or venue ticketing through Eventbrite, you can still make use of this feature – however your performing artist will need to be eligible for an Official Artist Channel to surface the ticket button on their videos.
New opportunities for independent music
YouTube is an incredible place for people to discover emerging artists and musicians that are unique, edgy and pushing creative boundaries. For example, YouTube's Artist on the Rise Program features new music videos from emerging music artists weekly — an initiative we feel equally passionate about as these are often the acts that perform on the stages of the independent live venues and promoters we partner with. With this new integration, it's easier than ever to turn this journey of music discovery into paid fans attending your gigs.
We're proud to form partnerships that play a part in bringing artists, fans and promoters together online, and to support connections built offline through live shows. YouTube joins a suite of over 50 distribution partners that helped the promoters, event managers, producers, and creators that chose Eventbrite as their ticketing and event technology partner to reach wider audiences. And now, together with YouTube, we're excited to leverage the power of video discovery to help our clients drive ticket sales, support artists that play their venues, and give fans the kinds of live music experiences they'll never forget.
Connect with Aussie music fans
Uncover how fans discover events with our Australian Music Fans Report, or learn more about how Eventbrite is powering Australian live music here.