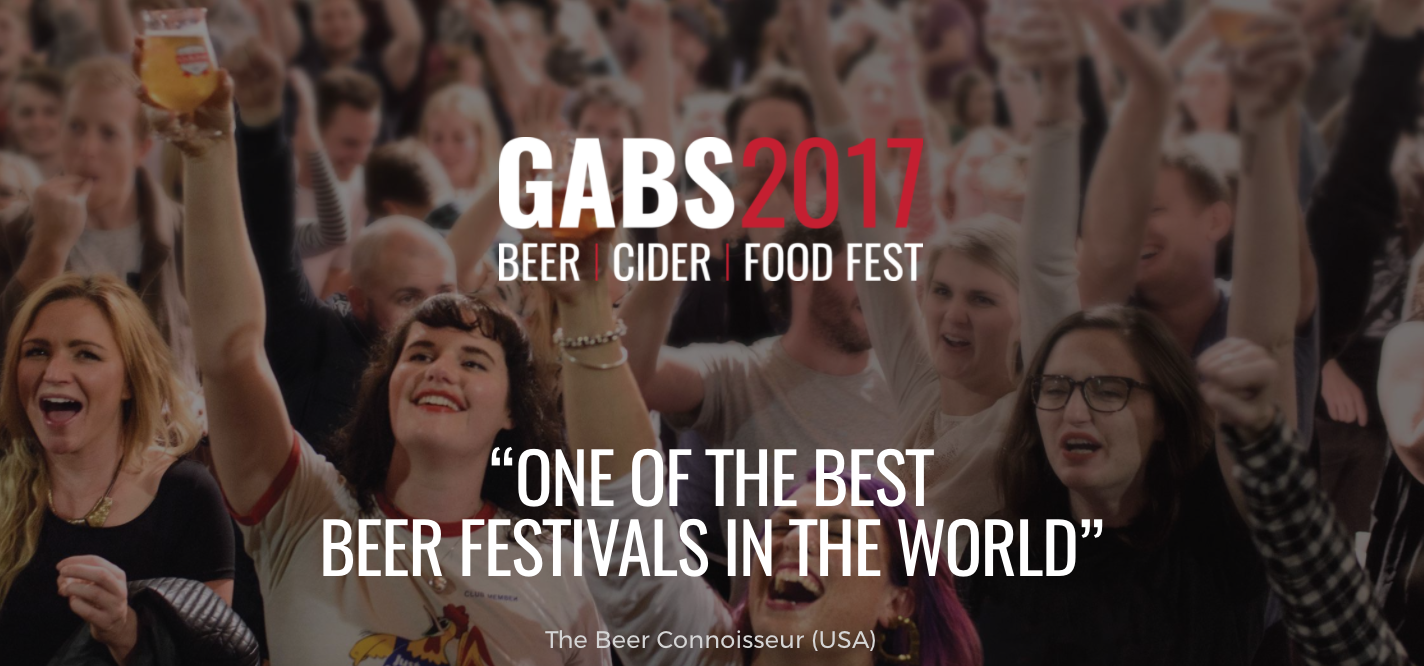 Getting Smart With Social: How the GABS Festival Engages with Beer Lovers and Brewers To Promote Their Event All Year Round
It doesn't matter what size your event or marketing budget is, social media channels like Facebook, Twitter, and Instagram offer the perfect opportunity for event organisers to engage directly with their attendees. Which is why we're always looking for inspiration and events that are really killing it online. One such event is the Great Australasian Beer SpecTAPular (aka 'GABS'). 
Now in its seventh year, GABS started with a simple idea — to convince the country's most exciting craft breweries to all brew and release a brand new beer on the same day, at one event. While there are many beer and cider events across the country, GABS has grown to one of the largest and still has that unique point of difference, having introduced around 850 new beers and ciders into the market from their event.
The festival successfully embraces a wide audience from the die-hard beer geeks ("craft faithfuls"), to "beer curious" foodies, and those that just love a great festival atmosphere to try something new. To find out how they engage with their broad audience of attendees, we spoke to Event Director, Craig Williams to discuss all things social media.
Tailoring Messages To Social Media Channels
Rather than taking a "one size fits all" approach, understanding your audience and where to find them is key in selecting the right channel and message to use across social media. GABS is active across Facebook, Instagram, and Twitter, but understands that they aren't always speaking to the same people.
"Twitter is where we can talk to the hardcore beer fans" explains Craig. "It's a great forum for discussion about craft beer, and conversations sparked by things like people checking into the beer app UnTappd. Instagram is more for the 'beer curious' — they're interested in craft beer, but are more driven by the festival experience. Facebook is our biggest channel and the linchpin of our social media strategy."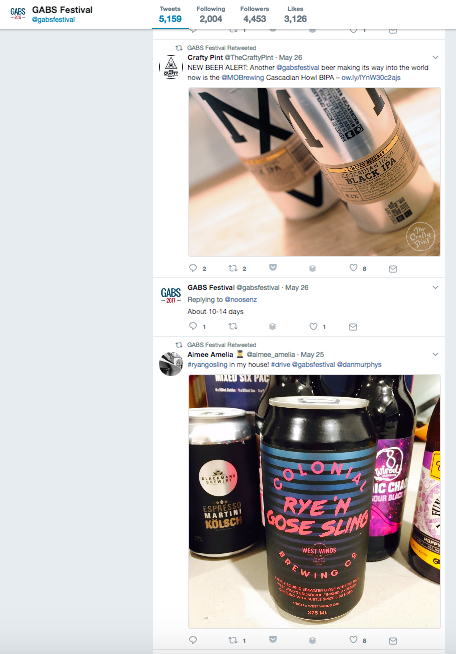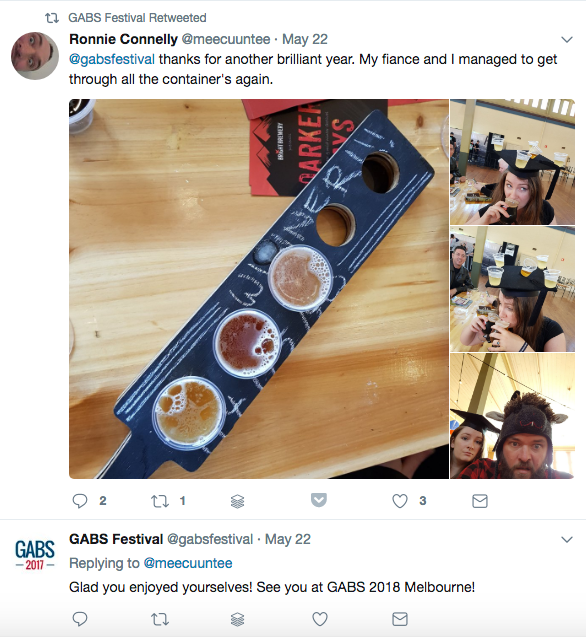 Connecting Attendees to Exhibitors with Video
GABS offers a chance for beer lovers to connect directly with breweries to taste new and interesting offerings — but that relationship starts before they walk in the door thanks to video content on Facebook.
"A key part of our Facebook strategy is to continue creating content in the off-season outside of the event. When fans are really invested in an event or brand, they don't want to be fed the same sorts of marketing messages that go out to general consumers — and we're seeing that reflected in our video engagement. It's not the slick well-produced two minute grabs that gets people engaged, it's the selfie-style video, the Q&As and vox pops that provide an unscripted view of the event and our brewers. Interviews with the brewers give our fans the quirky stories to share with their friends, something they want to discuss and be a part of" says Craig.
Creating Social Media Toolkits for Exhibitors
Brewers that take part in GABS vary from large-scale brands with their own marketing departments, to family operations who are short on resources and time. To help these businesses promote their involvement in the event, GABS provides a simple toolkit of assets such as social media imagery, copy, competitions, and venue posters. This allows small businesses without design capabilities to create simple promotions and encourages partners to help spread the word of the event. When high profile breweries create their own content (e.g. Garage Project), they also help to amplify these efforts to their own audience.
Driving Traffic with Complementary Content
A key piece of content that helps promote GABS outside of their event period is the annual 'Hottest 100 Aussie Craft Beers' poll. As part of Australia Day celebrations, beer lovers across the country vote for their favourite beers of the year. This campaign is successful because it's highly relevant to the event, without being specific event marketing.
"The Hottest 100 poll is a great way to engage with the beer drinking community and helps build our database of beer lovers" explains Craig. This really underpins our marketing efforts as we're seeing less value in traditional media compared to the opportunity to speak directly to our audience via email".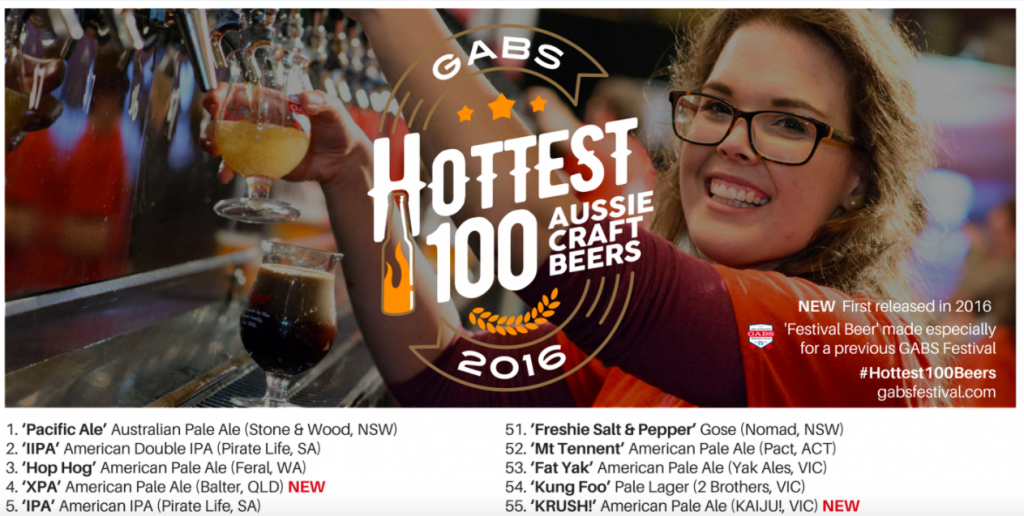 Looking to the Future
What's next for GABS and their team of organisers? With website and social traffic, conversions and ticket sales all mobile-led, their marketing focus will hone in on how to speak to people on mobile devices and consider the position they're in when seeing messages from GABS. This will be helped along by Eventbrite integrations such as Facebook Checkout for ticketing. "For us, anything that reduces barriers to purchase is something we're keen to explore" says Craig.
Mobile video will be another focus for the event. Globally, mobile data traffic is increasing at a huge rate, and a new study from Cisco predicts that by 2020, video will account for a staggering 75% of that traffic. That's up from 55% in 2015.
"Facebook Live is something we'll explore in future with our video content" says Craig. It works in with the style of video that does well and Facebook actively promotes any live coverage, so I see this being a key part of our future content strategy."