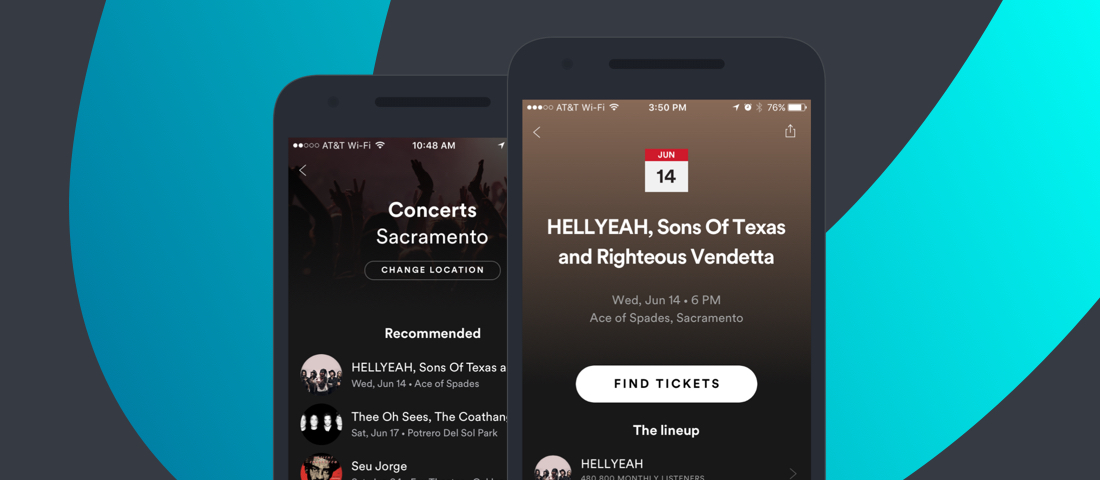 Promote Your Concerts and Festivals to More Fans on Spotify
If you're a music event producer, you already know that Spotify is the place to engage active music fans around the world.
The popular streaming app is where over 140 million fans listen to their favourite artists, share playlists with friends, and discover new sounds.
And now you can promote your shows to these same fans directly on Spotify — at no extra cost. Powered by its discovery algorithm, Spotify automatically recommends top Eventbrite concerts and music festivals to its listeners, based on their music tastes and alongside their favourite albums.
So how exactly can our new integration with Spotify help you pack the house? Research from Music Watch shows that Spotify listeners are nearly 50% more likely to attend live music events than the average fan — making it the best place to get in front of people willing to spend.
Spotify also helps you engage the fans most likely to attend your shows. Keep reading to find out how.
Engage fans where they spend time listening to music
Every music marketer is familiar with the "spray and pray" method: tell everyone about your upcoming show and hope your promos land on a few interested ears. But you end up wasting a lot of time (and dollars) reaching people who just don't care.
The band playing at your show probably has an existing fan base — and those are the people most likely to buy tickets.
Which is why Spotify surfaces location-based concert recommendations on its artist pages, where fans go to listen to their favorite albums. They can also receive concert recommendations in their email inboxes for upcoming concerts in their area.
If you catch fans while they enjoy a band's music on Spotify, you boost your chances of selling them a ticket to see the band live.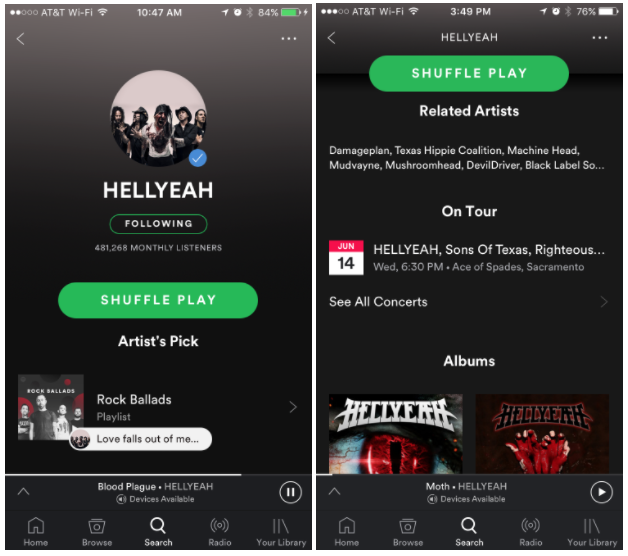 Attract new fans with personalised concert recommendations
You've reached a band's existing fan base. Now what? How do you find people who don't yet know about the band or your show?
On its personalised "Concerts" tab, Spotify recommends concerts to each listener based on their music preferences, helping you reach interested fans and saving you from spending money to find them elsewhere online.
If you're using Eventbrite, our integration with Spotify makes its concert recommendations even more targeted. On top of listening behaviour, the music streaming app can now recommend concerts to listeners based on their ticket buying habits, too.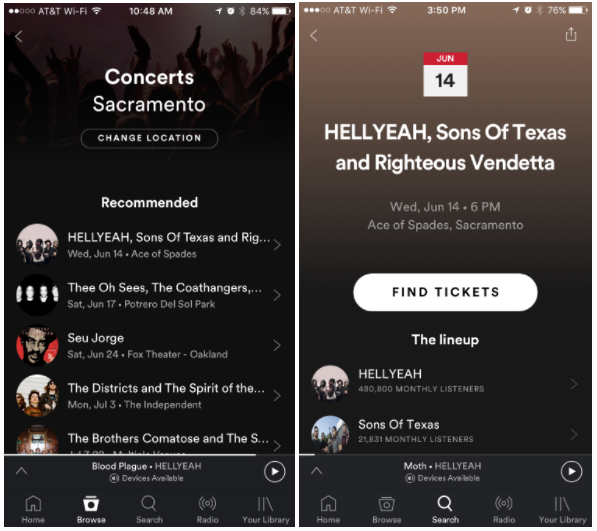 Of course, it's not enough to just reach a potential fan — you also have to get them to commit.
Once a fan selects "Find Tickets" on Spotify, they complete their purchase on Eventbrite in two quick taps, even on a small phone screen. A smooth checkout experience can reduce your overall drop-off rate— by 10% on average for every additional step — and dramatically increase ticket sales.
Learn more about why promoting your shows on other apps and sites is important to your bottom line and how Eventbrite can help you sell more tickets on Facebook, Bandsintown, Songkick, and more.