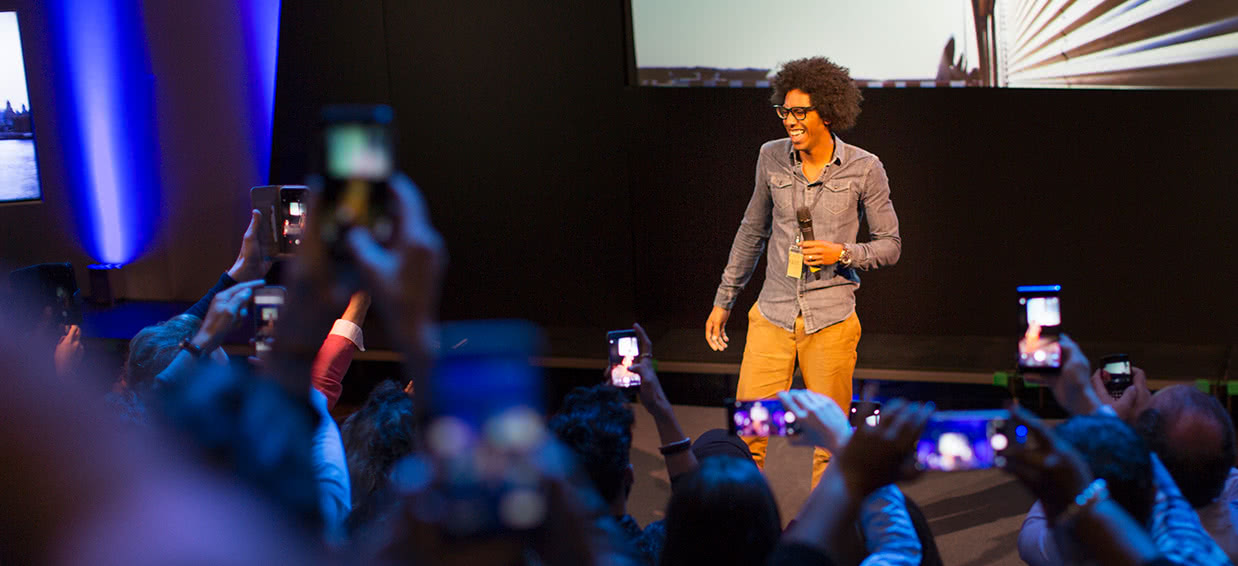 Product Launches: 5 Strategies to Raise Awareness and Stay On Budget
Product launch events allow your customers to get up close and personal with your brand and generate excitement — and sales — for an upcoming product or service. But if you want to increase profit margins, it helps to count every penny you spend.
To ensure you don't overspend and see a positive return on investment (ROI) sooner, follow these strategies to keep costs down.
1. Review your budget for frivolous expenses
While your attendees might enjoy extravagant decorations and expensive cocktails, it's important to consider how much impact those budget items have on your success. If you're driving product adoption at your event, for example, even the best craft cocktail might not impact that. But if your goal is buzz and social media mentions, an Instagrammable margarita might be worth the cost.
Map out all your expenses and label which ones really matter and contribute to your event's goals. Once you have your overarching categories defined, you can start to drill down and evaluate the costs.
Tracking your pennies is critical to improving your event's return on investment and managing your total cost. This event budgeting guide will walk you through every step and help you cut unnecessary items from your budget.
2. Supercharge your product launch promotion strategy
How much do you spend promoting your product launch? In 2018, event creators surveyed said marketing and promotion took the lion's share (43%) of their event budget. And while it's perfectly reasonable to spend money attracting the right audience to your events, every dollar spent eats into your profit margins.
To reign in your product launch promotion costs, you need to look closely at your marketing spend and how many ticket sales come from each effort. Identify the channels or tactics with the least return on investment and stop doing them.
Not sure what the most effective channels for your marketing are? Here are three free (or inexpensive) tools to help you out:
Mention: Monitor keywords or phrases on blogs, news sites, RSS feeds, forums, and social media. Use this media monitoring tool to identify where your event is being mentioned online. If relevant conversations are found, you will be alerted in real time. Once you know where people are, you can identify the best sites to advertise with.
Google Alerts: Set up alerts for your industry, your competitors, and for yourself. This lets you know when someone posts about your event so you can develop those relationships further.
Google Analytics: Look at your website search traffic to see where visitors are coming from — be it search engines, social networks, advertising campaigns, or other referral sources. This will show you where interested visitors are hanging out, so you can focus your marketing efforts on those channels.
From there you can use the advice in this post to maximise your event marketing budget.
3. Craft a better press release
Public relations can be a cost-effective way to spread the word about your product launch. But if your press releases aren't getting the attention they deserve, you need to work harder to get press invested in your product launch event.
Follow these tips to make it clear to reporters why the public will care about your event — and they should cover you.
Don't bury the lede: It's time to turn your product and event's story into a short pitch — an "elevator pitch." In the business world, an elevator pitch is just what it sounds like: You're in an elevator with a prospective client, and you need to sell your idea in 30 seconds or less. Think quick!
Know your audience: When you're writing a press release, make the approach broad enough that you can send it to multiple media sources. But you might want to consider creating several versions, to accommodate publications and journalists with different core interests.
Don't leave the good stuff out: Balance pragmatic information with colourful details that make your event sound special, like a special presentation from your CEO or a raffle for attendees to win a free subscription. Just don't tell the whole story. Leave the reader hungry for details so they reach out for more.
Always include a call to action: How can the journalist's readers sign up for this event? Don't make them work for it. Make this information very easy to find at the bottom of your press release.
RELATED: The Mastery of Event PR: How to Craft a Riveting Press Release
4. Partner with other companies as sponsors
Sponsors can provide some much-needed revenue to take your product launch event to the next level. But bringing other companies on board as sponsors is easier said than done.
Find out how to get into the heads of potential sponsors — and create relationships that are long-lasting and mutually beneficial — follow these steps:
Build a list of ideal sponsors: Event sponsors want the same thing you want — to reach people who are likely to become loyal customers and strong brand advocates. Use your knowledge of customers to discover the brands and products they love, then match their interests with potential sponsors.
Draft an elevator pitch: Write two to three lines about the type of event you're organising, the value to a potential sponsor, and a request for a short meeting. Practice delivering this pitch if you meet a prospect in person.
Meet and listen: Bring your data, but don't overwhelm by presenting everything. Instead, ask sponsors how they measure success and cherry-pick the information that's relevant to them. Most importantly, take notes about what they want to customise your proposal.
These steps only scratch the surface of event sponsorship. To master the skills for winning (and retaining) sponsors download this 2019 guide to event sponsorship.
5. Choose the right event technology
Events help you to engage with potential customers in ways traditional advertising can't. But if you don't have the right technology backing up your event, you'll leave the wrong impression in attendees' minds.
When evaluating event tech options, ask yourself these questions:
Is the ticketing or registration platform easy to use? If an online event management tool is too cumbersome and has a steep learning curve, adoption can be difficult and costly. Choose a partner with an intuitive interface and streamlined workflows, so that your staff can hit the ground running.
How difficult is your purchase or registration process? Your staff won't be the only people using your solution. Make sure potential customers can easily RSVP. A difficult purchase or registration process can have a negative impact on attendance and your brand.
Does it have multi-user access control? Avoid sharing the same login and password across your team — that can lead to embarrassing mistakes if an intern accidentally sends a mass update to attendees. Make sure your provider allows you to add additional users with varying levels of access. This feature will let your event teams operate autonomously while unifying the data under one account.
Is it built for phones? Most of our digital lives are spent on mobile devices. In fact, Nielsen Digital Ratings reported that, in 2016 

Australians spent an average of over 28 hours per person browsing on their smartphone alone, higher than any other device.

 So if it's easy to register on mobile, you're not only providing a premium experience, you're encouraging a fast-growing customer segment to attend your product launch.
Does it seamlessly integrate with your current technology? Don't waste time transferring attendee data between your event technology and your customer relationship management (CRM) software. Instead, choose a technology provider that integrates with your CRM and marketing tools.
From CRMs like Salesforce to email marketing platforms like MailChimp, Eventbrite integrates with leading technology providers to ensure you spend more time and money on what matters. Test it out for yourself and set up your product launch on Eventbrite today.