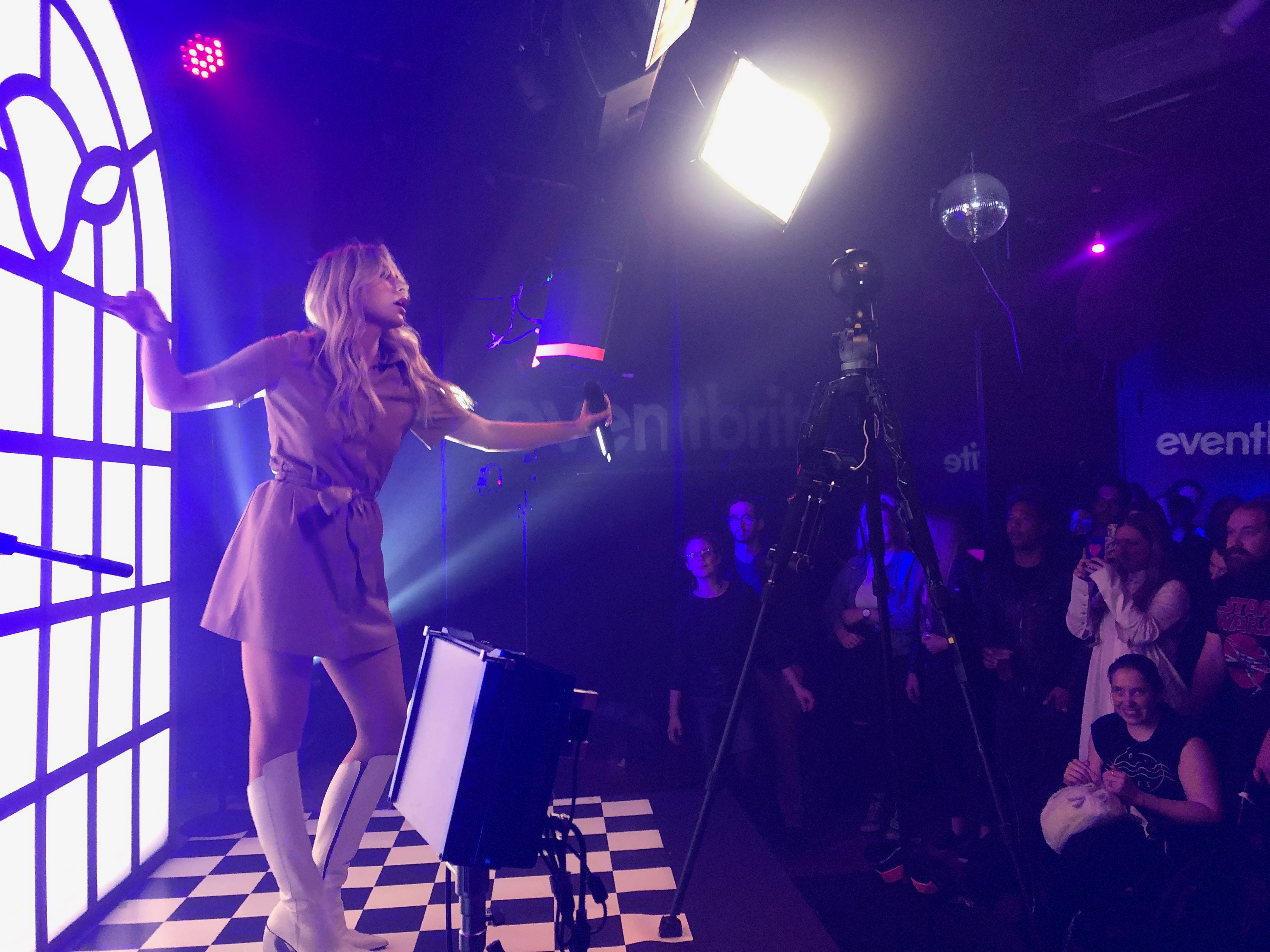 A Melbourne Live Music First: Eventbrite Presents Owl Eyes Live in VR
Here at Eventbrite, we're passionate about connecting fans with incredible live music experiences. And tonight, we did just that – partnering with independent Fitzroy venue Yah Yahs and Australian promoter Untitled Group to present an intimate performance by alt-pop darling Owl Eyes, live-streamed in VR to fans across Australia, and the world.
In a Melbourne live music first, thousands of fans online joined a capacity crowd at Yah Yahs to experience Owl Eyes in 360-degree VR, streaming the experience live on Oculus Quest headsets and via YouTube.
The event, which was a first for Eventbrite, Untitled Group and Cult Leader, offered an unprecedented opportunity for fans who missed out on tickets to the sold-out gig to enjoy the experience live.
"At Eventbrite we're committed to bringing the world together through live experiences, and that includes exploring what the future of live experiences could look like," said Josh McNicol, Acting General Manager, Eventbrite Asia Pacific.
"Leveraging the power of VR technology, we've transformed an intimate local gig into a global live experience. From reaching new fans to overcoming touring's notorious 'East Coast Curse', there is enormous potential for technologies like VR to change the way fans experience live music. Working alongside our long-term partners Cult Leader and Untitled Group, we're excited to continue driving innovation in live music and delivering a best-in-class experience for fans, both in-person and online."
With a setlist that included fan favourites You and I and Nightswim, Owl Eyes delivered a cheeky and charming performance; her custom-created set immersing the crowd in bright bursts of colour and light.
"It's so exciting to be part of a different experience that can bring people together no matter where they are in the world."
– Owl Eyes
Untitled Group's Nicholas Greco commented: "Innovative ideas are the only way to drive any industry forward and we jumped at the chance to be involved in this Melbourne first.
"The possibilities of this technology really are endless, from giving fans the chance to experience shows they may have missed out on, to giving punters access to side-of-stage experiences they might never normally be privy to. It was great to bring this to life with Eventbrite and Cult Leader."
Jason Juma-Ross, Director of Tech Industry Strategy at Facebook added: "At Facebook, we're always looking for new ways to bring innovation to Australia and we're excited to see Eventbrite use Oculus Quest to live-stream music into the homes of those unable to attend the actual event.
"Live music is one of the many ways Aussies connect and we're delighted that our Oculus Quest devices are helping to share this experience."
From 20,000-capacity festivals to intimate club gigs, Eventbrite is proud to be the platform powering Australia's leading music venues, promoters and festivals. Learn more here.