Your Facebook Event Strategy: Learn From The Best
Being on Facebook is a given for event creators in 2020. But having an account and using it effectively to drive ticket sales are two very different things. So how do you stand out from the crowd, or newsfeed, on a competitive platform like Facebook – which is seeing 40% year on year growth in people engaging with events? Here's how.
We've found some examples of creators that are nailing Facebook Events to help guide and inspire your social strategy moving forward.
GABS Festival – Being active and engaged
As well as cleverly driving traffic by tacking on a series of "Hottest 100 Craft Beer Countdown" events to the already hugely popular Triple J Hottest 100 Countdown, The Great Australasian Beer SpecTAPular (aka GABS) recently went above and beyond to show how much they value their attendees.
After reports of fraudulent tickets being sold via posts on their Facebook Event page, GABS proceeded to write individual messages on each ticket-selling post warning attendees in the nicest possible way. This sort of engagement is why GABS events have loyal fans all around the country.

GABS also do an excellent job at engaging their followers in the "off-season" between events, by filtering out valuable content that introduces beer lovers (their attendees) with beer producers (their exhibitors), which will ultimately drive ticket sales to their next event.
The Social Dog Company is a (super cute) business that only exists on social media and Eventbrite. They rely on Eventbrite's integration with Facebook to sell tickets by adding a "Get Tickets" button directly to their Facebook Event page.
A feature they take full advantage of in order to maximise their reach is automatically listing their events across multiple Facebook Pages. When setting up their listing on Eventbrite, the 'Publish to Facebook' feature allows them to share their official event not only on their Facebook Page, but also pages of other businesses involved, such as the venue, caterers, or co-host. 
A Midnight Visit is an immersive theatre experience that uses visual content extremely well to convey their dark and mysterious tone across social media channels.
Their new event skyrocketed in popularity as it sold-out shows across the country in 2019, and they regularly posted in their Facebook to help generate FOMO (fear of missing out).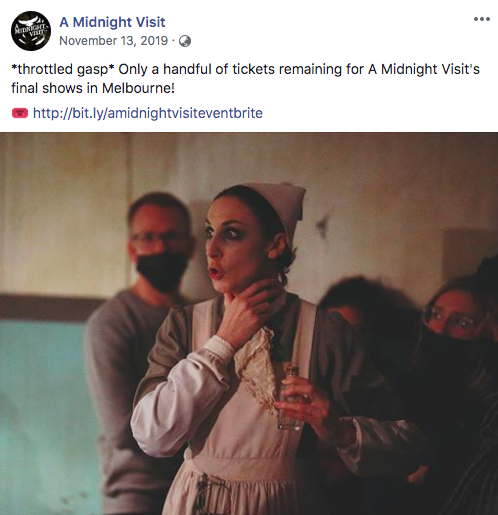 Junipalooza – Build your community
Junipalooza hosts big gin-themed 'paloozas' over one weekend each year. Rather than radio-silence in the long wait between events, they regularly (almost daily!) make posts that introduce new gin distilleries or products to their growing community of gin lovers.
This keeps Junipalooza in their audiences' newsfeeds with content they're interested in all year round, and attracts more and more gin producers to want to be involved in their events moving forward – as they're happy to advertise their product.
In doing so, Junipalooza position themselves as a trusted voice in the gin community.
Strawberry Fields is widely considered and regularly voted one of the top 10 festivals in the world. And it is easy to see why with this killer Facebook Event description that prioritises benefits over the features. In other words, it captures readers imagination by describing what they will feel and how they will experience the event, rather than just telling them when, where and what.
Warning: Reading the below event description may cause you to purchase a ticket.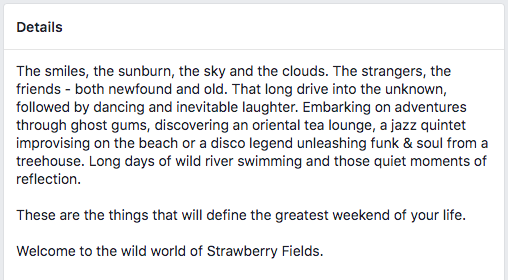 Bicycle Network is a bike advocacy group that hosts a number of large scale events around the country. Rather than use their Facebook to only promote their event, they fill their newsfeed and Facebook Event with blog posts that provide valuable information to riders, such as training tips, sight-seeing recommendations, or previous riders' stories. These blog posts then, of course, include a link to buy tickets.
By driving the bike riding community from their Facebook back to their website with valuable content, they improve their website rankings at the same time as increasing their Facebook engagements – boosting their chances of showing up in both online search and Facebook newsfeeds.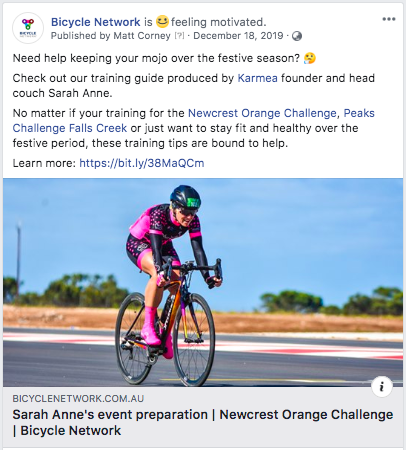 Kick-Off Your Facebook Event Strategy Today
The best part about getting started with Facebook Events – it's free! Creating a Facebook Event is simple with support from Facebook Help Centre.
Plus, Eventbrite's partnership with Facebook makes it easier than ever to create an "official" event on Facebook by pulling the information directly from your Eventbrite listing – increasing your chances of showing up in people's news feeds.
Feeling inspired? Before you create your next Facebook Event, make sure you read these tips straight from the source, with this guide from Allison Hoffman, the Product Marketing Manager of Facebook Events: How to Use Facebook Events to Sell More Tickets.