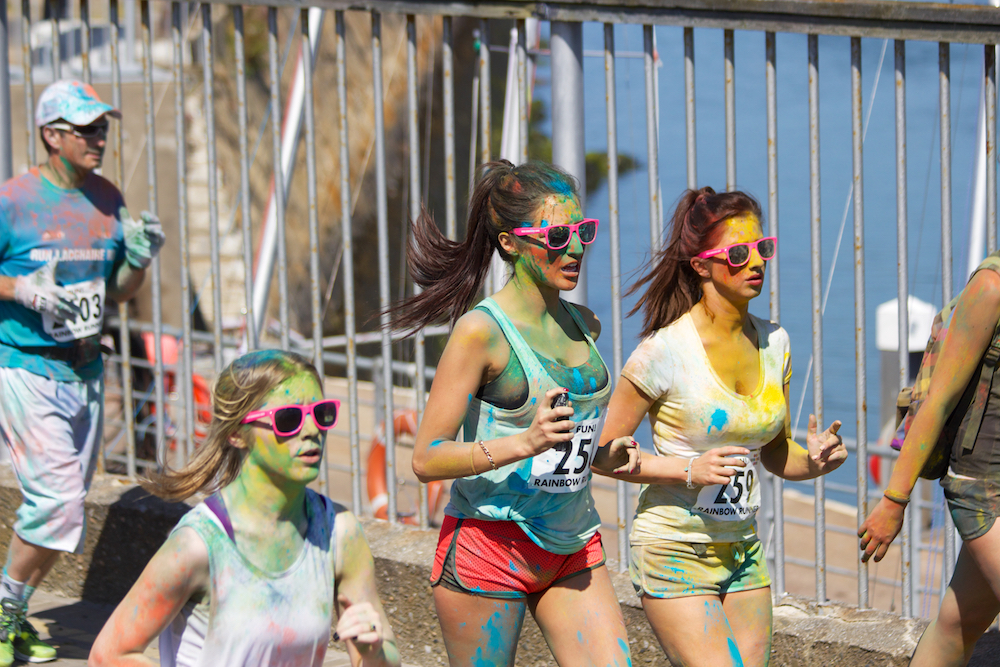 Collaborating on cool: Partnerships that create event success
Image: Swisse Vitamins collaborates with Colour Run to associate their brand with vitality and youthful energy.

Don't be ashamed, we've all experienced that burning desire to be one of the "cool kids".
From the school yard to festival market stall, we've all ached for the attention of the modern style makers. Waiting for the effortlessly cool, felt-hat wearing beauties to buy into the life/product we're selling, deeming us Instagrammable. Instead, there you sit, behind a trestle table at a music festival trying to sell health insurance or hand out samples of a new cheesier biscuit range, while passers-by actively avoid making eye contact with you. You remember why you hated high school in the first place.
All is not lost! Remember those kids who hung around the edges of the cool group in high school who still got to go to all the cool parties? They applied the art of "being cool by association", and you can too!
Today many businesses harness the power of association at events and brand activations by developing partnerships with complementary "cool" brands. Also known as co-branding, this marketing technique has the following positive benefits;
Attracting and engaging new audiences

Leveraging partner brand profiles to generate media attention

Sharing costs of hosting an event or brand activation with other partners

Leveraging partner brand images to shape a positive perception of your brand

Creating engaging, memorable experiences for your customers that increase brand loyalty and social share-ability of your event
If you're finding it hard to get interest in your rice-milk product launch, or are looking for a new way to sass-up your next fundraising walk, try the following 3 steps to harnessing the power of being cool by association:
1. Know your true self
Understand the demographics and drivers of the audience you are targeting to attend your event or brand activation. This will inform and guide you towards finding the right partnerships and brands to associate with.
2. Find your cool group
Be true to yourself and the values of your brand. Research and create a list of brands with complementary values, audience demographics, and products or services. If you are selling health insurance for example, health and fitness providers, health food and drinks, holiday retreats, sports and recreation products, or vitamin brands may be suitable partnerships.
3. Host cool parties together
Being cool by association goes beyond just promoting that you are part of a cool group. Invest in collaborating to host authentic, memorable events and/or activations that engage with your audience and turn them into positive brand advocates.
Here are a few co-branded events and activations that we can learn from:
The Brisbane Festival & The Weekend Edition (QLD)
What better way to attract attention to a festival than to stick a luxury pop-up hotel in the middle of it and give people the chance to win an overnight stay? This brand activation leveraged the younger following of partner brands – The Weekend Edition, Sheets On The Line bed linen, Wolff Coffee Roasters and Billy Kart Kitchen to raise awareness and reposition the Brisbane Festival.
Vale Brewing & CheeseFest (SA)
Like beer and cheese itself, this festival partnership stood out from the crowd in 2015. Creatively leveraged through a series of beer and cheese pairing events, tastings and beer based cooking demonstrations, Vale Brewing found an untapped market of foodies and educated them on beer pairing.
ANZ & Sydney Gay and Lesbian Mardi Gras (NSW)
ANZ went above and beyond with their sponsorship of the Sydney Mardi Gras in 2016. ANZ transformed its Oxford Street branch into a "GAYNZ branch" with their own "GAYTM's". This flamboyant redecoration popped up during February and March, promoting ANZ as a relatable, youthful bank to a diverse community.
Chloe is the Director of Adelaide's The Pop-Up Co. and has spent more than 12 years in marketing and events, working with the start-up, small business and non-profit sector. You can find her creating memorable, immersive events and pop-up activations for brands and businesses across Adelaide at www.thepopupco.com.au
Ready to start pitching your own sponsorship collaboration? Check out our top 10 tips for winning event sponsorship.