Description
You're invited to join Flinders University New Venture Institute and EnergyLab for the Unleash SA's Energy Opportunities Panel Discussion on Thursday August 15th.
EnergyLab and Flinders New Venture Institute have teamed up to officially launch EnergyLab in South Australia. EnergyLab was founded to support new business and technological initiatives that move Australia and the world toward 100% clean energy solutions.
We would love for you to join us in a panel discussion designed to analyse, scrutinise and talk through the emerging energy opportunities in SA. It will be an opportunity for industry leaders and experts to take to the panel and discuss existing energy options in SA, with the aim of discussing and unlocking future opportunities for the energy industries here in SA.
Event Details:
Date: Thursday 15th August
Time: 5:30pm for a 6:00pm start, running until approximately 9:00pm, we will provide light refreshments
Location: Ground Floor Lecture Theatre 1 Flinders at Tonsley, 1284 South Road Tonlsey
We hope to see you there for an interactive and thought-provoking discussion on this incredibly important topic.
---
MEET THE PANEL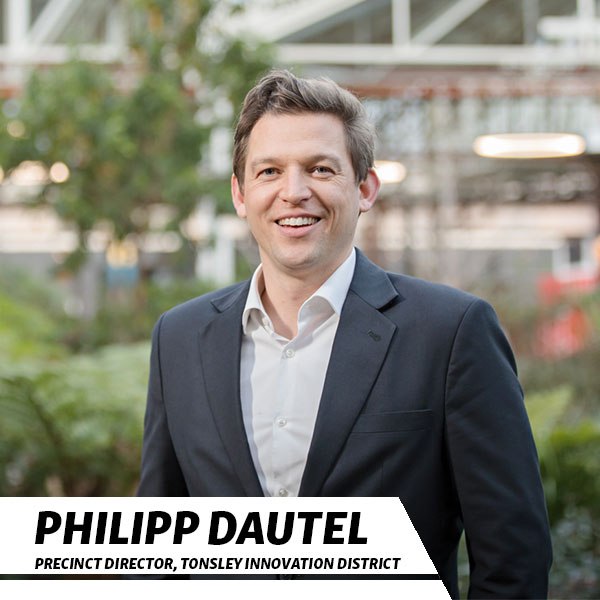 Philip Dautel is responsible for the delivery of the Tonsley Innovation District's vision.
His role includes facilitating collaboration between research institutions and industry to promote innovation and commercialisation opportunities. He also leads business development and investment attraction in the precinct through engaging with industry and communities (locally, nationally and internationally) and enhancing commercial opportunities.
So, what will Phil bring to the conversation?
Under Phil and the team at Tonsley's leadership,Tonsley Innovation District has established a unique position in Australia, amassing a co-located cluster of organisations in the renewable energy and cleantech sector. World-leading innovators such as Tesla and GFG Alliance's SIMEC Energy Australia and ZEN Energy are already thinking, designing, creating and collaborating within the 61-hectare precinct. Tonsley is a test bed for energy innovation with projects underway underpinning Tonsley's push in renewables and cleantech and supporting Tonsley's sustainability agenda.
Find out more on his LinkedIn.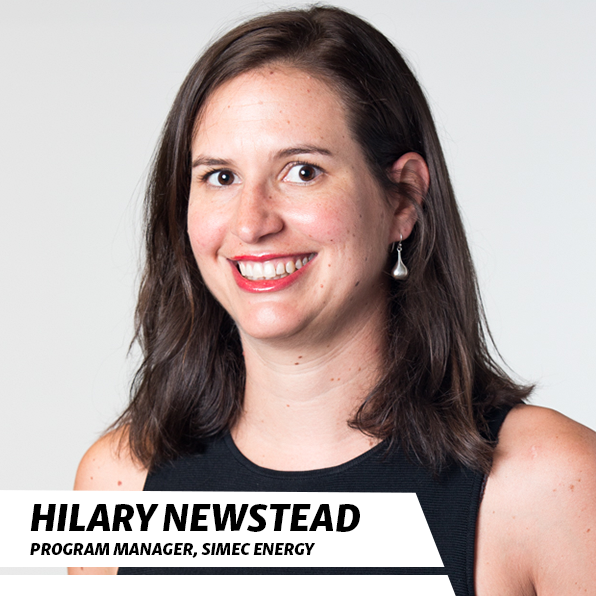 Hilary Newstead leads SIMEC Energy Australia's (SEA) development of Demand Response and
integrated solutions across commercial and industry projects.
Hilary's role sees her working closely with SEA customers to deliver innovative and flexible energy solutions, whilst also working closely with SEA's trading team to optimise incentives for customer participation and manage exposure against wholesale prices, creating win-win outcomes which are critical to the energy market transition. Prior to joining SEA, Hilary worked as a Senior Advisor at Telstra, championing strategic energy management and climate change resilience initiatives across a portfolio of over 25,000 individual assets nationally, with the goal of managing both the financial and reputational impacts for a top 10 energy user in Australia.
So, what will Hilary bring to the conversation?
Hilary's extensive experience in consulting, corporate strategy, product development and solution based sales in the energy sector make her an expert on past and emerging developments in the area. Throughout her career, Hilary has been instrumental in commercialising and refining energy data management, automation and IoT products, as well as driving strategy and corporate engagement on renewable energy, emissions reduction and climate change resilience across infrastructure portfolios.
Find out more on her LinkedIn.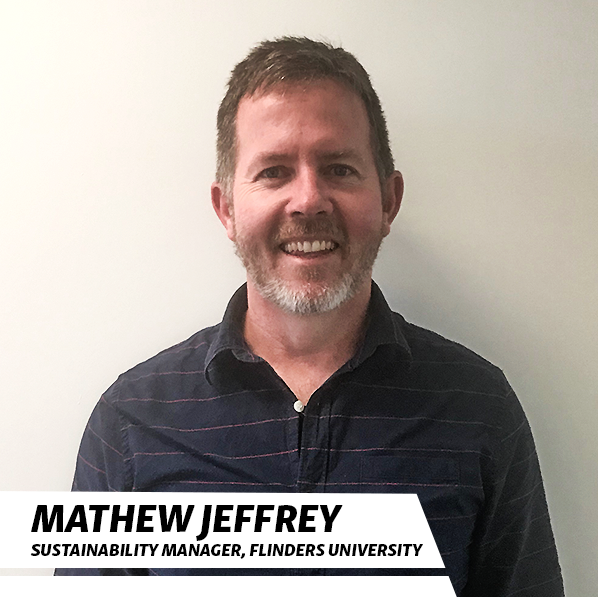 Mathew Jeffrey is the Sustainability Manager at Flinders University. His team played a big role in the university's Bold Ideas, Brighter Future Sustainability Plan.
Mathew worked in the primary industries sector for 10 years before coming to Flinders, in roles covering business planning, education and training and industry development at regional, state and federal levels. More recently he has focussed on environmental management and sustainability at Flinders, and is a driving force behind the university's impressive Sustainability Plan to 2025.
So, what will Mathew bring to the conversation?
As the person who's responsible for on-site energy generation, storage and integration, delivery of energy efficiency opportunities and off-site energy arrangements - Mathew's got a practical and strategic grip on what it means to work with energy on a large scale, and in the future. His work on the university's future transport strategy for introduction of autonomous vehicles, battery electric vehicles and electric scooters and bikes show that he's committed to thinking differently about how we use energy in SA, and all of its applications. Flinders is determined to be a test bed for new technology and practices, and Mathew is the person who makes a lot of that happen at Flinders.
Find out more about Flinder's sustainability plan here.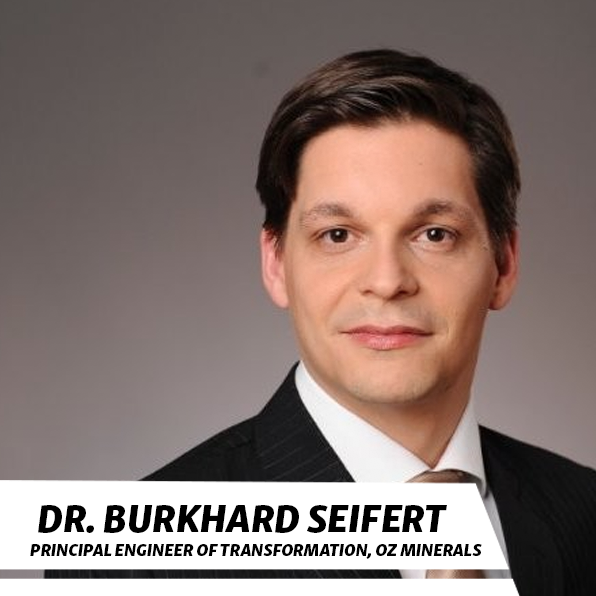 Dr. Burkhard Seifert is the Principal Engineer of Transformation at OZ Minerals.
Burkhard has over 14 years' experience in working across multiple sectors, specifically in the energy industry. His specialties are in business development, innovation, energy and water, which he puts into practice in his role as Principal Engineer of Transformation at OZ Minerals.
So, what will Burkhard bring to the conversation?
OZ Minerals is a modern mining company that adapts to the ever changing environment, harnessing the innovative ideas of its people and collaborating to leverage the experience of those around it. Burkhard's role in the epicentre of its transformation team means his finger is on the pulse of how this modern mining company is working to make energy make sense in the future.
Find out more about the OZ Minerals difference here.
_________________________________________________________________________________________

Sam Crafter is the Director at Woods Street Partners.
Sam has had an extensive career in project implementation, public affairs, communications and
reputation management in both the public and private sector, with a focus on the energy and
resources industries. Sam and business partner Peter Hawks, recently established Woods Street Partners, a boutique advisory firm assisting clients design, negotiate and implement energy and resources related strategies, programs and projects.
So, what will Sam bring to the conversation?
As Executive Director, Energy Implementation, with the South Australian Government Sam lead a high performing team that managed the design and implementation of key South Australian Government energy initiatives, including the world's largest battery (Hornsdale Power Reserve), the $150m Renewable Technology Fund, the $100m Home Battery Scheme, the $50m Grid Scale Storage Fund and South Australia's Virtual Power Plant using public housing stock, as well as the procurement of the Government's energy needs. Sam's experience in leading the implementation of the key energy initiatives for both the former Labor and current Liberal State governments provides insights in the transformation of South Australia's energy industry.
---