8 Fortnight Disability and Mental Illness Friendly Burlesque Course for Group and Solo Act Development
About this event
Two-Part Burlesque Course with end of term show held over 8 fortnights for easy access
Hour 1 - Burlesque Fundamentals & Group Routine
Group class for a group performance for all abili-tease! You will learn a fun and sensual group routine with the added opportunity to perform it in a real show at the end of term showcase. This is a beginners burlesque course taught with accessibility in mind. The routine is adjusted to the needs of the students as the term progresses.
Hour 2 - Solo Act Development
Aspiring soloists will work each week building a solo burlesque act to debut at the end of course showcase. Learn the fundamentals of solo act creation and professional development from an accessible perspective. This course includes coaching from a special guest teacher and a professional photoshoot. You must have completed at least one previous term of Tease-Able Group Class or be enrolled in this terms Group Class to enrol in the solo development class.
This course is open to anyone with a physical disability, mental health condition or neuro-difference of any form. Please get in touch with any questions you may have.
More Information -
Classes held every second Sunday for 8 classes starting August 8th 2021
11am - 12pm AND 6pm-7pm Group Class
12pm - 1pm AND 7pm-8pm Solo Act Development Class - Solo students must have completed at least one previous term of Tease-Able Group Class to enrol in the solo development class and attend the second hour
Discounts available for taking both classes per term
Week One Sunday 8th August, final week November 14th 2021 followed by student showcase 20th November 2021
Every weeks class is filmed and posted for students to access in between classes with ongoing support online in student groups and chats (must use Facebook to access this feature)
For questions email EmpressEyrie@gmail.com
Payment plans available by request
Missed out? Sign up for the waitlist in the ticket link (scroll to the bottom) to be informed if a second class goes ahead.
Class location is a private hall, hall is wheelchair accessible but please note that the bathroom in the space may require some steps taken to access it depending on you situation. I can provide photos of the space if needed. NDIS approved payable in the past.
*BOOKING NOTE* - If you are booking in for the full 2 hour course for Group Class & Solo Development you only need to pay for one "FULL COURSE" 'ticket' not both.
T&C: Class enrolment fees are non-refundable from one week before the date of the first class, after this time places may be sold or gifted on but no refunds are possible.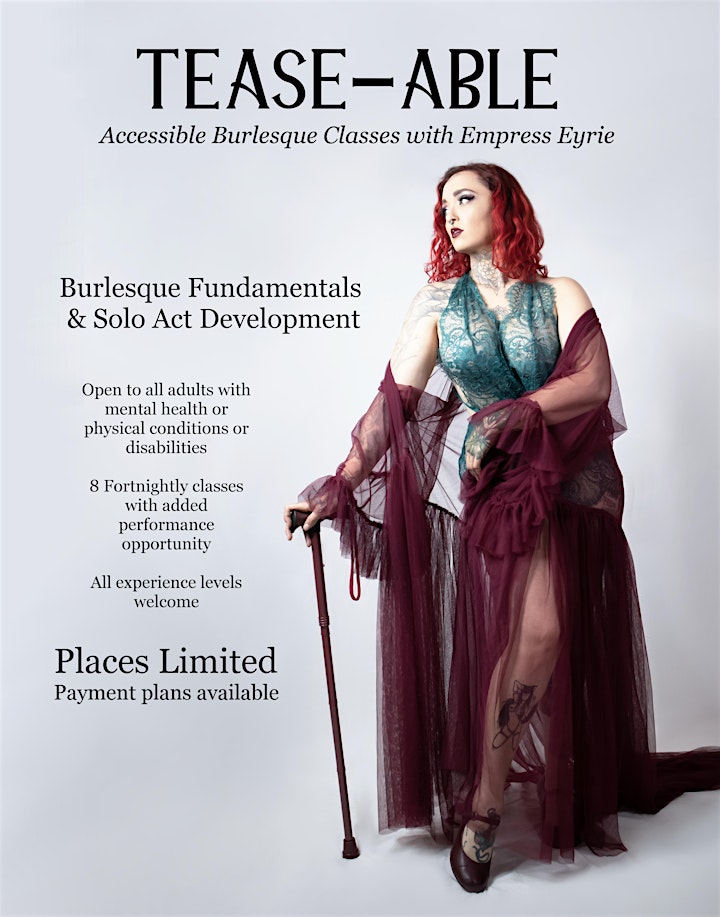 Organiser of "Tease-Able" - Accessible Burlesque Classes with Empress Eyrie -Term2 2021