Description
IS YOUR BUSINESS FIGHTING FIT FOR THE NEW FINANCIAL YEAR?
Join us for the Sunny Coast's first ever high-intensity Small Business Bootcamp!
Need to boost your profits?

Spend too much time working and not enough time living?

Not sure of the best way to market your business?

Spend too much on marketing and don't get results?

Are your books looking a little 'unhealthy'?

Do you need help finding the right team?

Does your business need cash but you're not sure how to get it?
With the new Financial Year fast approaching, NOW is the perfect time to ensure your business is 'fit and healthy'.
Motivating and exciting, this one of a kind event puts you in front of the 'Best of the Best' on the Sunny Coast who promise to deliver tangible strategies that'll boost your bottom line whilst helping you achieve that elusive work-life balance.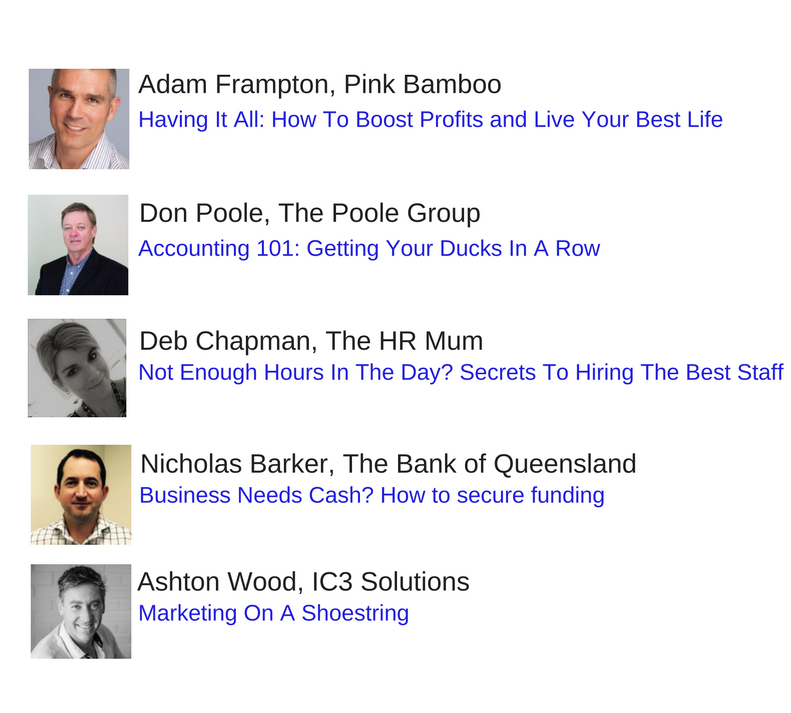 Held at the #1 coworking space on the Sunshine Coast, Inbox Workspace, this event will show you how you really can, have it all!
---
Presented By

---
SPEAKER BIO'S
Adam Frampton - Pink Bamboo
Specialising in working with businesses who want to grow, Adam is passionate about the single most valuable asset in any small business – it's people. An expert in human behavior, Adam understands what makes us 'tick' and works with small business owners to boost profits whilst creating the freedom and growth they seek.
Don Poole - The Poole Group
A little different to the run-of-the-mill Accountant, Don is a hands-on kind of guy. Seeing himself as a partner in his clients financial success, Don's extensive knowledge allows him to create individual solutions that reduce risks, grow businesses and create personal wealth. As Director of one of the Coast's largest Accountancy Practices, Don works with people and businesses of all ages and stages; developing strategies around the life of your business and your position in this life cycle.
Deb Chapman - The HR Mum
With an extensive corporate background in some of Australia's largest companies (including Rio Tinto), Deb works with hundreds of small businesses on the Sunshine Coast managing all aspects of their Human Resource needs. Playing 'Mum' means Deb is there for as much or as little as her clients need her - onsite within your business, externally from our office or an 'on-call' basis.
Nicholas Barker - The Bank of Queensland, Maroochydore
After 15 Years as a Corporate High-Flyer with two of 'the big four', Nicholas and his family moved from the humidity of Central QLD to the cool breezes of the Sunshine Coast. Now the proud (and very much hands-on) owner of the Bank of Queensland, Maroochydore, Nicholas' passion for small business success and knack for commercial finance, allows him to help support and grow (hundreds?) of local small businesses. Becoming somewhat of a local hero, Nicholas' branch has raised over $300k for Sunny Coast charities over the past 10 years.
Ashton Wood - IC3 Solutions
Well known for his global Destroy My Jeep campaign, Ashton leveraged social media to ensure he, and thousands of others, were heard. Now known on a first-name basis within the media, Ashton educates some of Australia's largest brands on the value and impacts of social media. Ashton's motto is "If you're doing the right thing, social media is your best friend, if not, it's your worst nightmare". Passionate about creating strategies for small businesses that leave their competitors in the dust, Ashton works with clients to get the biggest results for the smallest spend.
---
Sponsored By

---