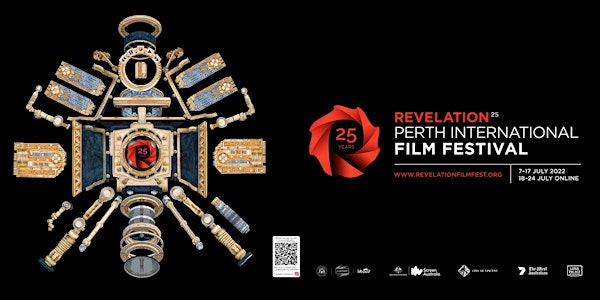 Revelation Perth International Film Festival 2022 Westralia Day Session 3
Location
The Backlot Perth
21 Simpson Street
West Perth, WA 6005
Australia
Westralia Day Session #3 Unseen, Untouched, Unknown
About this event
Cosmic mysteries, dystopian futures, and the collision of distant and familiar worlds are all around the corner in these electrifying shorts. Chronicling the adventures of those who dare to brave the strange and often deadly worlds around them, audiences should know that only one thing is for sure: nothing is as it seems.
Immortal
Lawrence Murphy
Australia/24min/2021
A young, beaten down scientist is given a new lust for life in a quest to defeat death and create immortality.
Hash Browns
Cal McLeanIt & Alexandra Nell
Australia/6min/2022
After bumping into each other at a late-night diner, on the same night as their one-night stand, Chris and Susie decide to eat together.
Hitting the Road
Jack Connell
Australia/25min/2022
When getaway driver Chase Walker decides to abandon his life of crime, he must first team up with Maddison River, an underground emerging thief to pull off one last daring job that sees him finally walk away from the life he's dreaded, or fall back into it forever...
A Shadow in the Darkness
Dean William Butler
Australia/7min/2021
A man squares off against a demonic entity in regional WA.
Evie
Alex von Hofmann
Australia/19min/2021
In a world decimated by nuclear war, where barbaric clans and genetically modified dinosaurs roam the Australian countryside, a young girl, Evie, must venture alone to a distant farmhouse to seek medical supplies for her dying father.
Sisyphus
Alex Montanari Australia/15min/2022
A formative moment in Caleb's childhood leads him on a lifelong journey to find the edge of the universe.
Reality Man
Matteo Mazzella Australia/2min/2022
In 1992, the first human leaves reality to live in the virtual world. For 30 years we've had no contact... until now.