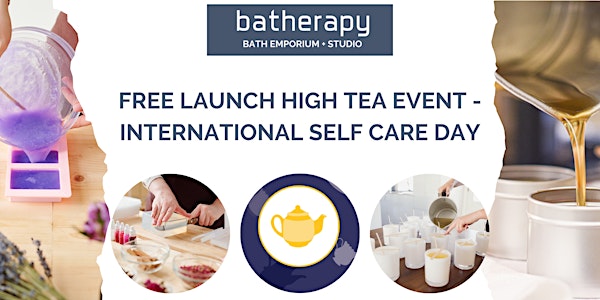 FREE LAUNCH HIGH TEA EVENT - international self care day
Location
Shop 5/3
Kearns
Crescent Ardross, WA 6153
Australia
FREE LAUNCH HIGH TEA EVENT - international self care day
About this event
Batherapy is launching a line of body positivity and self care reminder bath accessories and flower essence bath soaks.
We will be taking over Batherapy offering a FREE High Tea with skin care sampling and free foot soaks, as well as the opportunity to create your very own flower essence bath soak and Chakra + Aura Photo reports.
L E A R N M O R E
Welcome to a unique experience pairing people with their vibrational flower essence match through Vibrational Analyse Aura + Chakra Scans and creating your very own bath soak!
What is an Aura Photo:
Get a chance to use this technology to see your Aura and Chakra Report!
Your Aura is a physical representation of your Astral body through color. Each color has its own representation to help guide you into a better understanding of your being.
What is a Flower Essence:
Based on the colors of your Aura and vibration scan we pair you with a flower essence. Flower essences are a subtle form of energy medicine that can have powerfully transformative effects. Each essence will be created into a bath soak which contains the energetic imprint (or vibration) of a specific flower, collected at the height of their bloom and infused in pure spring water. Flower essences are used to release limiting patterns of thought or perspective, helping us to recognize and fulfill greater states of harmony and joyful purpose.
The high tea, skin care sampling and foot soak is a free event.
VIBRATIONAL SESSION
with customised flower essence bath soak
Includes
Aura Photo
Chakra Report
Energetic Reading of your Aura + Essence
Flower Essence pairing
Your unique vibrational essence bath soak to take home
ONLY $30 (Valued at $75)
Add a self care pack of our launch products including 2 x body positivity headbands, self care reminder candle, soap + free intention cards for $77 and also receive the vibrational session free!