About this Event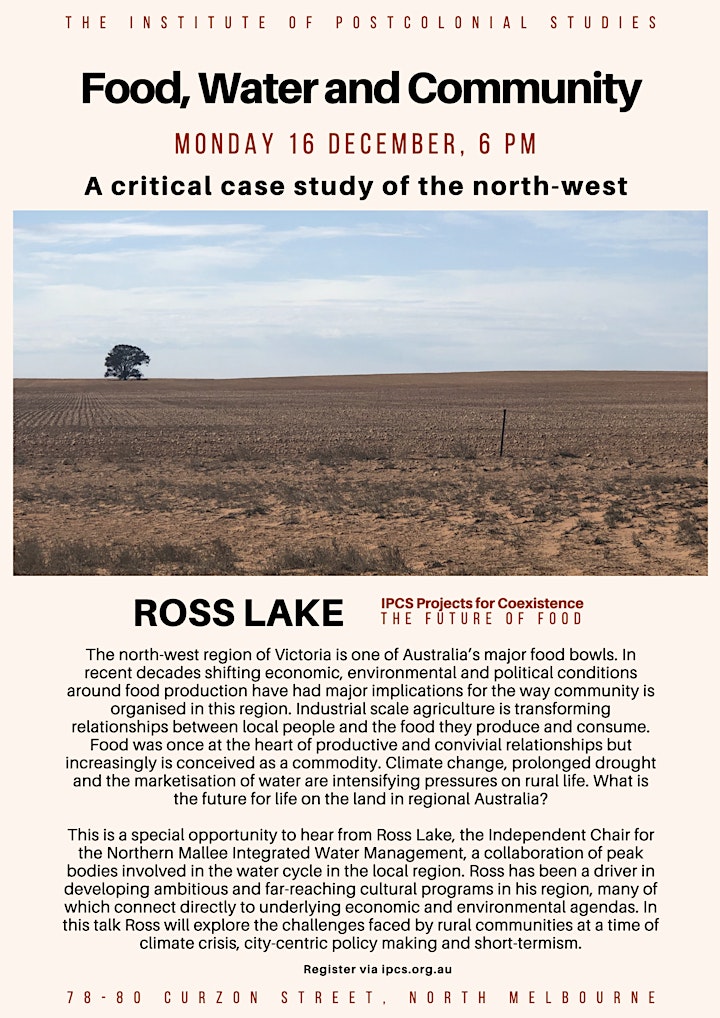 The north-west region of Victoria is one of Australia's major food bowls. In recent decades shifting economic, environmental and political conditions around food production have had major implications for the way community is organised in this region. Industrial scale agriculture is transforming relationships between local people and the food they produce and consume. Food was once at the heart of productive and convivial relationships but increasingly is conceived as a commodity. Climate change, prolonged drought and the marketisation of water are intensifying pressures on rural life. What is the future for life on the land in regional Australia?
This is a special opportunity to hear from Ross Lake, the Independent Chair for the Northern Mallee Integrated Water Management, a collaboration of peak bodies involved in the water cycle in the local region. Ross has been a driver in developing ambitious and far-reaching cultural programs in his region, many of which connect directly to underlying economic and environmental agendas. In this talk Ross will explore the challenges faced by rural communities at a time of climate crisis, city-centric policy making and short-termism.
Ross Lake OAM is a Mildura based business operator, wine grower, community activist and arts dabbler with a long-standing interest in Murray River water management and water politics. Ross trained as a lawyer, an economist and a teacher, and is now the Managing Director of Tasco Petroleum, a large fuel distribution and retail company. Ross has held many roles in the local community, including chairperson, board member and supporter of Arts Mildura, SunRISE21, the Sunraysia Initiative for a Sustainable Economy and Mallee Family Care.