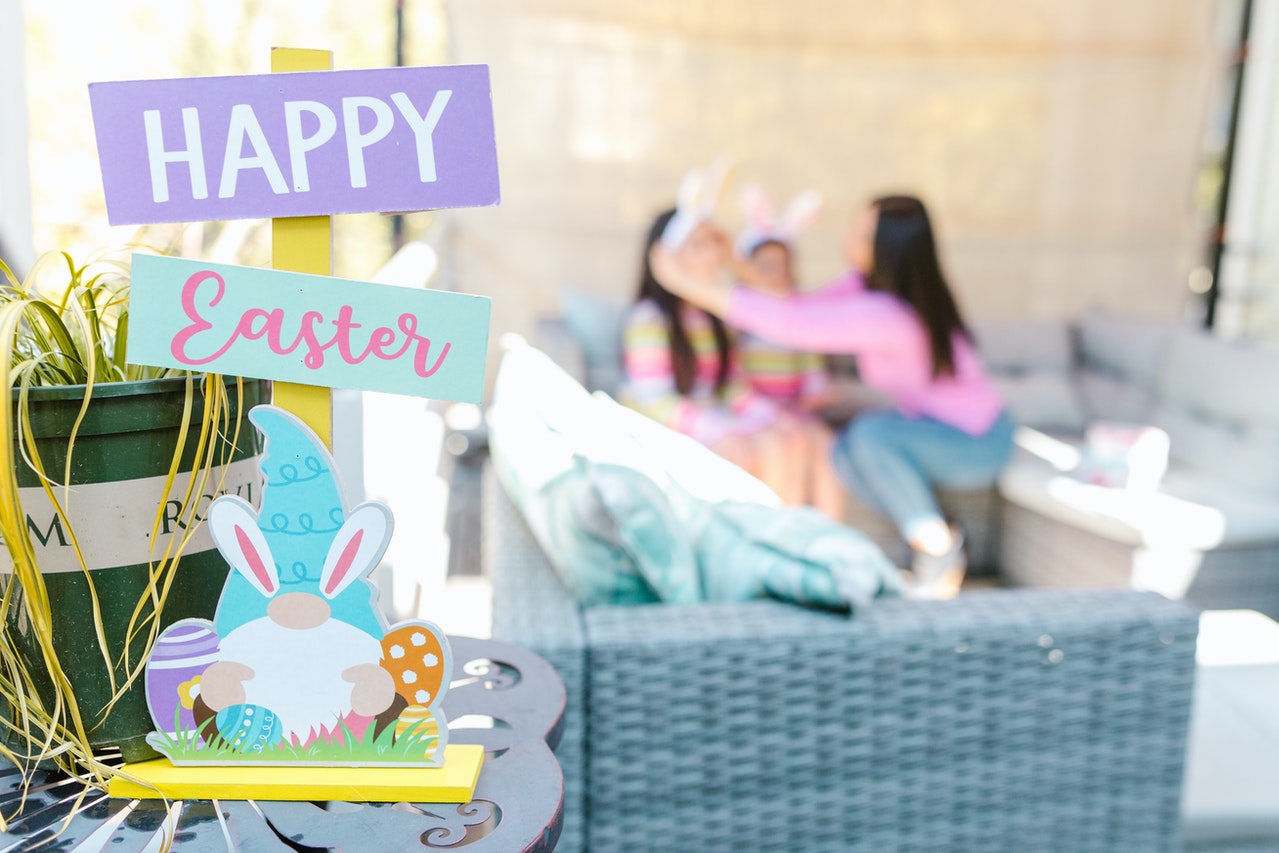 How to Throw an Easter Party on a Budget
Nothing brings on the party vibe like a long weekend, and the Easter break is one of the longest on the calendar. Event-goers are keen to return to live, in-person Easter events and celebrations after a two-year hiatus. Now is the perfect time to learn how to throw an Easter party that leverages the excitement to create a memorable experience on any budget.
In this guide, we share our top tips for throwing an Easter bash that wows your guests without breaking the bank. From freebies to money-saving ideas and eco-friendly reuse, we show you how to host an Easter event for your workplace, community, or audience for less.
1. Pick a free venue
The right physical space to accommodate your required number of attendees may be closer than you think. Hiring a commercial venue can be an unexpectedly steep cost in your event budget plan. So, keep things simple by hosting your Easter party at a venue you already have access to, like your workplace or community centre. Not only will you save money on venue hire, but you'll be working in a space you're familiar with. You'll also travel and transport less between locations, making your event more sustainable.
You can always move your party outdoors, too. Many local councils offer free facilities that can be used for events with prior arrangements. Make sure to check your local council for usage rules and restrictions.
If you're a small retail business, Easter is also the perfect time for cheap Easter party ideas like an in-store pop-up shopping event. Grab the attention of shoppers out and about for the long weekend with an immersive experience – without needing another venue.
2. Get crafty and creative
Wondering how to throw an Easter party that's both thoughtful and memorable? Consider handmaking unique items for your guests. It's also a great way to save money while being more eco-friendly and sustainable. Creating your own decorations, signage, event lanyards, or name tags is a great opportunity to share your craft flair while giving your guests a potential souvenir to remind them of your brand or next event.
Before you spend any money on items like event seating or disposable cutlery, take a full inventory of your event supplies and check what else is available in your workplace or community. At work, you may already have reusable dinnerware or leftover merchandise that could make great prizes or additions to gift bags. Partners from your community may also be willing to donate surplus items to your event as a promotional opportunity.
3. Play around with food and drink ideas
Planning an Easter party menu that impresses on a budget doesn't have to be difficult. When catering for an event, your first consideration should be the expectations of your guests, followed by the event time and location. If you're hosting an informal Easter event at your workplace or in your local community, you may be able to ask everyone to bring a food contribution for a 'pot-luck' style meal or smorgasbord. Encourage guests to bring food that matches a chosen Easter theme, such as international Easter foods or summer picnic treats for an outdoor event.
To keep your event costs down, try an afternoon party and provide each guest with a 'loot bag' filled with treats that they can eat there or take home. You'll be giving your guests a great souvenir, and if you're creating the bags yourself, you'll save money by buying in bulk and assembling. You can also use our custom questions feature to ask your guests about allergies or dietary requirements when they RSVP their attendance.
4. How to throw an Easter party using our RSVP system
Using an electronic RSVP system makes it simple for your guests to register and update their attendance if their plans change. It's also an easy way for you to know exactly how many guests to prepare for. That way, you won't waste your limited event budget catering for guests that don't show up. It's also expensive to send out paper invites, and while email invites are more affordable, you run the risk that they'll get lost in your guest's inboxes.
With our free online RSVP tool, you can create a beautifully custom-themed RSVP website for your event. Your guests can log in from any device to see all the key details of your event and let you know if they'll be there. As the event creator, you'll be able to track RSVPs in real-time for free, letting you make any necessary changes to your event to avoid waste or extra costs.
5. Find easy Easter entertainment options
Classic games like Easter egg hunts and egg and spoon races can be easily adapted for kids and adults alike, and they can be hosted in almost any location. This is an advantage for the cost-conscious event creator because you can entertain your guests for free, then allocate the money saved to other event expenses.
How to throw an Easter party that's full of fun? Try these simple games you can enjoy in the workplace, local community centre, or even outdoors:
Easter egg hunt:

Place Easter eggs or other items around your event location, and get your guests to search for them. Up the difficulty and fun by leaving clues instead of actual eggs. You could also replace the Easter eggs with tokens that can be swapped for other prizes to save you the work of having to find any undiscovered Easter eggs yourself later.

Easter egg and spoon race:

Guests work in pairs to carry an egg on a spoon to the finish line, relay-style. Make it more Easter-themed by getting pairs to paint their Easter eggs with their signature racing colours before they start. If you're indoors and want to avoid any mess, use chocolate Easter eggs.

Croquet:

Make it a classic Easter garden party with a few rounds of croquet. If you're outdoors in an open area, croquet can keep your guests entertained for hours. Borrow a few sets from friends or family, check out second-hand stores, or ask a local club if you can hire theirs.
Once you've organised the games, it's time to add some atmosphere with music and decorations. In addition to your handmade decorations, designate someone to be your event DJ and provide a Bluetooth speaker setup for them. You could even ask guests for their song recommendations before the event and add these to a special event playlist. For more memories – and plenty of quality photos to use when promoting future events – you could also set up your own photo booth for your guests.
Ready to host your own Easter party?
From creating your own event materials and decorations to involving your guests in the catering and entertainment, planning a fun Easter celebration for your workplace, crew, or community is easier than it seems.
Now that you know how to throw an Easter party, it's time to get started with our free event tools for managing RSVPs and registrations so that you can focus on your celebration. This complete guide to setting up your event will help you to kick off your best Easter party yet.