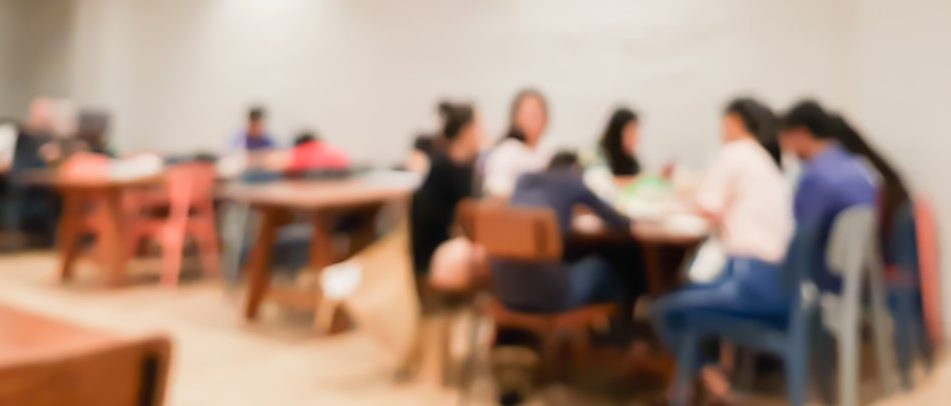 How to Run a Successful Roundtable Discussion
A roundtable discussion can be a meaningful highlight of your conference or corporate event. Attendees love roundtables because everyone has the chance to participate in conversation. Unfortunately, these discussions can also be a disaster — because everyone has the chance to participate in conversation!
Without a strong plan, roundtable discussions can feel a lot like the kind of "blah" business meetings we leave the office to escape. To avoid a chaotic discussion or yawn-inducing event, here are eight top tips for running a successful roundtable discussion.
Recommended: How to Create an Out of This World Conference Event
Roundtable discussion tip #1: Define your goals
Your roundtable discussion can be an engaging alternative to a keynote speaker.  Delegates are given the opportunity to be active participants, rather than listening to a PowerPoint presentation. However, it's important to know exactly what you want your attendees to gain from a discussion format. To help define the goals of your roundtable discussion, consider the following:
Is there a problem that your industry faces that you would like to address?

How does the topic reflect your brand?

What will you do with the information after the event?
Establishing your goals upfront will help you run a smoother event from start to finish. It will also become the basis of your agenda (you can find our tips for a smart agenda below).
Roundtable 
discussion 
tip #2: Review your attendee list
When people sit down to discuss an issue face to face, they have the opportunity to engage on a more personal level than sitting passively to listen to a presentation or speech. To give everyone the opportunity to speak, try and limit the size of your roundtable to somewhere between 6-10 participants. If you're organising multiple groups from a variety of professional backgrounds, use your attendee list to personalise the experience for guests. Assess the title and companies of the attendees and try to create a spread of complementary skills across each group. If relevant to your subject, you could also use include bonus questions for each table that play to the professional strengths of your attendees.
Roundtable discussion tip #3: Select a strong moderator
Like selecting a keynote speaker, who you choose to moderate the conversation could be the difference between a good event and a flop. We've all been stuck in meetings or discussions that feel unproductive and go off-topic — the last thing you want is attendees to feel flat at the end of this activity. A strong moderator can keep things on track and moving along if a discussion stagnates.
So how do you select a moderator that will help your event shine? Here are some quick suggestions:
Do your research and ask potential candidates for professional references.

Look to your network for recommendations of someone your peers have had success with in the past.

Search for similar events to find and connect with tried-and-true moderators.

Meet your preferred candidate face-to-face before booking to assess how they engage in conversation.

If you're not hiring an experienced moderator, ensure your chosen person has a good understanding of the topics you need to cover and can help guide participants.
Roundtable discussion tip #4: Plan your room
How many attendees will be participating in the conversation? Do you need to break them into smaller groups? How long will the roundtable activity run for? If your time allocation is generous, group sizes can be larger (10-15), but if time is short, groups will need to be smaller (6-8) to allow everyone a chance to be heard.
If you have concurrent discussions at your event, assign a facilitator for each table and have a roving moderator. This ensures someone is always checking tables to keep discussions productive.
Roundtable discussion tip #5: Prepare a brief for facilitators
When you've set goals for your roundtable discussion, consider how your event might achieve them. Say, for example, your roundtable discussion wants to tackle a hot-button industry issue. Be very clear about what points you want attendees to discuss to remain productive rather than getting stuck on a single issue.
To help moderators stay focused, guide them with a clear, specific brief that details discussion points and what you would like them to achieve. Set lead-in questions that frame the topic and give your moderator a guide on where to direct the conversation.
It's important to remember that the moderator is at the table to facilitate conversation, not lead it. Their opinion is the least important! Instruct them to use the brief to encourage your attendees to speak and avoid answering their own questions.
Roundtable discussion tip #6: Set an agenda
Give every attendee a copy of the agenda to keep them focused and informed. Your agenda should outline:
Topic:

Define the topic of the roundtable discussion.

Purpose:

Establishing the purpose of the conversation will help attendees work toward a common goal.

Specific questions or major points:

This will help to avoid misunderstandings or vague answers.

Timeline: State the start, finish, and any breaks. This will assist in time management and avoid disruption of the conversation flow.
Key information: This will ensure attendees don't need to ask housekeeping questions such as the location of the bathrooms or water jugs.
Ground rules: Establish a code of conduct to limit undesirable behaviour (such as rudeness, or a single person dominating the conversation).
Roundtable discussion tip #7: Transcribe the conversation
Have a staff member on hand to transcribe the major points and results of your roundtable discussion. A successful conversation will produce content that is valuable to both your attendees and your event brand. Sharing results with participants is a great way to keep them engaged after the event and it could also create content that helps attract a similar audience to future events.
For example, to establish your event as a leader in your industry, releasing an infographic or presentation of the results achieved by your group/s will show value to future attendees and may even help to attract sponsors.
Roundtable discussion tip #8: Don't leave participants in the dark
Your roundtable discussion was a success — congratulations! Your attendees have left feeling invigorated by the conversation. Now what? Part of your planning should include how the results of the discussion will be used.
If you have groups, assign time for each table to share the top line results and engage in further discussion.
If you don't have time for this on your agenda, don't leave your attendees wondering what will become of their ideas. At a minimum, send out an email with a compilation of all top transcribed points and answers reached by your groups. If your attendees came up with a solid plan, let them know how the information will be put to use and follow up with the results of any actionable outcome.
How to run a successful conference or corporate event
A roundtable discussion is one piece of a much larger puzzle when planning a conference or corporate event. Ensure yours is a success from start to finish by keeping on top of trends and challenges that are influencing events like yours with our free guide, The State of Conferences and Corporate Events in 2018.