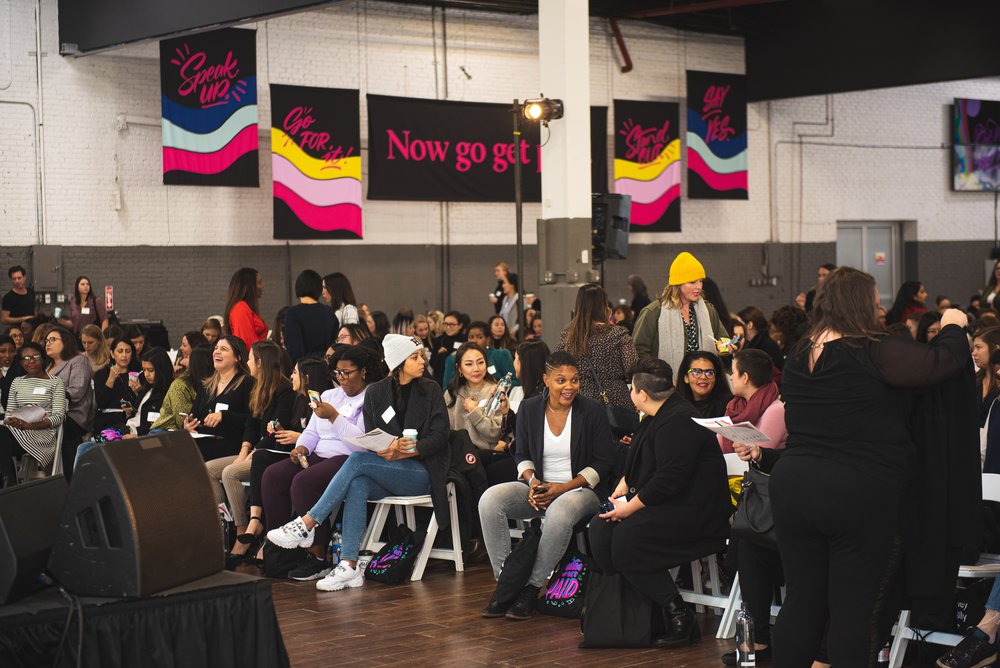 The Secret to a Successful Conference Program: Creative Activities to Engage Your Attendees
Don't lose the crowd with a traditional conference format – revamp your next event with fun, engaging activities. Shaking up your session formats will not only get people's attention, but it'll also encourage new ways of learning, collaborating, and networking. Here are 15 fun conference activity ideas to reinvigorate the conference program at your next event.
Activity #1: Birds of a Feather
Birds of a Feather involves groups of people with a common interest or area of expertise informally working together. It's a conference program activity often introduced over lunch or during the morning coffee break. The sessions take place without a pre-planned agenda and are designed to encourage discussion and networking.
Activity #2: Human Spectrogram
Despite the fancy name, this fun task essentially involves voting with your feet. The presenter asks the group a few key questions and individuals move to an area of the room to indicate their answer. Highly visual, try the Human Spectrogram along with any of these audience engagement strategies to get people moving and mingling.
Activity #3: The Solution Room
The Solution Room is designed to provide peer-supported advice on each individual's most pressing work problems. To start, each participant is given time to think of a challenge they're facing. Participants are then divided into groups of six to eight people and each person takes it in turns to present their problem and have it brainstormed by the group in seven-minute cycles. The Solution Room works particularly well for exciting virtual and hybrid events using a technology solution like Zoom that breaks attendees into random groups for engaging breakout sessions.
Activity #4: Lightning Talks
As the name suggests, Lightning Talks give speakers a limited amount of time to make their presentation – generally no more than 10 minutes. Because Lightning Talks are brief, the speaker must make their point succinctly, which is a great skill to have for preparing pitches, speaking in meetings, or live streaming event updates to your social media base.
Activity #5: Silent Disco Talks
Silent Disco Talks allows multiple speakers to speak at once within the same room, while delegates can choose who they want to listen to. Participants wear wireless headphones with various channels, which they can switch between in order to tune into different speakers. There may be no dancing, but it's still an engaging, unique idea that can also be taken online.
Activity #6: World Café
The World Café begins with the first of two (or more, if desired) rounds of discussion for groups of four to six. Each round is prefaced with a question and at the end of each round, the group moves to a different table. They may or may not choose to leave one person as the "table host" for the next round, who welcomes the next group and briefly fills them in on what happened in the previous round. Once all rounds have been completed, key points from each table are presented to the whole group for a final collective discussion.
Activity #7: Fishbowls and Circles
Fishbowls help facilitate robust roundtable discussions in large groups by having just 3-6 people talk at any one time. Those individuals speak while the rest of the participants observe without interrupting. Although largely self-organising once started, a fishbowl usually has a facilitator. Want something more informal? A Samoan Circle is similar to a fishbowl in that active participants sit in an inner circle surrounded by listeners in an outer circle. It is a leaderless format, whereby anyone who wants to talk may step forward to enter the inner circle where the discussion takes place. They can enter the inner circle at any time, including to stop somebody else from talking.
Activity #8: Soapbox
Including a Soapbox in your conference program provides attendees with a platform to have their ideas heard. Individuals can submit proposals to participate and, if chosen, will be given a short time on stage to present an issue that is important to them.
Activity #9: Speakers' Corner Debate
Speakers' Corners have been made famous in many public spaces around the world to encourage public debate and discussion. The format can be adapted as a fun conference program activity where two speakers debate over a central theme or question. The participants are polled to measure their opinion on the topic before and after the debate. The winner is the speaker who caused the most audience members to change their votes.
Activity #10: Talent Show
Looking for fun conference entertainment ideas as well? Combine entertainment and brainstorming with the Talent Show format. Ideal for presenting projects, demonstrating technology, or pitching ideas, participants have between three and five minutes to demonstrate their concepts. You can provide a stage and creative props for attendees to use for extra entertainment value and fun!
Activity #11: Speakers' Quiz
Inject some fun into your conference by quizzing teams of speakers to see how well they understand the audience. The quiz is prefaced by an audience poll where they vote on answers to a selection of questions. Next, the speakers are asked to guess the top answers, like "What do delegates think is the biggest challenge facing the ABC right now?"
Activity #12: Personal Introspective
Attendees privately reflect on their answers to a number of questions in this activity. They then have an opportunity, but not an obligation, to share their answers with the group. It's a useful format to use towards the end of the event to help reinforce learnings from the conference program and solidify commitments to make changes based on their experiences at the event.
Activity #13: Storytelling
Storytelling sessions invite speakers to tell stories that help illustrate or enhance themes in the conference tracks. Great for engaging community events, stories should share the authentic experience of an individual, a team, or a community.
Activity #14: Networking Bingo
With a combination of interactive brainstorming and conference registration ideas, guests pick up a "bingo card" at registration for this activity. Their card has a large number printed on one side and three different numbers they need to find on someone else's card on the back plus two to three questions. The aim of the game? Attendees find other guests with the numbers they need and ask the questions to kick off brainstorming and networking in one. Adding a voucher or link to exclusive content to the card makes them great conference souvenir ideas, too.
Activity #15: Booth games and giveaways
Want to increase value for sponsors at your event? Games during breaks make fun ideas for conference booths and help your guests to mentally refresh for the rest of your conference program. Using an app, guests can receive digital tokens each time they "check-in" at a booth at your event. Playing along is incentivised by prizes, and is a great way to encourage attendees to network with sponsors and other attendees while they're at your event.
There are so many different ways to shake up your conference and help your event stand out from the crowd, so don't stick with the same old. Try one of these conference activity ideas or even a truly unique venue with stand-out catering ideas to build more buzz. Easily manage registration for conferences of all sizes on Eventbrite!