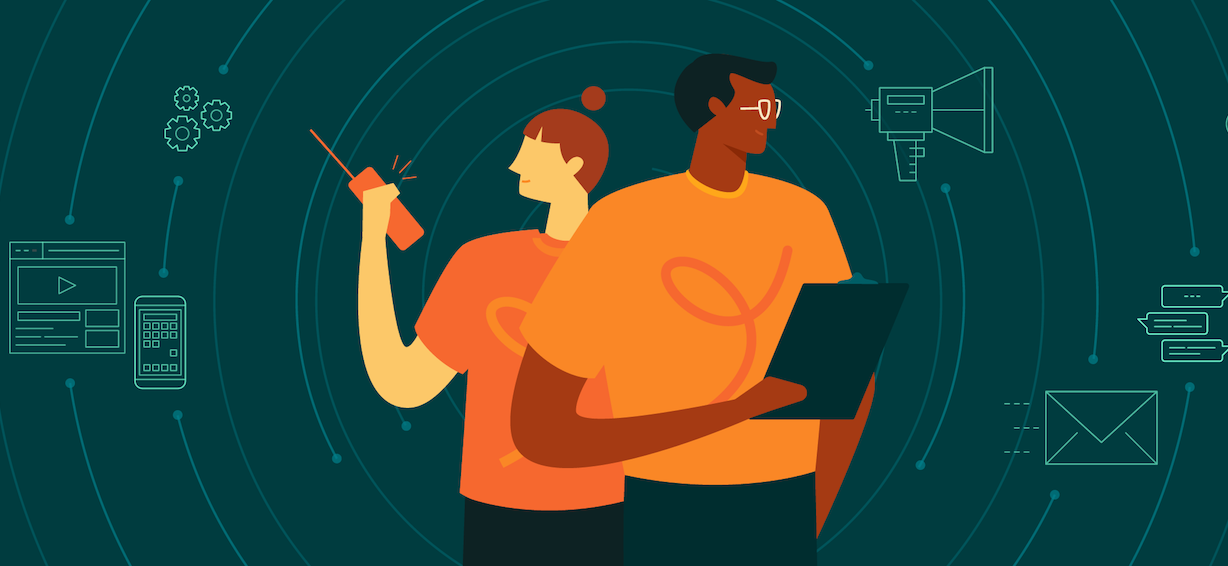 New to Eventbrite? 4 FAQs About Setting Up Your First Event
Putting an event in motion is incredibly exciting, and it all starts with setting up your event ticketing page. But even the most user-friendly technology can be confusing your first time. Having to make choices about how to set up your event might threaten to send you into analysis paralysis.
Don't let it! The event you envision is right around the corner. To get it live and start selling tickets today, here are a few tips and tricks.
First, get your basic info in place
Any good chef does some prep work to make cooking a meal easier. Event creators can also get their mise en place — French for "things in place" — before creating an event listing on Eventbrite. This means having at the ready some basic info:
Event name:

Obvious as this may be, it helps to write it down anyway. For starters, your event name will be truncated if it exceeds 75 characters. If yours is longer, find a succinct version that works for you.



Event type and category:

Are you hosting a pub crawl? A crafting workshop? A small-business luncheon? Defining the type of event helps define the audience, which in turn helps attendees find it.



Event date and location:

This can be in-person or online, and if you're not sure yet, you can always say "TBA." Sometimes, a little mystery can create hype!



Event description:

A clear, concise, and keyword-heavy event description is also key to surfacing your event to the right people. If your event is open to the public, this description will appear on Google, Eventbrite search results, and more, giving browsers an at-a-glance feel for your event.
Once you have these basics nailed down, you're ready to get started creating an event.
To streamline your experience a little more, here are the top four questions creators like you often have about the setup process, along with very short — and hopefully sweet — answers.
FAQ #1: What ticket type is best for my event?
Click "Create Ticket" and you have the option of adding free, paid, or donation-based ticketing options to your event page. Here's how and why to use each option:
Free:

 If you don't want to charge for tickets, but you do want attendees to register, this is your option. Capture attendee information so you can better plan your event and use the data for any future marketing. Be sure to turn on "Online sales" so attendees can RSVP through your ticketing page.



Paid:

 Sometimes, you'll want to set up more than one type of ticket for a single event. For instance, you might consider offering general admission versus reserved seating, or a multi-day pass versus a single-day pass. It's also quite common for events to have early bird pricing or discount codes for certain lucky participants.





Offering more than one type of ticket

can have various benefits. It gives attendees choice and the option of upgrading their experience. It increases your potential revenue, particularly if you're upselling to VIP tickets and the like. And offering fewer tickets of multiple types allows you to obtain the magic "sell out state" for each faster.



Donation:

 Gives attendees the option of donating an amount of their choosing, instead of a fixed ticket price
Knowing what type of tickets to set up is important, and so is choosing a number of tickets to sell.
Pro tip: Eventbrite Professional members can add unlimited ticket types to any event.
FAQ #2: How do I set the capacity for my event?
Right now, it might be hard to imagine your event selling out, but don't underestimate the magic of what you have to offer. If your venue can only handle a certain number of attendees — or if you want to limit the number of attendees for any reason — you'll need to set a capacity.
In the new creation process, event capacity is determined by the number of tickets available. For example, if you offer one ticket type — say a general admission ticket — and set the quantity to 100, your event capacity is 100. As you add more ticket types, your event capacity will increase.
When you finish adding tickets, your event capacity will appear (see the screenshot below).
FAQ #3: Should I pass on or include fees?
Fees are standard in the event industry. Event-goers are accustomed to seeing them tacked on to their tickets. But with Eventbrite, you have a choice to absorb those fees or pass them on to your attendees.
When you enter the ticket price, the "Include fees in ticket price" option will appear. Left unchecked, your attendee pays the fee(s) on top of the ticket price. When checked, the fees will be deducted from the price you set.
If you would prefer to wrap the fee into the total ticket cost so the attendee does not see it, simply check "Include fees in ticket price."
If you're not sure, try it on for size: click "include" and see the "Buyer total" update in real time.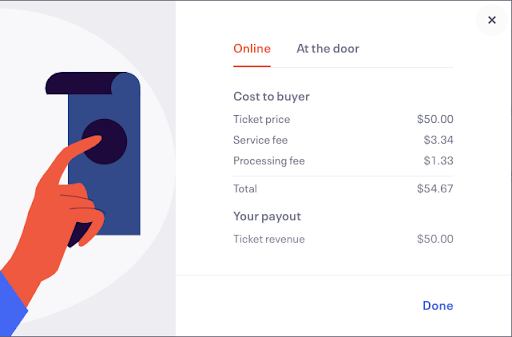 FAQ #4: I'm in a hurry, can I skip some of this?
Of course! The sooner you finish the process, the sooner you start selling tickets. You can always come back later and add more flourish and design to your listing, or set up a detailed Organiser Profile.
Other details you can set up now and update later:
Your venue details

Your organiser profile

Your event's waitlist  

Discounts & access codes
Just make you don't forget the crucial steps:
Your event summary, description & image

Order form & order confirmation

Your event's refund and transfer policy

Payment and payout options

Publish your event
Do more with Eventbrite
Did you know there's more to Eventbrite than just ticketing and registration? To learn what else is possible for your event, check out our overview page to see how we're setting the world's stage for live experiences.