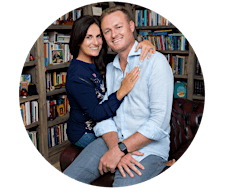 Paul and Vanessa Jean
Paul and Vanessa Jean combine to create a powerful force as leaders in network marketing with a business spanning 43 countries. They share a vision of this industry as one that has earned universal respect through professionalism, integrity and love. To this end they have redefined their vocation as 'Connection Marketing'.
Together they share a passion for freeing people from the matrix and the prisons of life, to return to love as sovereign, empowered beings.
PLEASE BRING YOUR TICKET (PRINTED OR ON YOUR MOBILE DEVICE) TO THE EVENT FOR CHECK-IN.
Sorry, there are no upcoming events