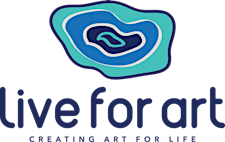 Live For Art
At Live For Art, 'creating art for life' isn't just a slogan - we believe that art can enrich and transform our lives! Expressing our creativity brings pleasure, fulfillment, builds self-esteem, and literally colors our day.
-
Our studio has now opened in Richmond, Melbourne
-
Weekday, Evening and weekend classes available
-
Join the Fluid Art Revolution - with artist Julie Langdon at one of our Fluid Art workshops. Enjoy a fun and creative night out whilst you let your imagination soar and create beautiful vivid pieces of artwork with astonishing, complex gradients. Some classes are 'Paint and Sip', where you can BYO drinks. Pour a drink, pour a painting - but try not to mix up the two! 
Multi-media abstract art and family and children's workshops coming soon.
Absolutely no painting experience needed.
-
 Announcing Creative Acrylic Painting workshops.
Do you prefer to use a paint brush? Then join a Creative Acrylic Painting class with Graeme West. Graeme will help you create colourful abstracts or unique art based on the natural world, no experience needed. Most classes are 'Paint and Sip'.
-
Get the best of both worlds - you can even join a fluid art embellishment class to add further features to your acrylic pour.
 -
IMPORTANT ANNOUNCEMENT.
Due to Covid-19 'stay and home' restrictions, we have been out of action for a while. We expect to open again from November (or possibly the week earlier dependent on the Premier's announcement on 25 October. Keep doing the right thing Melbourne so we can get back to some interaction and save lives. If you book and the class cannot proceed due to Covid restrictions, you will receive a refund or transfer to another class.
We look forward to seeing you again ... soon!
New types of classes are being added regularly.  FOLLOW this page so you can be notified of further details.