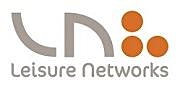 Leisure Networks
Leisure Networks is a not for profit, registered charity working with individuals, community groups, sporting and recreation clubs and local government across the Greater Geelong region.
We have been based in Geelong for over twenty years and have a reputation for designing creative programs to meet specific needs within our communities. We are a values based organisation with a strong commitment to our work.
If you would like to be more connected to your community and want try something new, Leisure Networks provides the expert support you need to get involved.
Leisure Networks' goal is to help individuals, clubs, committees and communities reach their goals and fulfill their potential.