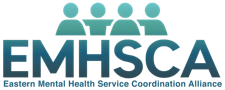 Eastern MH Service Coordination Alliance
EMHSCA is a partnership of 35 health and community service organisations servicing the Inner- and Outer- Eastern areas of Melbourne. The aim is to strengthen Mental Health and AOD service collaboration, coordination and system integration across Inner- and Outer- Eastern Melbourne for improved consumer outcomes.
EMHSCA events provide an opportunity for health and community service staff to network, learn to navigate services, and improve care coordination practices.