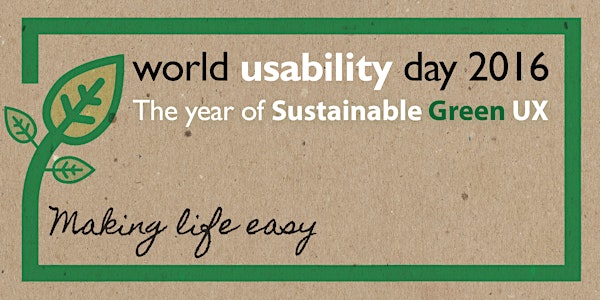 Location
Orange Building, Main Foyer
5 Chan Street (Cnr Chan Street and Benjamin Way)
Belconnen, ACT 2617
Australia
Description
The Department of Immigration and Border Protection (DIBP) UX Section will be hosting World Usability Day at their Belconnen office on November 2nd 2016 and invite you to attend.
2016 is the year of Sustainable Green UX and focusses on making life easy. Both sustainability and UX are about creating the best experience for people.
Sustainable products take existing products and services and refine and redesign them to be more effective & efficient. Thus, Green UX draws from these principles to generate products and services that both improve user experience and promote environmentally friendly behaviours.
There will be a range of speakers across the government and private sector including:
Mark Reeves, HCI specialist
David Heacock, Principal consultant, Libero Digital
Heath Keighran, Department of Finance
Snezna Schmidt & Colette Raison
Brigitta Norton, Adelphi Digital Consulting Group
Ruth Ellison, Digital Transformation Agency
There will also be a series of workshops demonstrating our upgraded UX Lab and recently acquired eye tracking equipment.
A full agenda will be published closer to the date.
On the day
The location for the event is the Orange Building (silver building with orange trimming). It is located on the corner of Chan Street and Benjamin Way. A convenient drop off point and easy building access is available from the rear courtyard parking area, entrance off Chan St or College St.
When you arrive, you will need to be signed in by a UX staff member. Registration opens from 8:30am.
Local parking
Benjamin Office, $9.50 per day.
Belconnen Markets, $8.50 per day.
Short-stay parking around Benjamin Office.
Contact UCD@border.gov.au if you have any questions or concerns.
Agenda
Time
Seminar rooms 203.15 &16
Usability Lab 203.01
8:30
Registration
9:00
David Evered - Director, UX Section, DIBP
Welcoming remarks
9:10
Maree Bridger – First Assistant Secretary, Digital Transformation & Channels, DIBP
Event opening remarks
9:20
Mark Reeves – HCI
"Sustainable UX – don't be part of the problem"
Morning Tea 10:05
10:45
David Heacock - Principal consultant, Libero Digital
"How can government UX and Service Design contribute to sustainability?"
11:20
Snezna Schmidt & Colette Raison
"Enduring UX"
11:50
Ruth Ellison – Digital Transformation Agency
"The researcher's blind spot: 5 cognitive biases we shouldn't ignore in research"
DIBP UX lab - including eye tracking software - interactive demonstration
Lunch 12:35
13:30
Rosa Quiroga – Department of Education and Training
"The usability of everyday things"
Heath Keighran – Department of Finance
Workshop "Rapid Green Usability"
14:00
Dr Tracey Benson – Department of Environment and Energy
"Encouraging sustainability behaviour change at home : Lessons learnt from Living Greener"
14:30
Brigitta Norton – Adelphi Digital Consulting Group
"UX trends as demonstrated through a real life award winning project - NSW Parks"
DIBP Web accessibility and assistive technologies– interactive demonstration
Afternoon Tea 15:15
15:45
Roger Worthy

"User centered design for lean Agile projects"
DIBP UX lab - including eye tracking software - interactive demonstration
16:15
Tim Drury – Assistant Secretary, Corporate & Case Systems, DIBP
Closing remarks
Close 16.30