The Marine Discovery Centre in Henley Beach is opening its doors to the community on this World Environment Day.
About this event
The Marine Discovery Centre in Henley Beach is opening its doors to the public on this World Environment Day. A range of interactive experiences will engage visitors with the wonders of marine life and the importance of looking after our environment.
Education is the best way to ensure that the community will do their bit to protect biodiversity not just on this international environment-focused day, but every day. As it happens, we happen to have several resources available that can help with this.
A guided and self-discovery opportunity to explore the many features of the centre, including:
* Interactive models featuring oceanography, climate change, marine debris, marine habitats, touchscreens, sustainable fishing, stormwater, beachcombing, and get hands-on with our microscopes.
* Aquariums featuring local South Australian marine creatures such as the Port Jackson Shark, Pot Bellied Seahorses, Southern Fiddler Ray, Porcupine Fish, Murray River Turtle and more
* Virtual Reality Headsets giving you the opportunity to explore under the sea without getting wet. Underwater virtual reality experiences include Australian Sea Lions, Leafy Seadragons filmed in Rapid Bay, and swimming under the Henley Beach Jetty.
* Kaurna education Room (The Wodli) is an interactive room that highlights the relationship that Kaurna people have with the Adelaide Plains and the coast.
The tour will conclude with a guided Marine Trail with our Marine Scientists on Henley Beach from 1.30pm
Admission: $10 per person (children 3 and under free)
Parents must stay with children but tea and coffee facilities are available.
Each ticket holder will receive a free beachcombing sheet to take home
On Saturday 5 June at 12:00 PM - 2:00 PM
LOCATION
Marine Discovery Centre
Cnr Seaview Road & Marlborough Street, Henley Beach, SA 5022
Ever since its creation, the United Nations has emphasised that WED should be seen as the "people's day" for doing something to take care of the Earth.
Australia is one country that regularly participates in World Environment Day. Local school and community events like clean-up campaigns, tree-planting drives and trail walks are organised all over the country.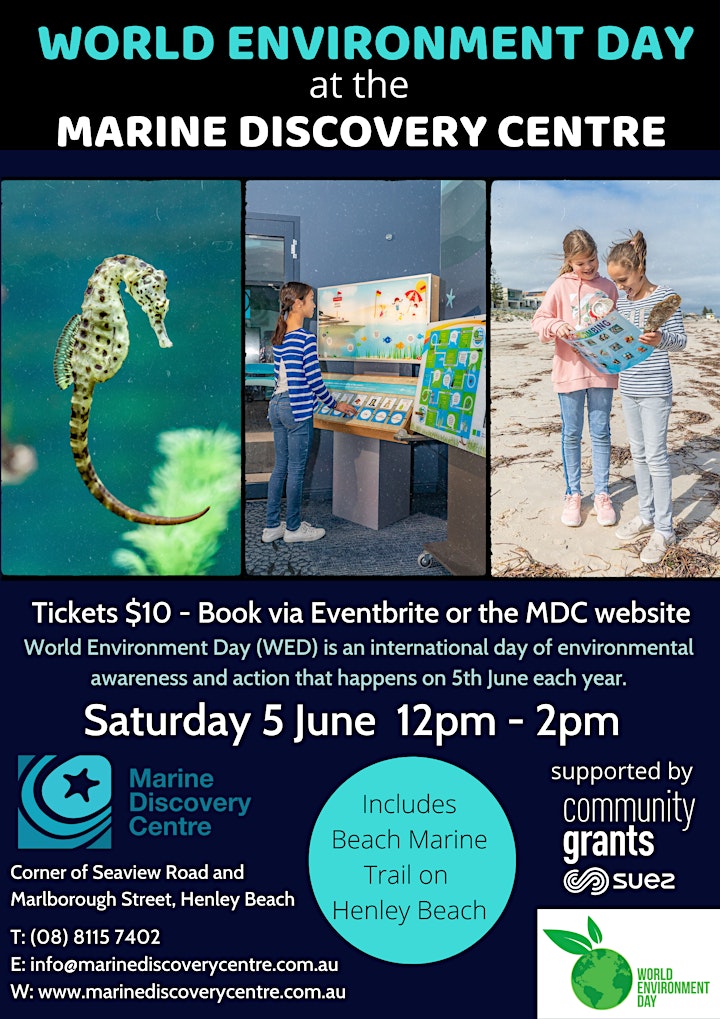 Organiser of World Environment Day at the Marine Discovery Centre
The Marine Discovery Centre aims to provide the most inspirational discovery learning experiences whilst empowering students and the community to actively protect South Australia's iconic coastal and marine environments.
With this goal in mind, we have been empowering students through inspirational and interactive discovery since 1997.
Operating as part of Star of the Sea School, we provide positive learning experiences that focus on ecological sustainability and Aboriginal culture, including the protection of South Australia's coastal and marine environments.