Event Information
Location
Collective Purpose Meeting Rooms
Level 5, 80 William Street
Woolloomooloo, NSW
Australia
Description
Community engagement is about ensuring that those most impacted by social challenges have a say in designing and implementing solutions. Evidence and practice shows that the participation of intended beneficiaries and their families, neighbours, and trusted leaders can be critical to collaborations achieving impact. And a shift in power where community members own and help produce the result will lead to greater impact. Yet we don't so this well.
This workshop will address this head on. You will leave inspired and informed about the benefit of community mobilisation and leadership and with the confidence and tools to improve your practice and the work of your collaboration.
When:
Wednesday 5 September
9am - 3.30pm
Where:
Collective Purpose Meeting Rooms
Level 5, 80 William Street Woolloomooloo
Why:
Across Australia we see collaborative initiatives struggling to meaningfully mobilise and engage community. We observe some 'collaborations' that are unable or unwilling to move beyond informing or consulting, and where community engagement does happen, it is time-limited—run as a project as opposed to a way of working.
Our interpretation of these practices is that they face two challenges:
the adaptive challenge—collaborations and institutions are fearful of sharing power with community
the technical challenge—collaborations and institutions lack easy to use tools that create engagement for population level change. (NB: There are lots of easy to use community engagement tools for project/program level change.)
How:
This day long workshop will be highly interactive and laden with tools and case studies. The format will be a mix of content presentations, unpacking case studies, applying tools, small group work, individual reflection and planning, and peer support.
Who:
You should attend this workshop if you:
are a resident or citizen leader in your community wanted to mobilise other community members and support other community leaders

hold a role that has accountability for community engagement, mobilisation or leadership

are a member of a cross-sector leadership group that would like to enable and involve citizen leaders as part of the table or

are a policy writer interested in best practice approaches to community ownership and leadership.
Learning Objectives:
As a participant in this workshop you will walk away with
strategies to strengthen the engagement of community members in your work

a stronger understanding of the purpose of community engagement and approach to engagement that supports your work

an applied understanding of Asset-Based Community Development (ABCD) and racial equity practices to your community engagement

a renewed commitment to strengthen community engagement in your work
Testimonial:
"Paul really changed my thinking about really going back to community. I am now motivated to really support my community to tell their own story about what we are all working towards."
—Workshop participant, 2017
Facilitator:
Paul Schmitz (USA) is a Senior Advisor to the Collective Impact Forum, and the first Innovation Fellow in Residence at Georgetown University's Beeck Center for Social Innovation and Impact. He is a faculty member of The Asset-Based Community Development Institute, a board member of Independent Sector and The United Way of Greater Milwaukee, and the former co-chair of Voices for National Service. Paul co-chaired the 2008 Obama Presidential campaign's Civic Engagement Policy Group, was a member of The Obama-Biden Transition Team, and was appointed by President Obama to The White House Council on Community Solutions.
Paul is recognised as one of America's most influential non-profit leaders; writes and speaks frequently on social innovation, civic participation, diversity, and community building; and has served on President
Obama's transition team and the White House Council on Community Solutions.
Paul is the author of Everyone Leads: Building Leadership from the Community Up (Jossey Bass, 2011), and is the former CEO of Public Allies, where he spent 21 years helping more than 5,600 diverse young leaders turn their passions to make a difference into careers working for community and social change.
Paul is a graduate of the University of Wisconsin-Milwaukee, where he received their Graduate of the Last Decade Alumni award. He has been recognized by The Rockefeller Foundation as a Next Generation Leadership Fellow, by the Nonprofit Times as one of the 50 most powerful and influential nonprofit leaders in America, and by Fast Company Magazine with their Social Capitalist Award for innovation. He lives in Milwaukee with his partner and five children.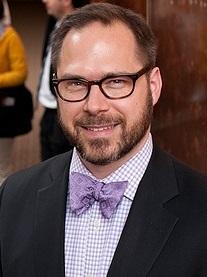 Date and Time
Location
Collective Purpose Meeting Rooms
Level 5, 80 William Street
Woolloomooloo, NSW
Australia
Refund Policy