Location
Australian Design Centre
113-115 William Street
#101
Darlinghurst, NSW 2010
Australia
Learn how to 3D print with PLA waste and clay
About this event
Matthew Harkness will be facilitating small group workshops in 3D printing with PLA waste and clay at Australian Design Centre to coincide with the exhibition Bioplastic Futures: 3D Printing and the Maker Movement.
During the workshops, participants will digitally create simple geometric shapes while reflecting on waste, plastics and bioplastics, 3D printing, and maker culture. The workshops will use TINKERCAD modelling software and are open to participants both with and without makerspace or 3D printer experience.
When: Saturday 18 and 25 June, 1.30pm - 3:00pm & Thursday 23 and 30 June, 11:00 am -12.30 pm
Where: 113 -115 William Street, Darlinghurst, 2010
Cost: Free, bookings essential
Suitable for ages16+
Please bring with you a laptop with a mouse and create a TINCERCAD account prior to attending the workshop. https://www.tinkercad.com/
Matthew Harkness is an emerging designer, researcher, and academic from Calgary, Alberta, Canada currently completing a PhD at the University of New South Wales School of Art & Design.
Bioplastic Futures: 3D Printing and the Maker Movement exhibition is on at Australian Design Centre from 16 June – 2 July 2022.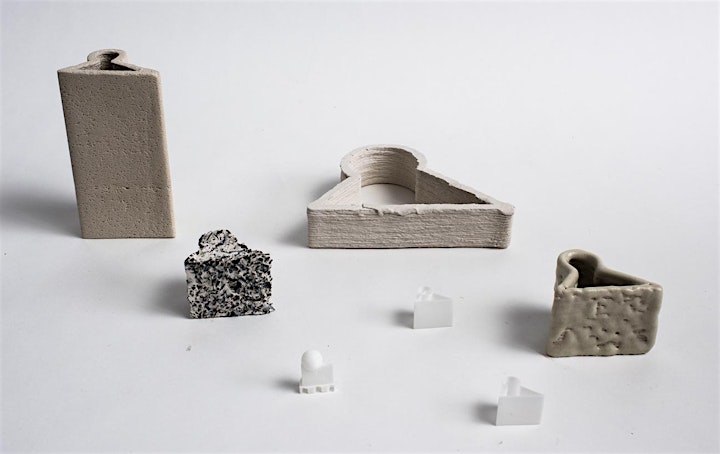 IMAGE: Matthew Harkness, Objects from Co-design Workshops 3D Printed Using Clay and PLA. Photo: courtesy of the artist.
IMAGE: Matthew Harkness, Triangle Form Made During Co-design Workshop 3D Printed in Different Binders. Photo: courtesy of the artist.
ACCESS: This exhibition has a clear path of travel throughout the venue with an accessible toilet. A full gallery Access statement is available to download from the ADC website.
FILMING AND PHOTOGRAPHY Please note: This event will be recorded. By attending the event you agree to be filmed and photographed, and for those images and footage to be shared online and across various promotional platforms.
We are following the NSW Health COVID-19 Safety Industry Guidelines for museums and galleries to keep our guests and staff safe. Please wear a mask if you are not able to socially distance at this event.