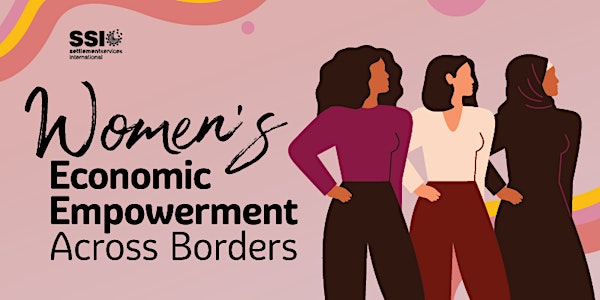 Women's Economic Empowerment Across Borders - A new age of entrepreneurship
Join the discussion in advocating for and supporting the economic empowerment of migrant and refugee women.
About this event
As part of the sixty-sixth Commission for the Status of Women (CSW66), SSI will be hosting a virtual panel discussing economic empowerment of migrant and refugee women in a global context, and how critical SSI's work is in supporting all women to achieve their entrepreneurship goals and improve the livelihoods of women and their families.
SSI will be sharing the pillars of its Women and Girls Strategic Plan, reflected in:
The Ignite Program, a social enterprise that facilitates business creation and entrepreneurship opportunities with a focus on vulnerable communities,
SSI's collaboration with Ancestry and Development in Colombia
An Australian First Nation Elder voice.
This interactive event is designed to give you the opportunity to connect, discuss and ask questions via a Q&A session.
Our panellists
Dr Astrid Perry OAM
Astrid is Head of Women, Equity & Domestic Violence at SSI. Her work experience spans over 30 years in leadership, management and multicultural work. In recent years her focus has been on women's affairs. She is a strong advocate for gender equity and has worked in several roles including responding to Domestic and Family Violence.
Dina Petrakis
Dina has worked in Australia and the Asia-Pacific region on social justice programs focussing on community and educational aid for Thailand, Vietnam, Vanuatu, Tonga and the Solomon Islands. She has worked in the fields of education and training, as a researcher with the University of Western Sydney and in grassroots community development. She currently works for SSI as the Global Manager for IGNITE, a small business start-ups program for refugees and asylum seekers living in Australia.
Erik Rojas
Erik is the founder and partner of Ancestry & Development (A&D). He has nearly 20 years of national and international experience. During his career, he has had the opportunity to work with a wide range of key decision-makers in public and private institutions to imagine and propose new ways to use social and economic transformation to allow people to find solutions for their current and future challenges. Erik is passionate about community empowerment through entrepreneur capacities-building methodology in accordance with human rights and sustainable guidance.
Elizabeth (Rose) Lovelock
Rose is an Anaiwan elder from Armidale, NSW with a background in academic research and higher education. She is currently Director of the Armidale Aboriginal Cultural Centre and Keeping Place and the owner of Lovelock Consultancy. Rose is passionate about building relationships between communities by improving access and participation for the wider community.
Maggie Cairns
Maggie's unique array of skills and experience as a consultant, counsellor, educator, director, and a practitioner, led her to the Ignite Small Business Start-ups team in November 2020. Since then, she has established a strong relationship with the local Aboriginal people of Armidale, NSW supporting individuals, families, and the community in moving towards self-determination through the journey of entrepreneurship.
Juliana Nkrumah AM
Juliana is the Programs Manager, Domestic and Family Violence at SSI. Her work experience in gender equality and women's human rights spans over 30 years, including experience with CSO activism at the national, regional and global levels. She has a deep commitment to refugee and migrant women's empowerment; especially providing access for migrant and refugee women to relevant spaces for expression of their voices. Juliana is a passionate and persuasive public speaker and excellent trainer and facilitator who leaves audiences inspired to action.