"Women of Mathematics: A Gallery of Portraits" - Exhibition & Public Lectur...
Description


The Department of Mathematics and Statistics invite you to attend this event to celebrate Women of Mathematics!
The evening will begin with a public lecture at by Dr Karen Lamb, a biostatistician and researcher, followed by the opening of the exhibition, "Women in Mathematics: A Gallery of Portraits."
Date: Thursday, 02 May 2019
Time: 6pm for the public lecture, followed by the exhibition opening of "Women of Mathematics: A Gallery of Portraits."
The exhibition will be accompanied by drinks and a light supper on the ground floor atrium
Location: 14 Sir Christopher Ondaatje Avenue, Macquarie University, Level 3, Theatre 2 (T2)
RSVP (for catering purposes) by Tuesday, 30 April 2019

For any questions or concerns, please email us at mathstats.events@mq.edu.au.
We look forward to seeing you there!
---
About the Women of Mathematics Exhibition
This is part of a travelling exhibition that started in Europe and highlights the work of a number of leading female mathematicians. It stems from the observation that nowadays, women still find it difficult to embrace a career in the mathematical academic world and the disparity between the proportion of men and that of women among professional mathematicians is still shamefully large.
The exhibition offers a glimpse into the world of mathematics through photographs (by Noel Tovia Matoff) and excerpts of interviews (by Sylvie Paycha and Sara Azzali) of thirteen women mathematicians throughout Europe.
---
About the Public Lecture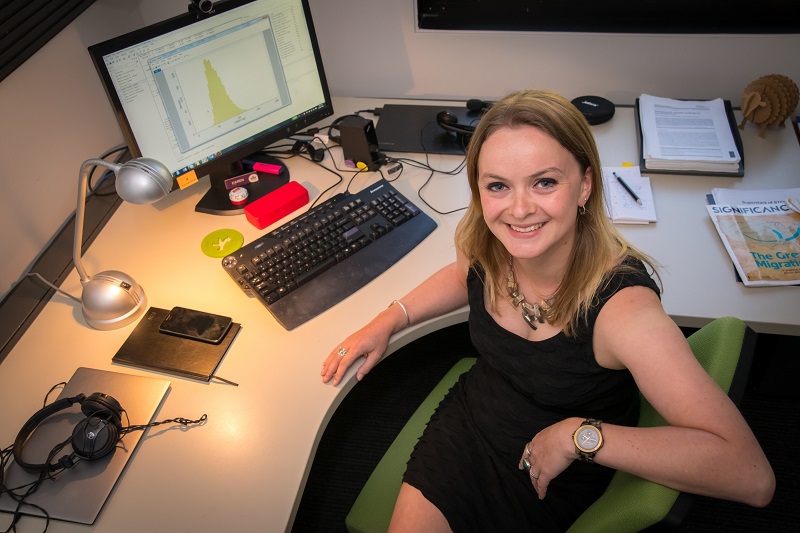 Dr Karen Lamb is a biostatistician and researcher. She is passionate about statistical communication and gets a real buzz out of helping researchers in other disciplines use statistics to answer research questions. Karen finds the process of making non-mathematicians comfortable with mathematics to be both challenging and hugely rewarding. As a result, the focus of her research has been as diverse as the people she has been fortunate enough to work with, including doctors, psychologists, epidemiologists, social scientists, biologists and many more!
Public Lecture Title: "Risking your life for a deep fried mars bar"
Abstract:
As the film Risky Business would attest "There's a time for playing it safe and a time for Risky Business". Although Tom Cruise's character's tale is somewhat outlandish, our lives are full of "risky business". From childbirth to taking a bath in candle light, from driving a car to travelling 35,000ft in an aircraft, or from eating a peanut to chowing down on a deep fried mars bar; normal activities all pose risks to our lives. So how do we quantify that risk and how do we decide what that risk means to us? As a biostatistician, my daily worklife is spent trying to objectively measure risk and effectively communicate that risk to mere mortals; as a risk-averse individual (or rationalist as I like to call it!), my daily life is spent trying to navigate around those would-be risks. I will take a look at the difference between subjective and objective risk, describe the challenges of measuring risk in an uncertain world, talk about competing risks and wrap up by sharing how my biostatistical personality helps my risk-averse self to cope with this challenging world! All you need to decide is if coming along to see me is worth the risk.
---
Film and Video Disclaimer: please note that photographs and footage may be taken throughout this session. These will be used by the University for marketing and publicity in our publications, on our website and in social media or in any third party publication. Please contact a department representative at the commencement of the event if you have any concerns or if you wish to be exempted from this activity.