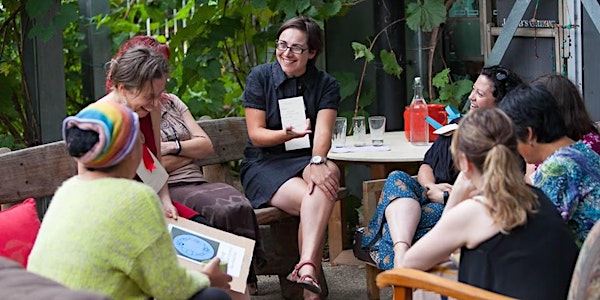 Women in Action in the Climate Emergency
Event Information
Location
Full address to be provided on booking
Murundaka Cohousing
42 Bamfield Road
Heidelberg Heights, VIC 3081
Australia
Description
Women in Action in the Climate Emergency
Empowering women to achieve meaningful change in the Climate Emergency
Presented by Giselle Wilkinson & Vanessa Petrie, Facilitated by Heidi Lee
In this women-only facilitated workshop, you will co-create a vision of a thriving society and go on a journey of self-discovery to create your own personalised Climate Emergency Action Plan. Vanessa, Giselle and Heidi will provoke and inspire you with stories from the coral-face of climate action. Bring forth your inner revolutionary and co-create the world you dream of! This event is the perfect follow-on to the various 2018 Climate Emergency conferences and events across Melbourne. We look forward to seeing you there!
Ticket price includes morning tea and lunch. Please get in touch with dietary requirements.
Presenter details
Giselle Wilkinson
Giselle is an absolute champion of the Climate Emergency revolution – she has studied, written, and personally built change across many sectors, including co-founding the Sustainable Living Foundation and the Breakthrough-National Centre for Climate Restoration. She is so deeply committed to the power of community to make a difference that she demolished her family home of twenty years to build an experimental eco-village in its place: Murundaka Cohousing Community (who are the venue sponsors of this event!).
Vanessa Petrie
Vanessa is the innovative, dynamic CEO of Beyond Zero Emissions (BZE). She is a smart, clearsighted and purposeful leader who has built BZE into an internationally acclaimed climate solutions think tank. The BZE volunteer research team have produced detailed Plans to transition Australia from a fossil to a thriving, renewable energy economy. Vanessa is recognised nationally for her expertise in the practical and policy conditions needed for change.
Heidi Lee
Heidi is a designer and facilitator with over 20 years industry experience. She is passionate about the capacity for everyday people to create solutions to climate change and looks for opportunities to empower communities every day. She has led architecture and urban design projects across health, housing, and education sectors and has a huge range of fun, creative and engaging collaborative design methods she brings to her workshops.
Date and time
Location
Full address to be provided on booking
Murundaka Cohousing
42 Bamfield Road
Heidelberg Heights, VIC 3081
Australia