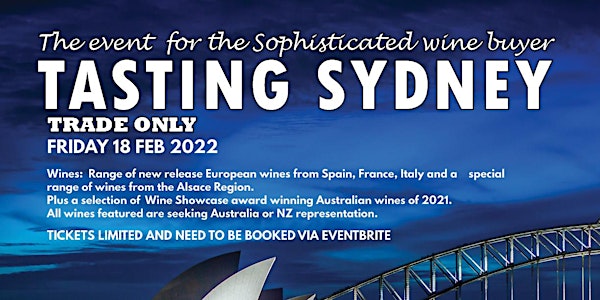 Wines of France, Italy & Spain, Eisenstone Barossa & Wine Showcase GOLD
New release wines of France, Italy and Spain! Bonus Cognac and Barossa Tasting!
About this event
An opportunity for sophisticated buyers, wine professionals, media, hospitality, and trade! These EU wines are seeking representation in Australia and New Zealand.
Wines include Bergerac, Cahors, Bordeaux / St Emilion, Sparkling Burgundy, Champagnes by Collery as well as Tuscans and Montepulciano and more.
A special selection of wines from Sicily and southern regions of Italy presented by "Taste South Italy".
An excellent range of great new release wines of Alsace - Pinot Noirs, Cremant and Grand Cru Rieslings.
Even some excellent VSOP and XO Cognacs to round out the visit from De Charville.
BONUS:
Top 20 wines of Australia as awarded by Wine Showcase Magazine in 2021
We also have an emerging superstar of the Barossa - single vineyard wines of Eisenstone www.eisenstone.com.au
In total nearly 100 European and Australian wines to taste!
Please note dress code applies, and all guests are required to be fully vaccinated. For details on the venue see www.raca.com.au
Location: Royal Automobile Club of Australia - adjacent Circular Quay (Opera House end) 89 Macquarie Street, Sydney
Organiser of Wines of France, Italy & Spain, Eisenstone Barossa & Wine Showcase GOLD