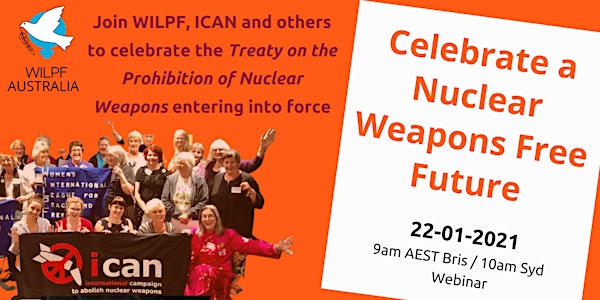 WILPF Australia Webinar to Celebrate a Nuclear Weapons-Free Future
Celebrate a Nuclear Weapons Free Future with WILPF
About this event
22 January
Celebrate a Nuclear Weapons Free Future with WILPF
Peace activists, politicians and ALL who care about future generations and our planet: WILPF Australia invites you to celebrate the day we step closer to a nuclear weapons free world.
Join us, along with the International Campaign to Abolish Nuclear Weapons (ICAN) and others for a national, live, one-hour webinar featuring some of Australia's leading anti-nuclear voices.
This is the day we've been waiting for.
This day marks the moment the UN Treaty on the Prohibition of Nuclear Weapons becomes international law.
The Entry into Force of this Treaty will be celebrated loudly here in Australia where the Nobel Peace Prize-winning organisation ICAN was founded and took roots. WILPF and many others are proud to have contributed to these efforts from earliest days.
Let's now take a moment to consider what we've achieved together—and gather momentum for the next steps.
See you online.
Webinar speakers:
Chair Claire Moore (UNAA Qld President and Former Senator)
Ray Acheson (WILPF's international Reaching Critical Will program)
Aunty Sue Coleman-Haseldine (Kokatha elder, activist and nuclear test survivor)
Terri Butler, MP, Shadow Minister for the Environment and Water
Dimity Hawkins (ICAN co-founder)
Bishop Philip Huggins (President, National Council of Churches of Australia)
Details:
Online Webinar (via zoom)
7 am AWST Perth / 8.30 am ACST Darwin / 9 am AEST Brisbane / 9.30 am ACDT Adelaide / 10 am AEDT Sydney.
Registration is free. Everyone is welcome.