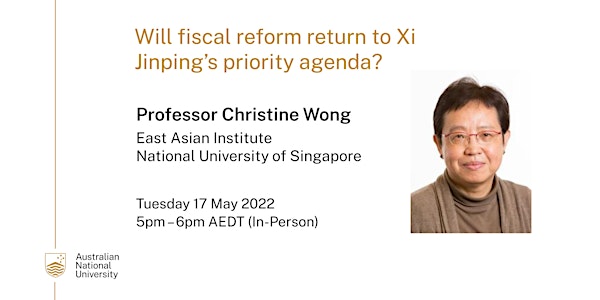 Will fiscal reform return to Xi Jinping's priority agenda?
Location
Seminar Room, Building 188, Fellows Lane
The Australian National University
Acton, ACT 2601
Australia
As Xi calls for a realignment of the central-local relationship, this seminar explores why subnational governments underspent by 7% in 2021.
About this event
With the spread of omicron and widespread lockdowns crippling the economy, calls are ringing out for stimulus support. In this cacophony, fiscal policy has been conspicuously silent. There are multiple causes, but at the heart is a fiscal system in crisis, hobbled by internal contradictions left by decades of piecemeal, incremental reform that have left local governments underfunded and tied down by conflicting policies. During the COVID-19 pandemic the system failed to fully deliver the intended stimulus approved by the National People's Congress, underspending the budget by 3% of GDP in both 2020 and 2021.
This seminar looks at the crisis in local finance in 2021, exploring why subnational governments collectively underspent the budget by nearly 7% through November, and at year end left RMB1.2 trillion in special project bonds on the table – one-third of the quota for financing infrastructure. This outcome is diametrically opposite the goal that was announced at the start of Xi Jinping's administration, when comprehensive reform of the fiscal system was to be completed by 2020 that promised a significant realignment of the central-local relationship. Will this crisis refocus attention on fiscal reform?
Christine Wong is currently Visiting Research Professor at the East Asia Institute, National University of Singapore. She also holds the Bank of America Merrill Lynch Visiting Chair in International Finance during 2020-2022 at the Schwarzman College at Tsinghua University. During 2013-2020 Christine was the Founding Director of the Centre for Contemporary Chinese Studies at the University of Melbourne. Christine has published widely on China's public finance and rural development. Her recent publications include "China's 2022 budget and the fate of local government finance," EAI Background Brief No. 1644, March 2022.